Le Mans Blu-ray Review
By Chris Chiarella
The Movie
The incomparable motion picture icon Steve McQueen wanted Le Mans to be the best racing movie ever made. Tough to say if he succeeded since it is a really tough genre to crack (although Pixar's Cars might ultimately hold the title), as evidenced by what he and director Lee Katzin gave us 40 years ago.
Le Mans is a love letter to the internationally famous 24-hour race held annually in France. We are shown the "scene" from the fans' point-of-view as they begin to congregate, much like the hippies upon Woodstock, and an unhurried look at what goes on behind the scenes. But when the audience needs to be educated on the rules, the two alternating drivers per car and such, does eminently watchable Mr. McQueen reveal this information in his dialogue? No, it is barked over the P.A. at length by a faceless announcer.
From the outset, the film is guilty of a common rookie mistake: A lack of regard for pacing, which is rather ironic for a movie obsessed with speed. McQueen barely appears in the first half hour, and does not even speak until we are more than 36 minutes in. Much of the dialogue is deliberately indistinct, or in some foreign language with no subtitles. These are the perils of shooting a movie without a script, and by the time they had one, it didn't add much: a few humanizing bits with the drivers, and too-slight-to-be-called-subplots about a friendly rivalry and a kinship with another driver's widow.
No real character is revealed beyond general swellness, and so we're left with lots and lots (and lots) of racing scenes. The same cars go around the same track, sometimes shot from the same angles, time and time again. One major plot point involves whether or not they should change the tires when the rains start! McQueen--the only recognizable star--allowed his passion for the subject to create more of a documentary than the drama or adventure that his audience had every reason to expect.
The Picture
The high-bitrate VC-1 video is a pleasure, graced almost immediately with warm, lovely colors. Finer points such as the sheen on McQueen's black Porsche (with a bit of moiré on the grille) are beautifully revealed. The clarity to the 2.4:1 image lends a real immediacy to the movie, which helps overcome some of its artistic coldness. There are noise and grain and other minor issues with the original 1971 film element, and blacks tend to be flat and murky, but this one is better than expected, considering its era.
The Sound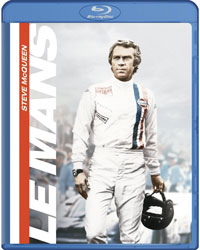 Remixed for DTS-HD Master Audio 7.1, Le Mans now displays a sonic assuredness, a very big, elaborate mix with plenty of surround action. Okay, it's mostly the whine of performance car engines as they whiz all around us, with clear directionality of course, but more than ample little touches fill the speakers in the calmer moments too. The real love seems to have gone into the "7," not the ".1," as bass could be stronger, most notably in the crashes. And in a welcome gesture, the original mono track has also been preserved, as high-resolution DTS-HD Master Audio 1.0.
The Extras
The Speedvision TV special "Filming at Speed: The Making of Le Mans" is included here, in standard definition. The 24-odd-minute program is hosted by son Chad McQueen and features members of the original crew, home movies, and no shortage of fascinating information. And since there's not much else here, I'll also mention that the almost-four-minute (!) trailer has been remastered in HD.
Final Thoughts
Close to McQueen's heart if not that of many viewers, Le Mans plays almost like he made it for himself, and the professional drivers, to the exclusion of everyone else. A pity, since the performance-tuned Blu-ray looks and sounds like a winner.
Product Details
Actors: Steve McQueen, Siegfried Rauch, Elga Andersen, Ronald Leigh-Hunt, Fred Haltiner, Luc Merenda, Christopher Waite
Director: Lee H. Katzin
Audio Format/Languages: DTS-HD Master Audio 7.1 (English), DTS-HD Master Audio 1.0 (English, German, Spanish, French)
Subtitles: English SDH, Spanish, French, Danish, German, Japanese, Dutch, Norwegian, Finnish, Swedish
Aspect Ratio: 2.40:1
Number of discs: 1
Rating: G
Studio: CBS Video/Paramount
Release Date: May 24, 2011
Run Times:  109 minutes
List Price: $24.99
Extras:

"Filming at Speed: The Making of Le Mans"