Laugh It Up, Fuzzball: The Family Guy Trilogy (Star Wars) Blu-ray Review
By Chris Chiarella
The Shows
"They're doing a Family Guy-style parody of Star Wars: I'm laughing already!" That sort of assumptive punchline on the part of fans no doubt emboldened Seth McFarlane and his minions to crank out the lackluster Blue Harvest, which took on Episode IV, but a lot of people must have watched it because Family Guy went and did their thing to Empire, and called it Something, Something, Something Dark Side. This one was, well, stellar, a perfect blend of small-screen animated hi-jinx and insightful Star Wars humor. And no Trilogy would be complete without Jedi, so It's a Trap! is here, too.
Worth noting is that this boxed sets marks the Blu-ray debut of Blue Harvest, first released on DVD almost three years ago.
The Picture
Family Guy is slowly coming around to the HD ways, and so Blue Harvest and Something, Something are framed at 4:3, with vertical black bars left and right, while the recent It's a Trap! is a widescreen-friendly 16:9. We can clearly see the evolution of the video quality across the trilogy, from sometimes-severe video noise, moiré and twitching on Blue Harvest to a limited strobing and reduced stair-stepping on fine lines in Something, Something, all the way to the bold hues and fairly impressive It's a Trap!
To various degrees, all suffer from an unpleasant ringing in soft glows, and even Trap shows some weird quality of motion in camera moves. I wouldn't call any of these jaw-dropping, video-wise, but they do get better with each installment.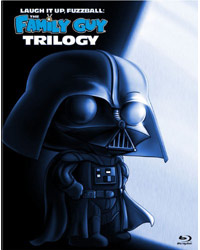 The Sound
The programs improve before our ears, too, with a couple of instances of good surround, plus a nice bass kick for the destruction of Alderaan in Harvest, although this first effort is mostly played out in the front channels. The rears and subwoofer are exploited even more aggressively in Something, and still more effort apparently went into Trap, with plenty of involving DTS-HD Master Audio 5.1 moments, extremely generous for a TV show soundtrack.
Dialogue is extremely well-presented throughout, and all three make extensive use of the original sound effects and John Williams' timeless musical score.
The Extras
All three episodes include a roundtable creator commentary (full participant listing below), while Blue Harvest ports over some (not all) of the content from the January 2008 DVD release, in standard definition. The highlight is the geeky fun of the twelve- minute George Lucas/Seth McFarlane interview. Something, Something offers a surprising blend of real Star Wars fanaticism mixed in with the usual Family Guy behind-the-scenes frou-frou, and it's all in high-def. The extras on It's a Trap seem the most disposable.
All three Blu-rays support BD-Live, with Fox's Live Extras, which here include exclusive content. Packed along with each Blu-ray is a second disc which carries a Digital Copy of the corresponding episode, for iTunes and Windows Media, but we can also download the Digital Copy directly to selected portable devices via a network-connected Blu-ray player, either via the unique printed unlock code number or by taking a picture of the special bar code image. Very cool implementation of current technology!
Final Thoughts
These roughly-one-hour romps have all been officially sanctioned by Lucasfilm, which greatly enhances their collectibility to a very loyal, very spendy fanbase. That cachet and the exclusivity of Blue Harvest help make this fancy--and affordable--Blu-ray boxed set more attractive than the only girl in the galaxy, dressed in a metal bikini....
Product Details
Voice Actors: Seth McFarlane, Alex Borstein, Seth Green, Mila Kunis, Mike Henry, Patrick Warburton
Directors: Dominic Polcino, Peter Shin
Audio Format/Languages: DTS-HD Master Audio 5.1 (English) - all;  DTS 5.1 (French, German, Italian, Castilian Spanish), Dolby Digital 5.1 (Spanish) - Blue Harvest
Subtitles: English SDH, Spanish, French, Quebec French, Portuguese, Italian, German, Castilian Spanish, Danish, Dutch, Finnish, Norwegian, Swedish, Commentary in various languages (Blue Harvest); English SDH, French, Portuguese, Danish, Finnish, Spanish, Norwegian, Swedish, Cantonese, Mandarin, English Commentary, Danish Commentary, Finnish Commentary, Norwegian Commentary, Swedish Commentary (Something, Something); English SDH, Spanish, French (It's a Trap!)
Aspect Ratio: 1.33:1/1.33:1/1.78:1
Number of discs: 6
Rating: NR
Studio: Fox
Release Date: December 21, 2010
Run Time: 48/55/57 minutes
List Price: $39.99
Extras:

Audio commentary by Patrick Clark, Mike Elias, David Goodman, Joseph Lee, Seth McFarlane, Dominic Polcino, Danny Smith, Alec Sulkin and Kara Vallow (Blue Harvest); Seth McFarlane, Mark Hentemann, David A. Goodman, Kirker Butler, Dominic Polcino and Seth Green (Something, Something); Seth McFarlane, David A. Goodman, Cherry Chevapravatdumrong, Shannon Smith and Peter Shin (It's a Trap)
"A Conversation with George"
"Once in a Lifetime: The Making of Blue Harvest"
Family Guy Star Wars Clip Show
Animatic Version of Blue Harvest
Family Guy Fact-Ups
"The Dark Side of Poster Art"
Something, Something Animatic Scene-to-Scene Comparison with commentary
Family Guy: Something, Something, Something Dark Side Table Read
Sneak Peek of Family Guy - Episode VI: We Have a Bad Feeling About This Table Read
"A Very Special Message from Darth Stewie"
"Star Wars Trivial Pursuit: The Ultimate Championship"
"Drawing with Peter Shin"
Sock Puppet Outtakes
It's a Trap Animatic
"Making the Scene"
Digital Copies
BD-Live with Live Extras