Labor Pains on Blu-ray Disc Review
By Rachel Cericola
The Film
After 2007's
I Know Who Killed Me
, it seemed that Lindsay Lohan's career was pretty much kaput.
Labor Pains
is the actress' attempt to go back to comedy. Remember how good she was in
Mean Girls
? Yes that was eons ago, and yes, this is the comeback that never quite happened.
Labor Pains
never saw the light of day or the dark of mainstream theaters. Instead, it went straight to DVD and Blu-ray, with a grand premiere on the ABC Family network. That should be an indicator of how good the movie actually is. It's sad, too, because despite what you've seen in the tabloids, Lohan still has beauty, charm and some comedic timing. Unfortunately,
Labor Pains
doesn't let her show off any of it.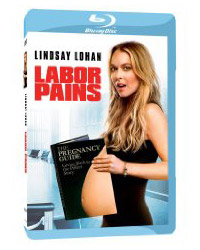 The story is simple enough. Thea (Lohan) needs her crappy job. She's about to be fired when she blurts out that she is pregnant. Of course, it's a lie. It's also the basis for the entire movie. Sadly, Thea is not the most despicable person in the movie -- not by a long shot. The sister (Bridgit Mendler) that Thea is trying desperately to support is never really developed, but still deserves a good kick in the teeth. Also, supporting characters Cheryl Hines (
Curb Your Enthusiasm
), Chris Parnell (
Saturday Night Live
), Creed Bratton (
The Office
), and
American Idol
cast-off Kevin Covais each have their own creepy way off getting through the movie. You, however, are on your own.
The Picture
Like certain points of the movie, this 1.78:1 transfer does have a few highlights. Of course, baby gear can usually get people oohing and aahing, and that should be no different here. Yes, cute baby colors pop, and so do some of the outdoor scenes. Other than that, the image is pretty flat, with a hint of peachfuzz in some areas -- and not the kind you see on a newborn. Also, did you ever notice how Lohan looks great in some tabloids and frightening in others? You'll see a few of those moments here. However, for most of the movie, she looks a lot more like one of the mean girl Plastics, as slim and blonde as ever. Definitely keep your eyes out for those freckles though; nothing can hide them from the powers of Blu-ray.
The Sound
The film is all dialogue. Whether you consider that a good or bad thing is subjective, but the Dolby TrueHD does deliver it nicely. Aside from that, there's not a whole lot else going on except for the corny, constant soundtrack, which plays like something out of a bad '80s comedy.
The Extras
The release includes the typical making-of featurette, which won't tell you much about the thought process behind the film, assuming there was one. It's fairly typical, as are the few cast interviews. Other than that, there's the always-questionable still photo gallery. It's not much, but it's a decent collection, considering the movie premiered on basic cable.
Final Thoughts
I'm pulling for Lindsay Lohan. Don't ask me why, but I am. However,
Labor Pains
was almost like giving birth all over again, but without the big payoff at the end. If you must check out what the actress has been up to in the past two years, pick up an
Us
magazine or log onto TMZ -- or at least go into this one as a rental.
Where to Buy:
Product Details
Actors: Lindsay Lohan, Cheryl Hines, Chris Parnell, Bridgit Mendler, Luke Kirby, Janeane Garofolo, Aaron Yoo, Bonnie Somerville, Jay Thomas
Director: Lara Shapiro
Audio/Languages: Dolby TrueHD 5.1 (English), Dolby Digital 2.0 (English)
Subtitles: English SDH, Spanish
Aspect Ratio: 1.78:1
Region: A
Number of Discs: 1
Rating: PG-13
Studio: First Look Pictures
Blu-ray Disc Release Date: August 4, 2009
Run Time: 89 minutes
List Price: $29.98
Extras:

Also Available from First Look
Production Stills
Making of Featurette
Cast Interviews