LG Unveils PenTouch TV: Plasma HDTVs with Touch Screen Capabilities
By Rachel Cericola
We don't usually advocate putting smudgy fingerprints all over a plasma TV. LG is about to change our way of thinking.
The company just announced the LG PenTouch TV, a series of plasma TVs designed to work in conjunction with a personal computer. Once the two are connected, the LG PenTouch TV uses a special touch-sensitive stylus pen to allow viewers to create, modify and control right on the screen.
Users can activate the PenTouch mode with a click of the remote control. The option allows users to access and work on files stored on the connected PC, draw pictures directly on the screen, and organize a Family Calendar. If the connected PC is linked to a printer, you can even print some of your favorite creations.
Besides all of the work stuff, there's plenty of Internet content to play around with as well. We have to wonder how gaming can factor in as well, given that the TV supports simultaneous two-pen use. Once you've put the pen away for the day, it can be charged through your PC or TV, via an open USB port.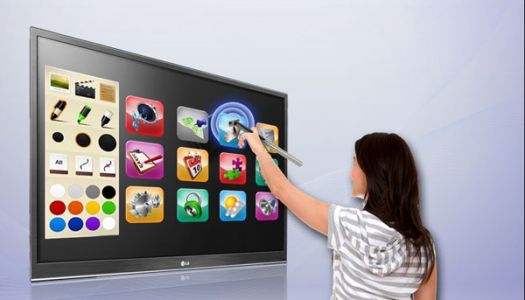 "Touch displays have become the norm in mobile phones and tablets, but remain almost unheard of in TVs," said Jay Vandenbree, senior VP of LG USA's home entertainment division. "The PenTouch TV brings all the excitement of touch displays, computers and the Internet to the world of television, with functions and programs that are great fun and really educational. Families, in particular, will have more than ever to enjoy on LG PenTouch TV plasma screens."
Other features on the LG PenTouch TV include a protective scratch-resistant glass screen, auto sharpness control and color materialization technology. It also features LG's own TruSlim Frame design, as well as a special stand that's designed to be stable when using the PenTouch feature.
LG is launching the PenTouch TV line with three plasma models. The 60-inch 60PZ850 is 3D capable, with THX 3D and 2D Display Certification, for $2199 (MSRP). The 60-inch 60PV490 and the 50-inch 50PV490 have a full 1080p HD image, Picture Wizard self-calibration, Intelligent Sensor automatic picture adjustment and Smart Energy Saving features. They are priced at $1,699 and $1,099, respectively.
LG recommends that PenTouch users pair the TV with a PC that features a dual-core 2GHz or better CPU, 1GB or more of memory, a 500MB or more HDD, a graphics card with 1920x1080 (for PZ850 series) or 1024x768 (for PV490 series), and an RGB or HDMI connection. The Windows 7 (32 or 64 bit) OS is preferred, but all three TVs will also work with 32 bit Windows XP and 23 and 64 bit Windows Vista. LG says that the Windows 7 Starter Edition is not supported. Also, sorry Mac users; it looks like the TV is not compatible with Apple products at this time.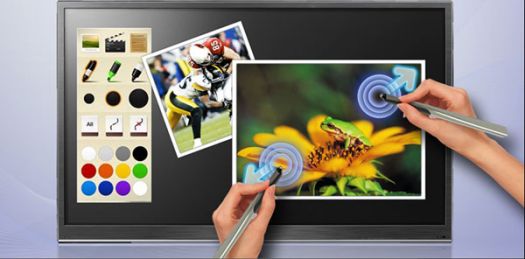 For More Information: