KEF Muon Loudspeakers Going Fast
By Chris Chiarella
There's just something really invigorating about discovering and demo'ing a product deemed the "Ultimate." And that's what KEF had to show us here in Denver at the CEDIA Expo with their Muon loudspeakers.

Constructed of nearly seven feet of super-formed aluminum--using large sheets of hot metal to mold otherwise impossible shapes--the woman-shaped Muon was designed by Ross Lovegrove and engineered by KEF. The large, mighty bass drivers are front-mounted, while the Uni-Q drive array contains the upper midrange and treble, which all combine seamlessly for ultra-high-end two-channel performance. The Muon also incorporates KEF's proprietary Acoustic Compliance Enhancement technology, which effectively doubles the available cabinet volume through adsorption of air molecules by activated carbon.

So there.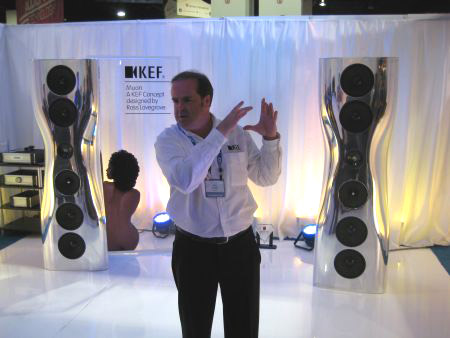 A scant 100 pairs of Muon will be manufactured and sold, in ten cities worldwide. The $165,000/pair price tag will deter some but apparently not all, as stock is already seriously depleted. Ironically, the CEDIA hall noise level is incredibly high at almost all times, and so I had to take on faith that the already award-winning Muon sound better than the $150,000 speakers I bought last year.
[editor's note: when I went to visit, I caught a sonic glimpse of the Muon under slightly quieter conditions and the system sounded mighty impressive indeed. And here's one more picture because they're just so purty!]