KEF Unveils 50th Anniversary LS50 Mini Monitor Speaker for $1499.99/pair
By Chris Boylan
Sometimes good things do come in small(ish) packages, and that's certainly the case with KEF's new studio mini monitor loudspeaker, the LS50. This limited edition speaker is being introduced in celebration of the British speaker company's 50th anniversary. The LS50 pays homage to KEF's popular LS3/5a mini monitor, which has seen widespread use since the 1960s in professional broadcast and recording studios, as well as in the homes of discerning audiophiles worldwide. The LS50 is a new interpretation of that speaker design, now updated with KEF's latest technological advancements.
The LS50 comes in any color you want, as long as you want black, and that black is a gorgeous high gloss piano black with a rose gold-colored Uni-Q driver on the front. The cabinet features constrained layer damping to reduce resonances compared to traditional designs, while the baffle has been optimized for smooth on- and off-axis dispersion and to reduce unwanted cabinet resonance.
KEF's trademark Uni-Q driver covers the full range of sound from low bass (47 Hz) all the way up into ultrasonic territory (45 hKz) so your dog can enjoy it too. This latest incranation of the Uni-Q driver features a damped Mg/Al alloy metal low/mid frequency cone and a rear-vented high frequency driver to provide enhanced clarity, definition and three dimensional imaging from speaker that's just shy of a foot tall.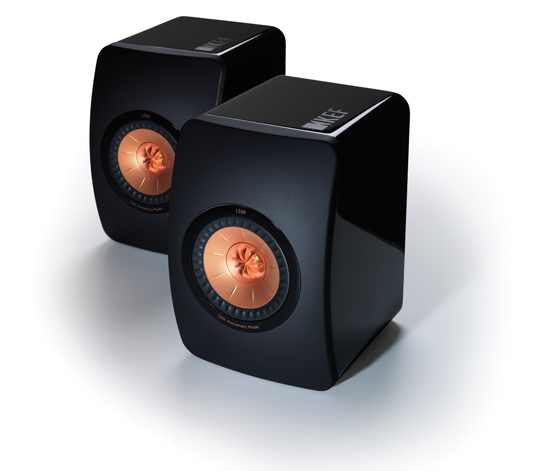 "The new KEF LS50 mini monitor is a great example of how KEF lead the way in acoustical engineering and design for over 50 years," said Alec Chanin, president of KEF America. "In one regard, the LS50 pays tribute to a legendary loudspeaker that captured the attention of a country nearly 50 years ago--the LS3/5a. On the other hand, the LS50 demonstrates how KEF has continued to redefine loudspeaker innovations. The LS50 is the ultimate mini monitor and allows listeners to experience sounds they've never enjoyed while listening to a rich, multi-dimensional soundstage previously not attainable from such a compact design."
KEF LS50 Specifications:
Design: Two-way bass reflex
Drive units Uni-Q driver array:

HF: 25mm (1in.) vented aluminum dome
MF: 130mm (5.25in.) magnesium/aluminum alloy

Frequency range: 47Hz - 45kHz (-6 dB)
Frequency response: 79Hz - 28kHz (+/- 3 dB)
Crossover frequency: 2.2kHz
Amplifier requirements: 25 - 100 W
Sensitivity: 85dB (2.83V/1m)
Harmonic distortion: 2nd & 3rd harmonics (90dB, 1m): <0.4% 175Hz-20kHz
Maximum output: 106dB
Nominal impedance: 8 ohms (min. 3.2 ohms)
Weight: 7.2 kg (15.8 lbs.)
Dimensions with terminal (H x W x D): 302 x 200 x 278 mm (11.9 x 7.9 x 10.9 in.)
Finish High gloss piano black cabinet
Price: $1499.99/pair
The LS50 retails for $1,499.99/pair and is available for pre-order beginning today (May 3, 2012) directly on KEF's web site at
www.kefdirect.com
.  Word on the street is that the speakers will begin shipping in early June.