KEF Enhances Q Series Speakers with New Uni-Q Driver Design
By Rachel Cericola
The eighth time is a charm! Actually, since its inception in the early '90s, every version of KEF's Q Series loudspeaker has been met with enthusiastic reviews, both from owners and professional reviewers, so the eighth generation of this speaker series should be no different.
What's unique here is that the latest version of the Q Series was born out of KEF's Concept Blade project. It sounds like something out of one of the Matrix movies. However, these special effects come in the form of a brand new Uni-Q driver array.
That new array boasts a bigger, better vented tweeter, which is mounted in the center of a new metal cone low/mid frequency driver (LF/MF). The end result promises killer sound in classic, yet slick, cabinets.
The first in the new line is the Q900 floor-standing speaker. At $799.99 each, this is the first Q model in about 18 years to get a new 8-inch Uni-Q driver, along with an 8-inch aluminum LF driver and two 8-inch ABRs (Auxiliary Bass Radiators). Two other 2.5-way floor-standing models are also available. The Q500 ($499.99 each) is designed for smaller rooms, with the Q700 ($699.99 each) geared toward bigger rooms and home theaters.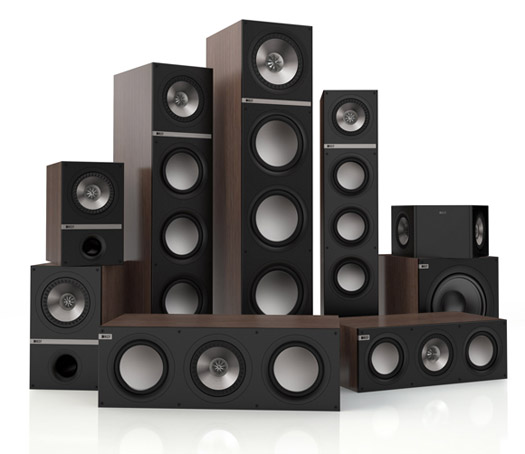 For something a bit smaller, the Q Series offers two bookshelf options. The Q100s include a 5.25-inch Uni-Q driver array, with a 1-inch high frequency unit. At $499.99 per pair, these fill the bill for "mini monitor" speakers, or could easily serve as rear or side surround speakers. The Q300 model bumps up to a 6.25-inch array, for deeper bass reproduction.  Those are $599.99 per pair.
Also adding a bit of girth to the line are four additional home theater units. The dipole Q800 speaker features two 5.25-inch driver arrays with 1-inch high frequency units.  Its dipole design makes it a good match for surround speaker duties for the side or rear channels.  Those run $699.99 per pair. The two center-channel options are the Q200 and the Q600. At $399.99 each, the 200 is designed for smaller applications, with the larger 600 costing $599.99. Last, but not least, is the 10-inch, 200-watt Q400 Class D powered subwoofer. That has an MSRP of $649.99 each.
"The completely re-engineered Q Series, featuring the perfect blend of aesthetic elegances and superior sound performance, provides listeners with the high end audio experience they have come to expect from the KEF brand," said Alec Chanin, president of KEF America. "For nearly two decades, the Q Series has been regarded as one of the finest box loudspeakers on the market and this latest evolution is certain to enhance its legacy among audio enthusiasts."
For More Information:
Where to Buy KEF Speakers Online: