Jason Bourne Blu-ray Review
By Rachel Cericola
The Film
It's been almost 10 years since Matt Damon appeared in the Bourne franchise. The actor ditched the wildly successful action series after 2007's The Bourne Ultimatum, because director Paul Greengrass opted not to return. Jeremy Renner and Tony Gilroy took over to produce 2012's The Bourne Legacy, but this was not the Bourne we wanted.
So Universal brought Damon and Greengrass back for Jason Bourne. It may not have the same level of intrigue or dialogue as the first three movies, but let's remember that this is the same rogue action hero who killed a bad guy with a rolled-up magazine in The Bourne Supremacy. If that's the Bourne you know and love, you'll enjoy this movie.
The action picks up a decade after the last film. Bourne is alive and kicking. Well, he's mostly punching, seeing how he now makes his living as an illegal street fighter. It pays the bills and should entertain the audience, with many shots of Damon's killer physique (literally and figuratively). Of course, Nicky Parsons (Julia Stiles) knows he's meant for greater things, so she tracks him down with info about Bourne and his father, which she obtained through a hacktivist group.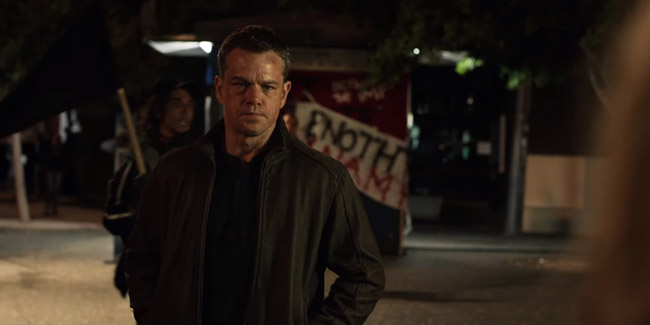 Of course, the government isn't having any of that, so CIA director Robert Dewey (Tommy Lee Jones) orders CIA cyber-geek Heather Lee (Alicia Vikander) to track him down. However, the real threat is that Dewey has also dispatched the Asset (Vincent Cassel), an ex-Blackbriar assassin, who also has some sort of personal grudge against Bourne.
This is the fourth installment of Damon's Bourne. (I'm not counting The Bourne Legacy and neither should you.) At this point, you should know what to expect. There are cover-ups, a lot of intense staring at computers, cool fight scenes, and a high kill count. It's not exactly groundbreaking, but Jason Bourne is entertaining -- and leaves the story open for Bourne to come back yet again.
Need another briefing on this movie? Check out Matthew Passantino's theatrical review of Jason Bourne.
The Picture
Matt Damon isn't the only one who returned for Jason Bourne. Director Paul Greengrass is back -- and he brought his shaky-cam with him. It may make some viewers queasy, but it definitely doesn't take away from this 2.39:1 image. It's awesome, with plenty of detail evident throughout, from facial hair and frown lines to blood and the sparkly Vegas backdrop. Contrast and black levels deserve a shout-out here, considering the film is so dark at times. The image is never muddy or soft. It's exactly what you'd expect from an action-packed blockbuster.
The Sound
Thankfully, Denon made the DTS:X update available for my receiver just in time for Jason Bourne. The track is absolutely fabulous. From the opening recap to immersive gunfire to John Powell and David Buckley's thrilling score; it's the type of immersive experience that makes you want to run out and upgrade (and/or maybe even tack on a few extra speakers). Surround sounds are separate from those height channels and stand out on their own quite nicely, with blood-thirsty crowds, the protesters in Athens, a motorcycle chase, background traffic, and more. It's a really fun track.
The Extras
The return of Matt Damon and Paul Greegrass got a lot of hype, but you'd never know it from this collection of extras. All of the shorts are interesting, but mostly cover specific sections of the film. There's no commentary track, deleted scenes, or trailers. There is Matt Damon, who introduces all of the shorts presented here. That includes a two-part featurette that spends a total of 15 minutes dissecting the scene in Las Vegas, another 5.5-minute short on the Athens chase, and another three-part piece that has almost 20 minutes on prepping and shooting the fight scenes. There's also an 8-minute feature on why and how Damon and Greengrass got back into the Bourne series.
Final Thoughts
If you were expecting something innovative from the return of Matt Damon and Paul Greegrass, you may be a little disappointed in Jason Bourne. However, fans of the series will enjoy seeing both back in their respective roles. The story may not be as novel as it once was, but it's still entertaining, with a Blu-ray that delivers the crashes, thrashes, and hits with a lot of detail. Enjoy.
Product Details
Actors: Matt Damon, Tommy Lee Jones, Alicia Vikander, Vincent Cassel, Julia Stiles, Riz Ahmed
Director: Paul Greengrass
Audio/Languages: DTS:X/DTS-HD Master Audio 7.1 (English), DTS Headphone:X (English), DTS-HD 7.1 (Spanish), DTS 5.1 (French) DVS 2.0 (English)
Subtitles: English SDH, French, Spanish
Aspect Ratio: 2.39:1
Number of Discs: 2
Rating: PG-13
Studio: Universal
Blu-ray Disc Release Date: December 6, 2016
Run Time: 124 minutes
List Price: $34.98
Extras:

Bringing Back Bourne
Bourne to Fight
The Athens Escape
Las Vegas Showdown
Standard-Def DVD
Digital Copy
UltraViolet Digital Copy
Where to Buy: