James Bond Blu-ray Collection Three-Pack, Volume 3 (The World is Not Enough, Goldfinger, Moonraker) Review
By Chris Chiarella
The Movies
Try and keep up: The first wave of "classic" James Bond films on Blu-ray consisted of a total of six films, also sold in a pair of convenient three-packs, Volume One and Volume Two. The second wave just landed, half as many titles this time around, all of which comprise the lovely book-style Volume Three. Inside is a sampling of adventures from the three longest-tenured Bonds: Pierce Brosnan, Roger Moore and of course, Sean Connery.
The World Is Not Enough is proof-positive that even a so-so Bond film is a terrific ride, as reality show staple Denise Richards plays a nuclear genius who dresses like Lara Croft and looks like... a young Denise Richards. She and Brosnan square off against one of the weepiest villains in Bond history. Moonraker was the franchise's attempt to cash in on the science fiction craze of the late Seventies, following shortly after Star Wars and Close Encounters of the Third Kind. Despite some silliness, there's plenty of eye-popping old-school action.
And then there's Goldfinger, the movie with which the series first hit its stride. Perhaps crude by modern (pre-Daniel Craig) standards, 007's cheekiness, sex appeal, gadget savvy and ass-kicking fury were still on full display, setting the standard for decades. The bad guys, the car chases and the storytelling itself took a giant step forward, and audiences would be hooked from 1964 onward.
The Picture
Goldfinger and Moonraker were full restorations from the film negative, performed a few years ago at 4K resolution, and the results remain spectacular. The pillarboxed 1.66:1 Goldfinger flaunts texture, texture everywhere, a remarkable clean-up better here than in any previous incarnation, despite a hint of twitch in vast lawns and the like. Moonraker too is clear and crisp and with a steady 2.4:1 image that is definitely refreshed but faithful to its past, with brilliant blacks. The World Is Not Enough, also 2.4:1, shows a pleasing level of detail intermittent with some occasional softness and a fair amount of grain and video noise. At only ten years young it did not cry out for restoration, but it does not impress on the same scale as its older brothers, either.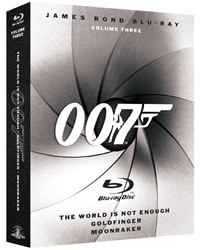 The Sound
All three movies are proffered in DTS-HD Master Audio 5.1, and each is enjoyable in a different way. The World tenders modern slickness, with excellent rear channel use, seamless directionality and big, meaty explosions. The large budget for Moonraker probably afforded superior recording quality for its era, and the high-resolution 5.1 mix is a boon to John Barry's score in particular. It's a convincing multichannel soundtrack, definitely aggressive but never overly so. And Goldfinger now has a fullness, power and spread simply not possible 45 years ago, a real clarity overall plus subtle three-dimensional moments like the driving of a golf ball. High-octane setpieces are leaner and scarcer here, but gunshots, echoes and airplanes ring true.
The Extras
Each disc ports over the extensive bonus materials from the two-disc special edition DVDs, organized into five main categories, here in their best-ever quality. "Declassified: MI6 Vault" presents some rare vintage clips from the time of original theatrical releases, "007 Mission Control" accesses a collection of themed movie scenes, although a few of the menu controls are mixed up. "Mission Dossier" is a mélange of featurettes including more modern "making of" programs, "Ministry of Propaganda" brings back promotional trailers or TV and radio ads, with the "Image Database" still gallery on board as well.
The films all carry at least one audio commentary, too. Goldfinger gives us director Guy Hamilton, with a second track by composer John Barry, stunt and special effects crew and others. Moonraker shares the musings of Sir Roger Moore, with an enjoyable conversation between director Lewis Gilbert, screenwriter Christopher Wood, associate producer Wlliam P. Cartlidge and executive producer Michael G. Wilson on an alternate channel. And The World Is Not Enough brings together production designer Peter Lamont, composer David Arnold and second unit director Vic Armstrong for the occasion.
Final Thoughts
This three-pack is a classy approach to the latest batch from MGM/Fox, a trio of high-def special edition wonders for the discerning British spy. Or his fans.
Where to Buy:
Product Details
Actors: Sean Connery, Honor Blackman, Gert Frobe Shirley Eaton, Tania Mallet, Harold Sakata, Bernard Lee, Martin Benson, Cec Linder, Austin Willis, Lois Maxwell, Bill Nagy; Roger Moore, Lois Chiles, Michael Lonsdale, Richard Kiel, Corinne Clery, Geoffrey Keen, Desmond Llewelyn, Toshirô Suga; Pierce Brosnan, Sophie Marceau, Robert Carlyle, Denise Richards, Robbie Coltrane, Judi Dench, John Cleese, Maria Grazia Cucinotta, Samantha Bond, Michael Kitchen, Colin Salmon
Directors: Guy Hamilton, Lewis Gilbert, Michael Apted
Audio Format/Languages - All Films: DTS-HD Master Audio 5.1 (English), Dolby Digital 5.1 (Spanish, French); also Dolby 2.0 (Moonraker), Dolby Mono (Goldfinger)
Subtitles: English SDH, Spanish, Cantonese, Korean Mandarin
Aspect Ratio: 1.66:1 (Goldfinger)/2.40:1 (Moonraker and The World Is Not Enough)
Number of discs: 3
Rating: PG (Goldfinger and Moonraker)/PG-13 (The World Is Not Enough)
Studio: MGM/Fox
Release Date: March 24, 2009
Run Time: 110 minutes (Goldfinger)/126 minutes (Moonraker)/128 minutes (The World Is Not Enough)
List Price: $89.98
Extras:

"Declassified: MI6"
"007 Mission Control"
"Mission Dossier"
"Ministry of Propaganda"
"Image Database"
Commentary by Guy Hamilton, plus Crew Commentary (both Goldfinger)
Commentary by Sir Roger Moore, plus joint Commentary by Lewis Gilbert, Christopher Wood, William P. Cartlidge and Michael G. Wilson (both Moonraker)
Commentary by Peter Lamont, David Arnold and Vic Armstrong (The World Is Not Enough)