Integra Announces DTR-30.1 and DTR-20.1 Home Theater Receivers
By Rachel Cericola
Looking for a new anchor for your A/V system? You're in luck. Integra
just announced
two new home theater receivers, the DTR-30.1 and the DTR-20.1.
Aside from the latest and greatest, they are also the least expensive -- or at least mid-priced -- in the high-end brand's line. The Integra DTR-30.1 and DTR-20.1 are, respectively, 7.2- and 5.2-channel, two-zone receivers.
The DTR-30.1 features Faroudja DCDi Edge technology. It also has the claim to fame as Integra's first A/V receiver to add in Dolby ProLogic IIz, which promises listeners a 3D-styled listening experience with new height channels in addition to the standard surround channels. Another standout feature is its Powered Zone2 capability, which allows two of the unit's seven main amplifiers to be used for Zone 2 amplification while still enjoying 5.1-channel surround sound in the main zone.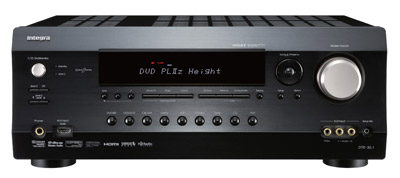 Both units include HDMI 1.3a connection support, Deep Color, x.v. Color, and high-definition sound via on-board Dolby TrueHD and DTS-HD Master Audio decoding. Each also has RS-232 and Ethernet ports, as well as three programmable 12-volt triggers, dual IR inputs, and three unique assignable IR code sets. The DTR-30.1 features six HDMI inputs, which includes one on the front. The DTR-20.1 has four HDMI inputs. Each promises 90 watts per channel of amplification into 8 Ohms, as well as Audyssey's 2EQ automatic calibration system.
Integra says each receiver also has a new proprietary rear-panel universal port, which simplifies the connection of forthcoming add-on modules, such as an HD Radio Tuner and iPod Dock. However, you don't have to wait to take these puppies home. The Integra DTR-30.1 and DTR-20.1 are selling now for the suggested retail prices of $800 and $600 each, respectively. An optional rack mount kit is also available.
For More Information: