Immortals Blu-ray 3D Review
By Chris Chiarella
The Movie
Like your Greek mythology fast and loose, without being bogged down by accuracy to the classic texts? Then Tarsem Singh Dhandwar's Immortals is for you. We are taught that all men's souls are immortal, but the righteous are immortal and divine. This bodes well for Theseus (Henry Cavill), a big-hearted peasant circa 1228 B.C. The able-bodied wannabe warrior is unafraid to fight for what he believes in, and so mankind is fortunate that circumstance makes him the sworn enemy of despotic King Hyperion (Mickey Rourke). Hyperion is scouring the country looking for the Epirus bow, a magical weapon that would make him invincible, and leaving devastation in his wake. He also plans to unleash the Titans, dangerous outcasts from Mount Olympus whose release would spell doom for the world of man.
The gods are watching from on high, but are forbidden to interfere directly with the course of action, and so the flesh-and-blood combatants must take up swords and spears and wage bloody war in a decidedly lopsided contest of bravery and skill. What amazes me is how much this movie blatantly borrows from similar films such as 300 and Clash of the Titans, but without the keen focus of either. And it is obviously targeting the same demographic as both of those, so they thought that we wouldn't notice? Not helping Immortals is its surprisingly slow pacing in places, and the almost random manner in which certain plot events unfold.
For more insight, do give Jim Dooley's review of Immortals a read.
The Picture
Captured on digital video, the 1.85:1 Immortals was converted from 2D to 3D in post-production, but for what it's worth, it was designed and shot with the intent of 3D exhibition in mind. The results offer the home viewer a pleasing sense of realistic depth into the TV, albeit with that faint, telltale glow around characters and objects. But so much of this movie was shot against green screen anyway, the eye can forgive it.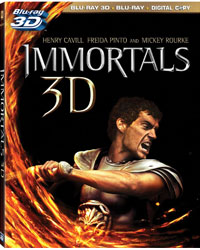 The image displays some outstanding sharpness and detail, even in the many long shots, a boon to the work of the great visual stylist Tarsem (The Cell, The Fall). I did however note quite a lot of video noise, and the blacks can definitely become murky, so overall the technical quality was not the home run I'd hoped for.
The Sound
This Blu boasts exceptional directionality across the 5.1-channel soundstage, as mystical arrows and more whiz every which way during the big, bawdy action. The DTS-HD Master Audio track also imparts a welcome sense of atmosphere, particularly in its utilization of the surrounds for softer cues. But the presentation is certainly dynamic when it needs to be, with a majestic scope and plenty of power particularly when magical forces are let loose.
The Extras
In high definition on the 2D Blu-ray we have the five-and-a-half-minute featurette "It's No Myth," populated by well-credentialed notables discussing the classic starting point for the film. From here we segue to the four-part making-of "Caravaggio Meets Fight Club: Tarsem's Vision," which also delves into the stunts, effects, and music (20-and-a-half minutes total).
In addition to an alternate opening and two alternate endings, we are given eight deleted scenes, as well as a look at the Immortals: Gods & Heroes graphic novel published by Archaia Entertainment, as we first saw at New York Comic Con 2011. Disc Three, a DVD-ROM, carries a Digital Copy for iTunes, Android and Windows Media.
Final Thoughts
If you can't get enough digitally-enhanced sword-and-sandal epics, Immortals is probably worth at least a rental, although the less-than-optimal video quality and sub-par script mean that this one likely won't be living forever in your disc library.
Product Details
Actors: Henry Cavill, Mickey Rourke, Stephen Dorff, Freida Pinto, Luke Evans, John Hurt, Joseph Morgan
Director: Tarsem Singh Dhandwar
Audio Format/Languages: DTS-HD Master Audio 5.1 (English). Dolby Digital 5.1 (French)
Subtitles: English SDH, Spanish
Aspect Ratio: 1.85:1
Number of discs: 3
Rating: R
Studio: Fox/Relativity
Release Date: March 6, 2012
Run Time: 110 minutes
List Price: $49.99
Extras:

"It's No Myth"
"Caravaggio Meets Fight Club":

"Tarsem's Vision"
"Visual Effects"
"Stunts"
"Creating the Score"

Alternate Opening: "Young Theseus"
Alternate Ending: "This Is Our Last Embrace"
Alternate Ending: "Theseus Kills Hyperion"
Deleted Scenes
Immortals: Gods & Heroes Graphic Novel
Digital Copy