Hugo Blu-ray 3D Review
By Chris Chiarella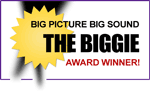 The Movie
With Hugo, director Martin Scorsese has demonstrated a profound evolution away from the gritty urban dramas for which he is perhaps best known, and created a timeless work of art that welcomes all. Hugo Cabret (Asa Butterfield) is the orphaned son of a Paris watchmaker now living alone inside the walls of the train station and tending to its many clocks. When not dodging the long arm of the station inspector (Sacha Baron Cohen), he is gathering the parts he needs to complete his father's final project: the restoration of a beat-up old automaton--an elaborate mechanical man--found in the attic of a museum.
Secrets abound and we're not exactly sure where all of this is headed, but it somehow involves the owner of the toy shop (Ben Kingsley) who has been unwittingly supplying young Hugo with gears and cogs. And then very quickly it all turns, expanding to become nothing less than a love letter to film itself. We are introduced to Georges Méliès, a pioneer in the early days of cinema, not quite a tragic figure but an unfortunate one. His fate has a late twist that no one could have predicted, serving as a rallying cry for film preservation, a cause famously close to Mr. Scorsese's heart.
Adapted by John Logan from the book The Invention of Hugo Cabret by Brian Selznick, Hugo is a visually exquisite period piece that skimps on nothing, boldly ambitious but that ambition is magnificently realized in ways only one of our finest filmmakers could achieve. For more, give Joe Lozito's review of Hugo a read as well.
The Picture
In the post-World-War-I era of Hugo, film is exalted as one of the great spectacles of its day, and now Scorsese has echoed that same spirit of technology and showmanship by making this his first film shot in 3D. The results are outstanding, with an appreciable depth in most scenes, particularly the bustling locales of the train station. Subtle successful touches are layered in, sprays of dust and so on, and we may find ourselves tempted to bat away the frequent snowflakes.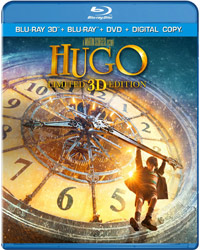 Computer-generated effects are heavily employed, and here too a strong, credible dimensionality is displayed, as in the Parisian cityscape. This was also Marty's first movie to be capture digitally and the 16:9 image has a gorgeous clarity, right down wrinkles and pores and the faintest glint of perspiration. There's a pleasing, filmic warmth thankfully, and an intoxicating color palette.
The Sound
The DTS-HD Master Audio 7.1-channel soundtrack packs the requisite power when necessary--roaring trains in the station and so forth--but it is even more so a triumph of delicacy, with cues being mixed cleverly and aggressively across the speakers. We begin with a discrete ticking of clockworks around the home theater, establishing the world that we are about to enter. Voices and other elements display a soft resonance or sometimes a full-blown echo through to the surrounds, which are also utilized to convey off-camera activity, the bigness of the station and the elaborate machinations of Hugo's secret milieu. Howard Shore's music meanwhile floats dreamily behind us.
The Extras
At about 20 minutes, "Shoot the Moon" (The Making of Hugo) provides a brisk but comprehensive overview of the grand production. In "The Cinemagician, Georges Méliès" (about 16 minutes), an array of experts discuss the real-life showman. "The Mechanical Man at the Heart of Hugo" (about 13 minutes) explores the science and the significance of the automaton.
"Big Effects, Small Scale" (six minutes) reveals the miniatures used to create the enormous train crash sequence. And the man behind Borat isn't taking matters too seriously in "Sacha Baron Cohen: Role of a Lifetime" (three-and-a-half minutes). All of these featurettes can be found on the 2D Blu-ray only, and are in high definition.
Disc Three is a handy DVD of the movie. Also included is a unique printed code for an UltraViolet and an iTunes Digital Copy.
Final Thoughts
Hugo is a masterpiece crafted by a true artist, a warm and wonderful tribute to the power of film that now takes full advantage of the modern marvels of high-def and 3D. This is my most highly recommended disc of the year thus far.
Product Details
Actors: Ben Kingsley, Sacha Baron Cohen, Asa Butterfield, Chloë Grace Moretz, Ray Winstone, Emily Mortimer, Christopher Lee, Jude Law
Director: Martin Scorsese
Audio Format/Languages: DTS-HD Master Audio 7.1 (English). Dolby Digital 5.1 (French, Spanish, Portuguese, English Audio Description)
Subtitles: English, English SDH, French, Spanish, Portuguese
Aspect Ratio: 1.78:1
Number of discs: 3
Rating: PG
Studio: Paramount
Release Date: February 28, 2012
Run Time: 126 minutes
List Price: $54.99
Extras:

"Shoot the Moon" (The Making of Hugo)
"The Cinemagician, Georges Méliès"
"The Mechanical Man at the Heart of Hugo"
"Big Effects, Small Scale"
"Sacha Baron Cohen: Role of a Lifetime"
DVD
Digital Copy