Hellboy II: The Golden Army on Blu-ray Disc Review
By Chris Chiarella
The Film
The sequel to 2004's Hellboy and writer/director Guillermo del Toro's first film since the acclaimed Pan's Labyrinth, The Golden Army is an action-packed fantasy based upon the comic book created by Mike Mignola. When an ancient truce between humans and magical beings is about to be broken, and 4,900 unstoppable mechanical soldiers unleashed, Hellboy (Ron Perlman) and his cohorts at the Bureau for Paranormal Research and Defense are all that can save mankind.
Perlman remains one of the most underappreciated actors working today, perhaps because he often hides beneath elaborate makeup, while co-star Selma Blair gives one of her most engaging performances here as firestarter/love interest Liz Sherman. Despite the ample humor and fight scenes, the movie is clearly infused with more of the stylized Pan's Labyrinth flavor, a field day for exotic creatures and the mystical underworld, most notably in the vast troll market sequence, a little bit like the cantina in Star Wars only more ornately realized.
The Picture
Visually, no one can touch del Toro, his ability to use light and shadow to evoke emotion. In this pseudo-comic-book world, he employs bold primary colors: It helps when two of your main characters are nicknamed "Red" and "Blue," with a third frequently ensconced in golden flames. Blacks are deep, and the insane level of detail put into the costumes, the makeup, the sets and props reproduces breathtakingly in high-definition. Note specifically the delicate textures on the figures in the early flashback sequence showing the first war between The Golden Army and Man, recreated with physical puppets instead of computer animation to give it that extra bit of life. The 1.85:1 image is remarkably stable, never quite degrading into any significant artifacting, despite abundant smoke and mist.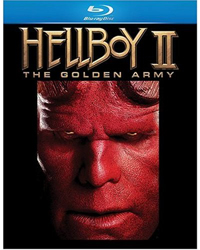 The Sound
The DTS-HD Master Audio 7.1 track is astoundingly aggressive, as in-our-face as Hellboy himself. The generous bass is not just powerful but sharp, as when the titanic forest god bursts through the pavement to attack downtown Manhattan, or an enormous metal vault door is flung down a long corridor. Hellboy's two handguns of choice demonstrate impressive directionality as well as boom, while steely edge weapons demand accurate treble response. None of the channels sit idle for long, as the home theater is typically filled with rain, thunder, beastly roars, crashes, helicopters, traffic and/or nasty otherworldly critters scurrying inside the walls around us. At times the offscreen action is pretty serious, and so surrounds will be pushed hard.
The Extras
We can sense del Toro's love of moviemaking right away from the enthusiasm he clearly conveys in his commentary track. Another, with cast member s Jeffrey Tambor, Selma Blair and Luke Goss is more lighthearted and frequently tangential as they defer all musings on the technical aspects of the movie to their director on the other channel. Universal's U-Control interactive feature is comprised of four different "in-movie" experiences which we can access via an optional icon that becomes active periodically during the film. Scene Explorer: Schufften Goggle View (referring to some fancy headgear worn by the characters) lets us watch the different stages of a complex scene, all at once in clustered peepholes or we can switch to view any one full-screen. Director's Notebook offers video comments at key points in the story, while Set Visits take us behind-the-scenes during the production, and the Concept Art Gallery speaks for itself.
In "Troll Market Tour with Guillermo del Toro" (twelve-and-a-half minutes, standard definition) the director shows us around this fantastic destination, his giddiness once again evident. "Production Workshop - Professor Broom's Puppet Theatre" gives us a glimpse of the evolution of that aforementioned flashback, as multiple "thumbnail storyboard progression" windows, after a brief introduction, all in standard-def, with optional commentary. Some of the deleted scenes (also with optional director commentary) are quite brief, some amusing, totaling five minutes, in standard-definition. The Zinco Epilogue Animated Comic enhances serial renderings with rudimentary motion, voices and word balloons, I guess in an effort to set up the next movie, since it has nothing that I can see to do with The Golden Army.
I thought that the Comic Book Builder would be fun, although the lengthy user agreement knocked some of the wind out of my sails. The technology is fairly revolutionary however: A scene plays in a small window and we use the remote to grab frames to use as comic book panels, then lay out our page, add pre-written words and phrases, give our masterpiece a name and finally "Publish." This is the only implementation of BD-Live that I could find on the disc, whereby we can opt to share our works with an online community, but how to implement it was not clear, likely because I reviewed the Blu-ray before street date and the feature was not yet active. There's also a still gallery with three categories of artwork, plus photos. A digital copy Hellboy II is provided on, to transfer to the computer and use with Windows Media and iTunes/iPods.
Final Thoughts
This is an ambitiously executed disc of an extremely fun movie that also flaunts reference-quality picture and sound. While I do wish that more of the special features were presented in high-definition, the content itself combined with the sophisticated controls are downright heavenly.
Where to Buy:
Product Details:
Actors: Ron Perlman, Selma Blair, Doug Jones, Jeffrey Tambor, Luke Goss, Anna Walton, James Dodd, John Alexander, Seth MacFarlane (voice), John Hurt
Director: Guillermo del Toro
Audio Format/Languages: DTS HD Master Audio 7.1 (English), DTS 5.1 (French, Spanish) 4.0 (English)
Subtitles: English SDH, Spanish French
Aspect Ratio: 1.85:1
Number of discs: 2
Rating: PG-13
Studio: Universal Studios
Release Date: November 11, 2008
Run Time: 120 minutes
Extras:

Commentary with director Guillermo del Toro
Commentary with actors Selma Blair, Jeffrey Tambor and Luke Goss
U-Control (Scene Explorer: Schufften Goggle View, Director's Notebook, Set Visits, Concept Art Gallery)
"Troll Market Tour with Guillermo del Toro"
Production Workshop with optional commentary
Deleted Scenes with optional commentary
"Zinco Epilogue" Animated Comic
Comic Book Builder
Image Galleries
Digital Copy of Hellboy II for iPod and PC