Harry Potter Wizard's Collection 31-Disc Blu-ray/DVD Set: $249.99 (save $250)
By Rachel Cericola
Last year, Warner Bros. announced this massive Harry Potter box set. Of course, it includes all of the theatrical films, but The Harry Potter Wizards Collection has so much more. With a whopping 31 discs, it basically has everything a fan could ever want. Unfortunately, most of you out there would need a little magic (or at least a big bankroll) to aquire that set; it has an MSRP of $499.99.
However, we just found out that Amazon has conjured up something special for fans, friends and anyone else that has been waiting to acquire this collection. It's not a spell. Instead, it's today's Gold Box Deal. For one day only, the retailer will be selling The Harry Potter Wizards Collection for $249.99. That special price includes total of 31 discs, 18 of which are movies. It also includes free shipping right to your front door. Magical, indeed! Find out more about today's deal on Amazon's main Gold Box Deal page: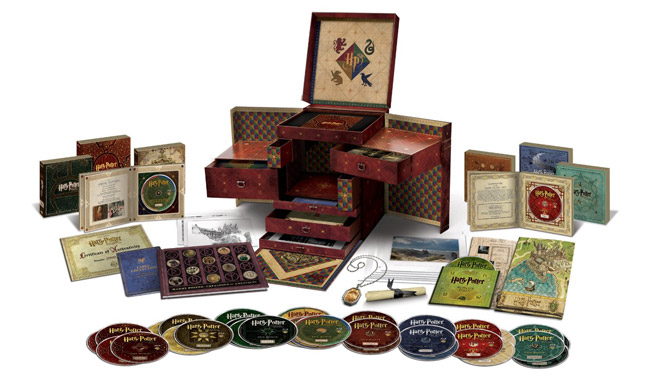 Now, let's do a bit of a breakdown. As mentioned, this set includes 18 discs with actual Harry Potter films. That lineup includes Harry Potter and the Sorcerer's Stone, Harry Potter and the Chamber of Secrets, Harry Potter and the Prisoner of Azkaban, Harry Potter and the Goblet of Fire, Harry Potter and the Order of the Phoenix, Harry Potter and the Half-Blood Prince, Harry Potter and the Deathly Hallows - Part 1, and Harry Potter and the Deathly Hallows - Part 2.
Obviously, 18 discs does sound like a lot for eight films. However, the set does include all of the movies on Blu-ray and DVD, as well as Blu-ray 3D versions of the last two in the series.
The other 13 discs in the set are devoted to 37 hours special features. That includes everything that's already been released, as well as over 10 hours of new-to-disc bonus content and another 5 hours of never-before-seen material. Some of those goodies include an extended version of "When Harry Left Hogwarts," another hour of "The 50 Greatest Harry Potter Moments," and pieces about Quidditch, the stunts, the sets, and so much more.
Even the box itself is super-cool, with all sorts of compartments that reveal the Catalogue of Artefacts, the Cloth Map of Hogwarts, the Blueprint Poster of Hogwarts Castle, the UltraViolet Digital Copy codes, and more. Find out everything you need to know about this massive set on Amazon's product page:
Because this is Amazon's Gold Box Deal of the Day, you need to make this purchase through Amazon -- not one of the retailer's third-party merchants. Amazon is the one discounting this item and offering a free shipping option. Also remember that this deal is only good for today (Wednesday, March 27, 2013) or whenever the retailer runs out of stock!
Please note: all deals posted on Big Picture Big Sound are current as of the posting date and time. These deals are frequently time- or stock-limited and generally do not last. Final pricing and stock are determined by the individual deal provider, not by Big Picture Big Sound so you will need to click through on the offer link to see if it is still available. Through our affiliate relationships with many online vendors, Big Picture Big Sound may earn a small commission on any referred sale.