Harmony Bluetooth/IR Remote Adapter for PlayStation 3 (PS3) Review
By Chris Boylan
I R In Control
Though Sony's PS3 (PlayStation 3) is a popular Blu-ray Disc player, even for those who never take advantage of its gaming features, one aspect of the PS3 has proven to be problematic for full integration into a home theater system: its lack of IR (Infrared) remote control support.  Oh you can buy a wireless Blu-ray-oriented remote control for the PS3 that does most of what you'll need, but this works via Bluetooth instead of IR, and this means it cannot be fully integrated with any IR-based universal remote control.  Aftermarket vendors suck as Nyko have provided partial solutions which control most (but not all) aspects of PS3 operation, but at the expense of one of the PS3's USB ports.  

All that changes now that Logitech has released (and started shipping) an IR to Bluetooth converter known simply as the Harmony® Adapter for PLAYSTATION® 3.  This handy little device allows any Logitech Harmony universal remote to operate all functions of the PS3 from a standard IR-based universal remote control.  How well does it work?  Pretty well actually.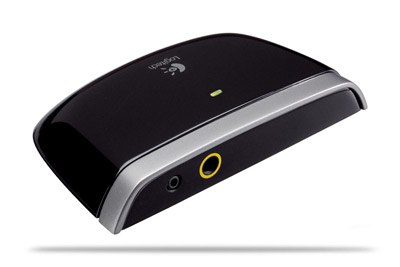 The Set-Up
Set-up is simple and described clearly in the Quick Start guide that accompanies the device.  Just plug the IR sensor into a wall socket using the included power adapter, and make sure that it's got a clear line of sight back to the remote.  Then get into your PS3's Accessory set-up menu in the PS3's Xross Menu Bar and pair the Bluetooth "remote" (the sensor) with your PS3 as a Bluetooth remote.  If you already have Sony's own Blu-ray Disc remote control for the PS3, then this new pairing will replace that device meaning that Sony remote will no longer work with your PS3.  But such as a small price to pay for total control and total integration.
What's not such a small price to pay is, well, the actual price of the adapter.  Assuming you've already plunked down $400 for the PS3 and anywhere from $100 to $400 for your Harmony remote, it seems a little rude to ask for another $60 (OK, technically $59.99) to be able to get the two to understand each other.  But as this is currently the only solution which offers complete control of the PS3 from a Harmony remote (including Power on and off), with absolutely no custom programming perhaps we shouldn't judge Logitech too harshly.
Power to the People
In actual operation, the unit was flawless.  I simply had to add the PS3 device using the Harmony Wizard, update my remote using its USB connection to my PC and my Logitech Harmony 1100 (full review coming soon) was able to control my PS3 - menu navigation, disc access and transport controls, yes even power up and power down - just like any other Blu-ray player or A/V component.  In all, Logitech says the device provides 51 separate controls for the PS3 and we were not able to find anything missing.

Because the unit works as a wireless IR to Bluetooth converter, and it draws its own power from the included power adapter, it does not need to be plugged into the PS3's USB port.  In fact, it doesn't connect physically to the PS3 at all, which means the PS3 can be tucked neatly away in a closet or cabinet as long as the adapter itself is within line of sight of your Harmony remote and within Bluetooth wireless range of the PS3.  Other solutions such as Nyko's Blu-wave remote must be plugged into a USB port on the PS3 which means the PS3 must be visible at all times during operation.  
Turn Ons:
Provides full IR control of all PS3 operations, eliminating the need to use a game controller, Bluetooth remote or resort to manual device turn-on/turn-off
Works without taking up one of the PS3's USB ports

Turn Offs:
Requires its own power
Expensive
Final Thoughts

For those who bought a PS3 as their primary Blu-ray Disc player for use in a home theater system, Logitech's Harmony Adapter for PS3 offers a truly comprehensive solution for IR integration.  It really does give you total control over your PS3 from a standard universal remote.  Of course, it is only compatible with Logitech's own Harmony remotes, but with leading market share in the universal remote category (by far), Harmony has a pretty big audience of prospective buyers.  Its price is a bit steep but for those who demand simplicity and total integration without any custom programming, it's the only game in town.

Where to Buy:
Company Information:

Logitech Remote Controls
2355 Skymark Avenue, Suite 200
Mississauga, Ontario L4W 4Y6 Canada

+1 905.273.4571 Main
+1 905.273.9789 Fax

Website: www.logitech.com/harmony