Kicker Bullfrog Jump Bluetooth Speaker Review
By Rachel Cericola
Might as Well JUMP!
Winter probably isn't the best time to be thinking about wireless, weatherproof speakers. Well, except the ones you want to give and receive.
However, the Kicker Bullfrog Jump is actually a nice cold weather companion. The upcoming product is an IP66-rated Bluetooth speaker, which means it can keep you company while you rake leaves or even shovel a little snow.
That's because the Bullfrog Jump is pretty darn indestructible. The $399.95 Bluetooth speaker is built to travel, with an exterior that can handle all of your adventures year-round. Of course, you probably shouldn't submerge it in the pool or drop it from a building, but that seems like sound advice for most A/V devices. Still, it's pretty tough. And while you're on the go, it can blast out a hearty 360 degrees of sound.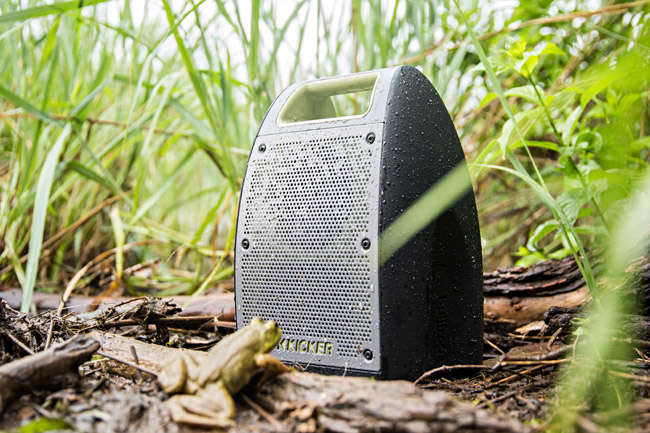 Kicker is best known for car speakers, so you may not think of them first when it comes to buying Bluetooth speakers. However, they do have a few options in this category. The Bullfrog Jump will be the latest, when it launches in a few weeks. We received an early model of the Bullfrog Jump, which certainly shows a lot of promise. However, the final version will include some improvements as well.
My version of the Bullfrog Jump came with a power cord and a manual. The one that's being released will also include an FM antenna, which is huge. Well, it's huge if you want to use the Bullfrog Jump to tune into local radio stations.
The speaker has that capability, as well as Bluetooth. That's pretty much it. There's no Wi-Fi or whole-house capabilities. If you want to get fancy, it does have the "Double Kick" feature, which allows you to pair two Bullfrog Jump speakers together. (We only received one for this review, though.) However, the distance between those speakers is limited, mostly due to the limitations of Bluetooth itself.
The speaker weighs a pretty hefty 8 pounds, which adds to its durability. It's like a brick, but it's decent looking, with a handle on the top. Yeah, you don't want to have to carry this thing from the bottom. My newborn weighed less. When you have a big battery, a powerful amp and a beefy set of speaker drivers on board, the weight comes with the territory.
My review unit has a side panel with an AUX input and output, a USB port for charging devices on the go, a reset button, and a power port. The final version will ditch that AUX output for the FM antenna port. Without the antenna, we could only get two local stations, so this seems like a pretty smart swap.
The Bullfrog Jump does need power, but it can also go wireless when you need it to -- or at least, when you have it charged up. Kicker says that you should get about 20 hours out of a full charge, assuming "normal listening levels." And in my experience, this was pretty accurate. If anything, I may have gotten a few extra hours out of it, but in my case, those 20+ hours weren't continuous. Occasionally I thought it best to give my neighbors a break. The total playback time does decrease if you charge your phone or tablet from the speaker while it's running, but then your device will last longer, so that's probably a fair compromise. And do you ever really need 20+ hours of non-stop playback? Even a "Lord of The Rings" marathon in your backyard theater wouldn't last that long.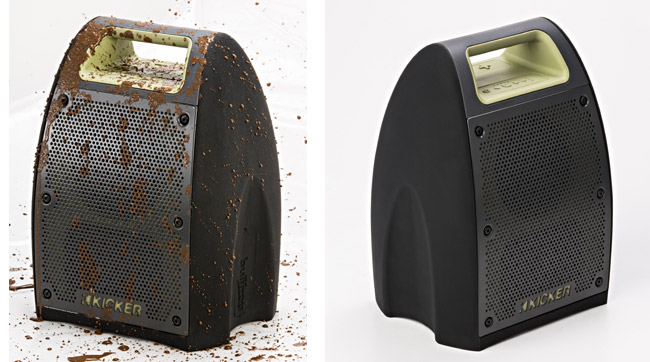 Ready to Rock
Just like with any other Bluetooth speaker, you can use your portable device (e.g., phone or tablet) to control volume and song selections on the Bullfrog Jump. However, the speaker also has a few controls located on the top. There are two volume buttons and a series of smaller buttons separated by the speaker's handle. There are separate buttons for power, fast-forwarding and replaying tracks, play/pause, and input selection. Kicker is also planning a companion app closer to the speaker's release, which I'll get into in a minute.
If you've used a Bluetooth speaker, you should know that it takes seconds to start rocking. This was the case with the Bullfrog Jump. Pushing the Pair button made the speaker pop up pretty quickly in the Bluetooth settings for my iOS and Android devices. Whenever I went back to those devices, it was always there, too. Just turning the power to the Bullfrog Jump on typically paired it back up with whatever device I was using.
If you want to tap into the on-board FM radio or even connect an external device via a hard-wire cable, that Pair button also acts as a source switching input button. It could not be easier to operate.
Heavy Duty Rock 'n Roll
Since the Bullfrog Jump has Bluetooth, it's insanely easy to use. This functionality also means that this speaker can accept a bevy of different music sources. The speaker can even be paired with a second unit, but you need the app and a second speaker to do that. I didn't have either of those things.
On its own, the Bullfrog Jump sounded great though. I streamed all sorts of songs through Pandora, SiriusXM, and Spotify. I even tested it out using my personal music collection on my phone, tablet and iPod, both through Bluetooth and by hooking my iPod up to the speaker's AUX input via a standard 3.5mm (1/8") stereo cable. The music was pretty detailed and could go very loud without any distortion. Bass was particularly hefty for a small speaker, particularly if you set it in a corner or near a wall for that little extra boost.
The one bummer is that Bluetooth has a limit of about 30-35 feet. The Bullfrog Jump's product page states that you can get about 100 feet away without any issues. However, I found reception got a little spotty around the 40-foot mark. Now unless you have a massive yard, it probably won't matter, but it's definitely something that should be noted. Perhaps the final production version will be better in this respect.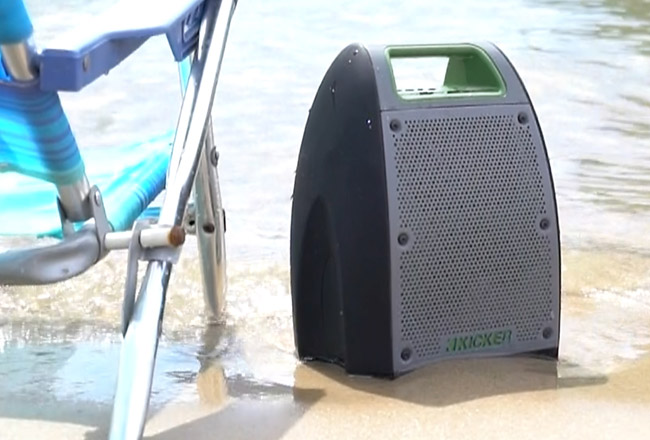 It's Getting Better All the Time
As I mentioned, my version of the Bullfrog Jump was an early sample. The company is planning to make it better -- a lot better.
First of all, Kicker is kicking the AUX output to the curb. It's not something you really need. Instead, they are filling that slot with an FM antenna port, which is something you will need if you want to use the speaker's internal FM tuner.
The company will also release the Kicker Connect app closer to the speaker's release. Available for iOS and Android devices, this app can pair two Bullfrog Jump speakers and turn those speakers on and off remotely, as well as change sources and check battery life. It will also make it a lot easier to find radio stations and will have preset options so you'll never have to lose your favorites.
That app also has plenty of options for tweaking audio. It's expected to have five equalizer presets, in addition to adjustment options for bass and treble.
The Kicker Bullfrog Jump is a good speaker. It's tough, has decent sound, and is extremely easy to operate. However, at almost $400, it's a bit on the pricey side. Currently, the Bluetooth market is so competitive, that price could make it a tough sell. That said, this model can certainly take a beating like no other and the bespoke app should make controlling it even simpler than it already is. So far, we like what we've seen (and heard) but it will be interesting to see what this thing can do when it's in final production. Stay tuned.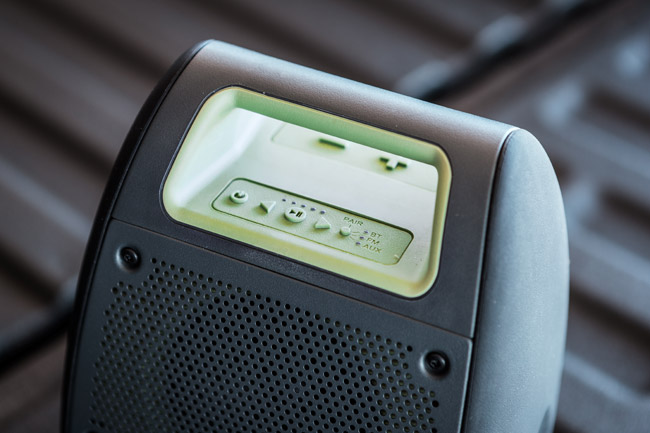 Production Update (May 2017):
In May 2017, we received a new sample of the Kicker Bullfrog, complete with the app and updated features mentioned above.
The biggest addition to this unit is the app, which is available for iOS and Android devices. It's very plain and simple, but gets the job done. On iOS, the main page of the app has a picture of the connected speaker(s) and controls for power, source, and volume. The bottom of the page has four buttons: Home, Equalizer, FM Tuner, and Settings. The latter section is the smallest, with only a peek at the app version, a Factory Reset button, and options for Auto Connect and Auto Play.
The Equalizer settings are a new perk, allowing users to tweak bass and treble, as well as flip to presets for Outdoor, Voice, Treble, and Flat.
The app also has controls for the FM tuner, which is a welcomed addition. No longer do you have to manually flip through stations and guess which ones you've landed on. The channels are listed, with controls for seek and manual tuning. There's also an option to save six stations using presets. The unit also now has an external antenna, which connects to a port on the side of the Bullfrog. (Kicker removed the AUX Out option to make room for it.) If you're at all interested in using this thing to dial into FM, this is huge. Previously, we could barely tap into one station. With the antenna, we received several stations very clearly -- and all were much easier to find, thanks to that app.
Finally, having this extra speaker allowed us to test out the Double-Kick feature. This allows you to pair up two Bullfrog speakers for stereo sound. This is easy to do by clicking the pairing option in the app and then pushing two buttons on the second speaker. This paired our two speakers up in seconds, without having to connect the second speaker to Bluetooth. It also delivers a nice stereo effect, whether listening through Bluetooth, FM radio, or connected devices.
Also Check Out: