Grimm: Season One Blu-ray Review
By Rachel Cericola
The Film
Despite what the sometimes-crappy selection may reflect, it's not easy to land a TV show. Tons of pilots debut every year and very few are lucky enough to make it out alive, let alone get a full season. Grimm, however, combined the always-popular cop drama with the current supernatural craze to garner a 22-episode debut, a nice following, and a second season pickup.
NBC will kick off that next season on August 13, making this a perfect time to catch up on Grimm: Season One. Two of the show's three creators had a hand in Buffy the Vampire Slayer and/or Angel, which should tell you something about the tone. Then again, one of Grimm's executive producers is Sean Hayes (yeah, the Will & Grace guy!), which really seems to counteract the creepy.
Not to worry; the show has its share of heebie-jeebies. That's because Grimm takes on those fairytales that are so familiar and so sweet on the surface, but still manage to induce nightmares for adults and children alike. Hansel and Gretel, The Three Little Pigs, and Sleeping Beauty all have a very dark side -- one that Grimm taps into with mixed results.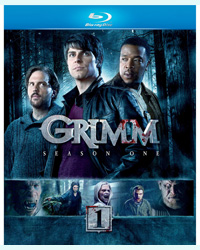 Part cop show and part creepy crawlies,
Grimm
is the story of Nick Burkhardt (David Giuntoli), a homicide detective who finds out that he is part of a long line of criminal profilers, known as Grimms. His duty is to keep the balance between humanity and the creatures of myth, because he is the only one that can actually see when evil walks among us.
And apparently, evil walks among us a lot. That gives Grimm plenty to play around with, so why isn't the show better? Well, the acting can be a little dry and (naturally) some episodes are better than others. Also, the entire series could be a lot scarier.
That said, Grimm is still a fun show filled with monsters and the extremely underrated Silas Weir Mitchell, who is featured as a reformed werewolf. You may want to proceed with caution, but after a few episodes, Grimm will most likely fill your freaky quota.

The Picture
In many cases, the Blu-ray format will give made-for-TV releases a nice little bump -- and Grimm is no exception. Well, it sort of is because there are a ton of cool things to look at throughout the show's 22 episodes. The 1.78:1 transfer is filled with bright colors, most notably in the outdoor scenery. The show looks its absolute best outdoors and during daylight scenes. The gorgeous, lush greens jump right off the screen. That said, this is a very dark show, so you can also expect a very large amount of dim imagery. Those moments look great as well, but don't offer the same level of detail or pop.
The Sound
Universal has given Grimm a DTS-HD Master Audio 5.1 track, and not one ounce of it goes wasted. Each episode delivers a hearty dose of special effects, as well as creaks, cracks and hisses. The creatures whoosh across the soundfield and sometimes deliver and loud (sometimes too loud) punch that will make you jump. Still, the dialogue is always clear and never gets stomped by this otherwise large audio track.
The Extras
Grimm fans should be giddy with Universal's season one package. There's a gag reel, audition tapes, and deleted and/or extended scenes for 13 of the 22 episodes -- including the pilot. If you're feeling a little lost in the series (and not in a good way), the "Grimm Guide" allows viewers to explore characters or a Grimm glossary, via text and video clips. Everything else is sort of short, but there's a promo for the show, a piece about the monsters, a blip showing the visual effects, and three highlight reels.
The actual Grimm package is especially impressive. The cardboard cover unfolds with detailed descriptions of each episode, as well as a Wesen Dictionary, in case you need it on hand. Also, Universal has thrown in a couple of creepy, limited edition collector cards.
Final Thoughts
Grimm is a geeky, gory show. Well, it's as gory as they're allowed to be on broadcast TV. If you hang with the first few episodes and actually follow what's going on, the show may surprise you -- and even scare the pants off you in a few spots. It's also interesting to see how they work the fairytales into each storyline. The Blu-ray is pretty nice too, with a great image and captivating audio. Season two starts next week, so you'd better start cramming.
Product Details
Actors: David Giuntoli, Russell Hornsby, Silas Weir Mitchell, Bitsie Tulloch, Reggie Lee, Sasha Roiz
Directors: Various
Audio/Languages: DTS-HD Master Audio 5.1 (English)
Subtitles: English SDH
Aspect Ratio: 1.78:1
Number of Discs: 5
Rating: NR
Studio: Universal
Blu-ray Disc Release Date: August 7, 2012
Run Time: 951 minutes
List Price: $69.98
Extras:

Deleted & Extended Scenes
Gag Reel
Grimm Guide
The World of Grimm
Grimm: Making Monsters
Audition Tapes
VFX Progressions
Highlight Reels:

Scores
Morphs
The Language of Grimm