Greg Robinson: Roving Reporter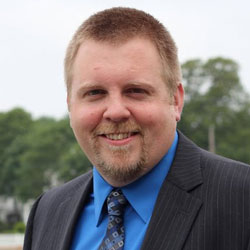 After years spent as a home theater enthusiast and self-proclaimed gadget guru, Greg put his English degree to work when he started writing for
DVD ETC.
magazine in the summer of 2002. Hardware reviews led to feature articles and the occasional celebrity interview while Greg worked his way up to Senior Editor - just in time for the launch of
HDTV ETC.
Both publications eventually went the way of HD DVD, but Greg has gone on to write for numerous print and online outlets including Tech Living, Custom Retailer, Picture Business, Blu-rayDefinition.com, E-Gear (now Tell), Electronic House, and of course, Big Picture Big Sound.
Greg is an ISF-certified video calibrationist who enjoys secretly adjusting the picture settings on televisions of friends and family. Despite being an avid movie lover, Greg doesn't get to the theater much anymore. This trend mysteriously started around the time his spectacular basement "test lab" was completed and his home theater began outperforming his sticky and pricey local multiplex. 

Much to his editor's chagrin, Greg is a decidedly 2D man living in a 3D world. That said, he eagerly awaits the 3D demonstration that will make him change his tune. And as for 48fps, let's just say the jury is still out (but it doesn't look promising.)

A high-tech country mouse, Greg lives in the quiet, northeast corner of Connecticut with his lovely wife Amanda, son Daniel, daughter Abigail, and assorted 4-legged creatures. If he's not spinning shiny little discs, you can usually find him playing volleyball or (still) bemoaning the cancellation of "Firefly."
Current Reference System:

Source Components:
DISH Hopper with Sling HD DVR
Oppo BDP-93 Blu-ray Disc player
Toshiba HD-A2 HD DVD player
Oppo DV-983H DVD Player
Roku HD streaming device
Western Digital WD TV Live Hub
Audio-Technica turntable
A/V Receiver:
Loudspeakers:
Noble Fidelity L-55 LCRS in-wall loudspeakers x 7
SVS SB13-Ultra subwoofer
Definitive Technology Supercube Reference subwoofer
Video Display:
Epson PowerLite Home Cinema 5020UBe projector
92-inch Carada screen with Masquerade masking system
Cables and accessories
Logitech Harmony One universal remote control
Monster Power and Panamax power centers
BetterCables.com, Monster, Monoprice HDMI cables
Monster audio interconnects
UltraLink speaker cable