Futurama: Into The Wild Green Yonder on Blu-ray Disc Review
By Rachel Cericola
The Film
Like its protagonist Philip J. Fry,
Futurama
has had a pretty prosperous afterlife. Fox had an itchy trigger finger when it came to canning Matt Groening's
other
animated endeavor in 2003. However,
Into the Wild Green Yonder
is the cartoon's fourth and final feature-length release. It's a doozy, too.
Leo Wong (Amy's dad) is hell-bent on expanding his mini golf empire into the Milky Way. Meanwhile, Leela and Amy join the outlaw, intergalactic arm of the Powerpuff Girls, Fry develops mind-reading capabilities (and a penchant for tinfoil hats), and Bender completes his bender with a little bit of robot love.
The whole thing is sort of complex, but it's also a nice sendoff. As with many finales, pretty much every regular
Futurama
character is present, and it even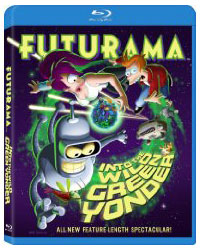 has celebrity cameos by Snoop Dogg and Penn & Teller -- or at least their heads.
The Picture
It may just be a cancelled cartoon, but it's releases like this one that can really test out your player's color palette. Animated features open up a lot of opportunity for color, and this
Futurama
release does not disappoint. The Groening trademark is also to feature a lot of "blink-and-you'll-miss-it" detail, which pop in this 1.78:1 transfer. This is especially noticeable in crowds, as well as when our cast is flying throughout the galaxy.
The Sound
Despite its sci-fi theme, the DTS-HD Master Audio doesn't deliver anything particularly out of this world. However, there is some whizzing around on the speakers to pump up some of the action. Also, the dialogue sounds nice, as well as Seth McFarlane's Vegas-style ditty at the beginning -- yes,
Family Guy
creator/crooner Seth MacFarlane.
The Extras
Groening and his crew sure know how to send fans off with a smile. As with the other
Futurama
direct-to-DVD releases, there are plenty of goodies here. Must-sees include the mockumentary, "How We Make Futurama So Good" and the short, "Matt Groening and David X. Cohen in Space!" Also make sure you catch the menu's Easter egg (it's not well hidden), which involves Bender, beer, and toilet paper.
Final Thoughts
At 89 minutes, this might be a bit long and complex for the casual cartoon viewer. However, when it comes to
Futurama
, too much is never enough for fans -- and they should be frothing at the mouth, tentacles, or otherwise for the chance to score new content.
Where to Buy:
Product Details
Voice Actors: Billy West, Katey Sagal, John DiMaggio, Tress MacNeille, Maurice LaMarche, Phil LaMarr, Lauren Tom, David Herman
Director: Peter Avanzino
Audio/Languages: 5.1 DTS-HD Master Audio (English)
Subtitles: English SDH, French, Spanish, Cantonese, Danish, Finnish, Norweigian, Swedish
Aspect Ratio: 1.78:1
Region: A
Number of Discs: 1
Rating: NR
Studio: 20th Century Fox
Blu-ray Disc Release Date: February 24, 2009
Run Time: 89 minutes
List Price: $39.99
Extras:

Audio Commentary by Matt Groening, David X. Cohen, John DiMaggio, Maurice LaMarche, Michael Rowe, Lee Supercinski, Patric M. Verrone and Peter Avanzino
Video Commentary: Picture-in-Pictire (Bonus View)
Storyboard Animatic: Into the Wild Green Yonder, Part 1
Docudramarama: How We Make Futurama So Good
Matt Groening and David X. Cohen in Space!
Louder! Louder!: The Acting Technique of Penn Jillette
Golden Stinkers: A Treasury of Deleted Scenes
How To Draw Futurama In 10 Very Difficult Steps
3D Models with Animator Discussion
Bender's Movie Theater Etiquette
Zapp Brannigan's Guide to Making Love at a Woman