From Russia with Love on Blu-ray Disc Review
By Brandon A. DuHamel
The Film
From Russia with Love
is truly classic James Bond. Hopping from one location to the next,
From Russia with Love
plays like an action/adventure travelogue of beautiful locales such as Istanbul, Venice, and the Scottish moorlands. In
From Russia with Love
, 007 (Sean Connery) is sent to Istanbul to steal a highly classified decoding machine from the Russian embassy. British intelligence, however, is aware that he is being sent into a trap and the lure is, who else? The beautiful Russian cipher clerk Tatiana Romanova (Daniela Bianchi) who believes she is working for the KGB, but is really working for SPECTRE, an international crime syndicate.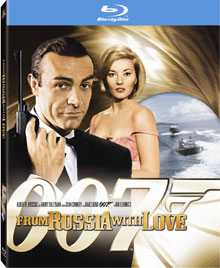 Over the course of the film, Bond is attacked from the air by a helicopter, has a high-speed boat chase in which he blows up several tanks of gasoline to make his escape and has a brutal hand-to-hand fight to the death on the Orient Express. What more could one ask for from a James Bond film?
Being the second film in the franchise,
From Russia with Love
went into production with a much larger budget than its predecessor
Dr. No
, on the strengths of that film's success. The larger budget shows in the more robust use of special effects and the relentless action that has become a hallmark of the 007 franchise. Regarded by many as the best film in the franchise's history,
From Russia with Love
is lacking only what we today have come to associate most with James Bond -- the gadgetry, which would not appear full-force until 1965's
Thunderball
.
For anyone wanting to see a glimpse of the film that secured the 007 franchise's place and solidified Sean Connery in many people's minds as the only 007,
From Russia with Love
is the film to see. It's more plot heavy than usual for a James Bond film and at times feels like it may have gone on a bit too long, but still remains one of the strongest 007 outings to date -- 45 years on.
The Picture
From Russia with Love
arrives on Blu-ray in its original theatrical aspect ratio of 1.66:1 with an AVC/MPEG-4 1080p/24 encoding from MGM. The film was the beneficiary of a recent painstaking frame by frame restoration by Lowry Digital Images where they cleaned up the original negative and scanned each frame in at 4K resolution (4000X3000 pixels). Showing no signs of any compression artifacts whatsoever, nor any sorts of processing misdeeds like edge enhancement the Blu-ray transfer perfectly captures the newly restored source for
From Russia with Love.
The grain structure is natural and consistent throughout brighter and darker scenes showing good amounts of shadow details with deep blacks and good contrast levels as well. Detail softens ever so slightly on backgrounds, but it is hardly worth a demerit. This is a fine transfer of this 45-year-old film. It doesn't look like it was made yesterday, which means it hasn't been over processed, but detrimental evidence of its age have all been wiped away leaving an unsullied image with wonderful film-like qualities.
The Sound
From Russia with Love
has had its soundtrack remixed into 5.1 and is offered on this disc in a DTS-HD Master Audio 5.1 lossless option. Purists can breathe a sigh of relief, however, as the original English Mono (Dolby 2.0) is offered as well as French Dolby Digital 5.1 and Spanish Mono dubbed versions.
Truth be told, the 5.1 mix is certainly nowhere near as discrete and encompassing as mixes of material today, but it does expand the soundfield allowing dialogue and sound effects to breathe lending a sense of depth and clarity that is not quite apparent in the English Mono mix. The surround channels are used mainly for ambient effects, but there are some occasional discrete sounds that "escape" to the rear channels. The mix works well for the material, offering clear dialogue and solid mid to lower range frequencies aided by the subtle use of the LFE. I don't think these classic 007 films have ever sounded as good as they do now and
From Russia with Love
offers a perfect example of that.
The Extras
For this Blu-ray Disc release, MGM offers a heavy dose of background information and archival footage relating to the film and the history of James Bond and creator/author Ian Flemming. Some of the information overlaps from one feature to the next, but it is still a boon for fans of James Bond. Much of the information offered in the documentary-style audio commentaries - which are really cobbled together interviews of the parties involved - can be gleaned from the disc's video supplements, so viewers who do not want the distraction of listening to an audio commentaries whilst watching the film can just skip the commentaries and watch the extras instead.
The extras available on this release are:
Commentary by director Terence Young and members of the cast and crew.
Declassified: MI6 Vault:

Ian Flemming: The CBC Interview (4:3/standard definition)
Ian Flemming & Raymond Chandler -- radio interview
Ian Flemming on Desert Island Discs -- In this radio interview, Flemming discusses how he came to develop the James Bond character in an effort to calm his nerves on the eve of his first marriage at the age of 44.
Animated Storyboard Sequence (4:3/standard definition) -- This is a montage of the original storyboard sketches for the Bond & Tatiana boat chase scene from the film, which was originally planned as a night scene as these sketches reveal.
Credits -- Credits for the Declassified: MI6 Vault supplemental materials.

007 Mission Control (1.66:1/high definition) -- This offers a selection of scenes that spotlight the film's various characters and it is divided into these categories: 007, Women, Allies, and Villains.
Mission Combat Manual -- A selection of the film's action sequences
Q Branch -- This offers a selection of scenes that highlight 007's gadgets
Exotic Locations (1.66:1/high definition) -- Bond girl Maud Adams narrates this sequence that highlights the exotic locales featured in From Russia with Love. Playing like a travelogue, she offers some interesting trivia on the various locations and anecdotes on how they relate to the film.
Mission Dossier:

Inside From Russia with Love (1.78:1/high definition) -- This is a making of featurette that is narrated and plays like a documentary and is actually quite interesting and informative. One fact that is revealed, which some Bond aficionados may already be aware of, is that actor Pedro Armendariz who played Bond's ally Ali Kerim Bey developed inoperable cancer during the film's production. Work on his sequences was prioritized so that he could finish the film before the cancer took his life. Sadly, shortly after his work on From Russia with Love was completed, Armendariz took his own life rather than suffer through the slow, painful death that he was facing.
Harry Saltzman: Showman -- This is a bio on 007 co-producer Harry Saltzman.

Ministry of Propaganda:

Theatrical Archive (4:3/standard definition) -- Original theatrical trailers for From Russia with Love:

Original Theatrical Trailer -- S.P.E.C.T.R.E.
Bond: Back to Back
The Biggest Bond Sale Ever
TV Broadcasts (4:3/standard definition) -- Original TV spots
Sean Connery is Bond
Bond All Over
More Thrills Per Minute

Radio Communication -- The original radio spots for From Russia with Love

Fantastic Bond Sale
Famous Named Villains
Sean Connery Is…

Image Database -- Dozens of stills from the production and promotion of From Russia with Love

The Filmmakers
Ian Flemming
Portraits
Pinewood
Dressed to Kill
Lovely…Lovely
Tatiana Meets Rosa Klebb
Istanbul
The Gypsy Camp
The Orient Express
Scotland
Rats!
Back Projection
Smoke on the Water
The Lost Scene
Around the World with 007
Final Thoughts
Classic Bond all the way, for many the 007 franchise begins and ends with
From Russia with Love.
See Sean Connery in his finest performance as the secret agent right here on this splendidly rendered Blu-ray Disc release, you won't regret it.
Diehard Bond fans will want to get the full
six-pack
on Amazon.com - it's the best way (and the best value) to bring home a bevy of Bond on Blu-ray.
Where to Buy
Also available in the following boxed sets:

Compatibility Issues:
Some people are reporting playback problems with certain Bond titles on Blu-ray. Specifically the Samsung BDP-1500 player and LG BH200 players have problems playing some of these new Bond Discs. Please check the
Bond Blu-ray Player Compatibility
thread in our forum for more details and to report your results.
Product Details
Actors: Sean Connery, Daniela Bianchi
Director: Terence Young
Audio/Languages: English DTS-HD Master Audio 5.1, English Original Mono, French Dolby Digital 5.1, Spanish Mono
Subtitles: English, Spanish
Region: A
Aspect Ratio: 1.66:1
Number of discs: 1
Rating: PG
Studio: Fox/MGM
Blu-ray Disc Release Date: October 21, 2008
Run Time: 111 minutes
List Price: $34.98
Extras:

Audio Commentary with Director Terrence Young and members of the Cast and Crew
Ian Flemming: The CBC Interview
Ian Flemming and Raymond Chandler Featurette
Ian Flemming on Desert Island Discs Featurette
Animated Storyboard Sequence
007 Mission Control Interactive Guide into the World of From Russia with Love
Inside From Russia with Love
Harry Saltzman: Showman Featurette
Image Database
Theatrical Trailers, TV, and Radio Spots