Firefly The Complete Series on Blu-ray Disc Review
By Brandon A. DuHamel
The Series
Firefly
was doomed to failure before it even began. The brainchild of Joss Whedon, creator of the two long-running television series
Buffy the Vampire Slayer
and its spin-off
Angel
,
Firefly
was in an uphill battle with television executives before the series even began production.
Not wanting a successful producer on their payroll to go to waste, the FOX network enlisted Whedon to produce another series. He had been kicking around the idea for
Firefly
for quite sometime, so when he was approached, he immediately pitched the series to executives, but they were skeptical to say the least. They had Whedon produce a pilot, "Serenity," which came in at two hours long. Executives basically liked what they saw, but were still unconvinced that the show would work as a series, so they asked for another episode. Whedon and writers then came up with "The Train Robbery," which, despite protests from Whedon, would run as the series' pilot episode.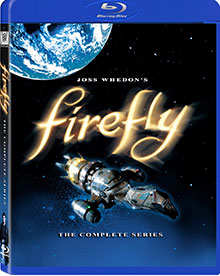 Firefly
was placed on what has long been known as the television graveyard, Friday nights, where series go to die. Not only was the sci-fi series crippled by its Friday night scheduling, but FOX, tentative at best about the show's ultimate success, ran the episodes out of sequence and also hampered its chances of developing a stable audience further by pulling the series off the air for long periods of time.
The series, a mixture of space adventure and old western films, is set sometime in the future when the Earth's resources have been used up and humanity has spread out onto other planets thorough the galaxy.
Firefly
picks up in that future after a civil war has taken place between the Alliance, a totalitarian governmental body based in the galaxy's central planets and the rebels from the outer planets who fought against the Alliance and their agenda of planetary unification.
The show follows the nine disparate crewmembers of one spaceship, Serenity. Among them Captain Malcom Reynolds (Nathan Fillion), a former colonel in the rebel army, his second in command, both at war and on Serenity, Zöe Washburne (Gina Torres), a preacher (Ron Glass), a licensed "companion" (read:prostitute), Inara Serra (Morena Baccarin), the ships pilot and Zöe's husband, Hoban "Wash" Washburn (Alan Tudyk), the mercenary with dubious loyalties, Jayne Cobb (Adam Baldwin), the ship's mechanic Kaylee Frye (Jewel Staite) and a brother and sister who are outlaws from the Alliance, River (Summer Glau) and Dr. Simon Tam (Sean Maher) . The crew of Serenity make their living as scavengers, running items on the black market in the outer planets, always skirting the watchful eye of the Alliance.
As with Whedon's previous series,
Firefly
balances adventure, science fiction and humor with a strong ensemble cast and clever dialogue to make for an engaging story that will have you eagerly flipping from one disc to the next to see how the story progresses.
The Picture
As with most series broadcast in high definition,
Firefly
was originally shot on film. This series, in particular, was shot in a way to evoke the look of old western films, often utilizing older lenses to get more flare and various film stock that would have a softer, grainier appearance. To that effect, the 1080p/24 AVC/MPEG-4 transfer is not what most might consider spectacular HD, but it captures the look of the series without much issue. There's definitely a strong presence of persistent film grain, particularly in the many darker areas and black levels are not as deep as they could be, but flesh tones are accurate. Contrast is occasionally too hot as a result of production choices and clarity and detail sometimes vary, but these are also issues more associated with artistic choices than the transfer itself.
The Sound
As is typical for FOX, a DTS-HD Master Audio 5.1 lossless soundtrack has been provided for this release. The mix is not overly aggressive, but there is occasional use of the surround channels for discrete sounds such as spaceships traveling from back-to-front or the sounds of weapons fire. Most of the pertinent sound information is spread across the three front channels with sound sometimes following the action across the screen in the two left and right front speakers. There is a heft, though not booming, use of the LFE channel that really comes into play during the numerous action sequences involving the Serenity in flight.
The Extras
The supplemental material offered on the Firefly set isn't exactly a windfall and most of it feels thrown together. The most enjoyable to watch is the Firefly Reunion, but it's unlikely viewers will feel compelled to watch that more than once.
There are also audio commentaries by Joss Whedon and cast members for select episodes on each disc that viewers might want to listen in on if they want to delve deeper into the world of Firefly.
The extras available on this release are:
Disc 1:
Audio Commentaries
Here's How it Was: The Making of Firefly (4:3/standard definition) -- This featurette gives a rather detailed look into the show's struggle to get on and stay on the air. It also offers some interesting background on the special effects design and the series' music, which is a blend of country and traditional Chinese.
Trailers (4:3/standard definition):

Dollhouse
Buffy and Angel Promo
Disc 2:
Audio Commentaries
Firefly Reunion: Lunch with Joss, Nathan, Alan and Ron (1.78:1/high definition) -- This is a friendly lunch between Joss Whedon, Nathan Fillion, Alan Tudyk, and Ron Glass. The three men sit, eat, and reminisce on their time working on Firefly.
Disc 3:
Audio Commentaries
Deleted Scenes (4:3/windowboxed/standard definition) -- Four deleted scenes from the episodes "Serenity," "Our Mrs. Reynolds," and "Objects in Space".
Featurettes:

Serenity: The 10th Character (4:3/windowboxed/standard definition) -- This featurette is all about the show's ship, Serenity.
Alan Tudyk's Audition -- An audition tape sent in by actor Alan Tudyk early in the casting process for Firefly.
Joss Sings the Firefly Theme -- Joss Whedon, who wrote the show's theme, recorded this demo to convey the feel he wanted for the song.
Joss Tours the Set (4:3/standard definition) -- Joss Whedon gives a behind-the-scenes tour of the Firefly set.
Gag Reel (4:3/standard definition) -- This gag reel was originally put together for Firefly's first Christmas party, which, alas, turned out to be its wrap party.
Final Thoughts
Firefly
is a fun, well-written series with strong acting from its cast that was never given a fair chance to succeed. The popularity of the show amongst its core fans was so strong that executives were convinced to create the feature-film
Serenity
, based on the series. This Blu-ray disc release is a welcome version of a show that should have stayed around far longer than it was allowed to.
Where to Buy
Product Details
Actors: Nathan Fillion, Gina Torres, Alan Tudyk, Morena Baccarin, Adam Baldwin
Audio/Languages: English DTS-HD Master Audio 5.1, German DTS 5.1, French Dolby Surround, Spanish Dolby Surround
Subtitles: English, Dutch, Spanish
Aspect Ratio: 1.78:1
Number of discs: 3
Rating: Not Rated
Studio: 20th Century Fox
Blu-ray Disc Release Date: November 11, 2008
Run Time: 665 minutes
List Price: $89.98
Extras:

All-New Firefly Cast Roundtable : Lunch with Joss, Nathan, Alan and Ron
3 Never-before-aired Episodes
All 14 Series Episodes
Audio Commentary on Selected Episodes
3 Behind-the-Scenes Featurettes
4 Deleted Scenes
Gag Reel, Audition Tape, & More