The Site for Home Theater and Movie Reviews
Fighter Pilot: Operation Red Flag on Blu-ray Disc Review
By Brandon A. DuHamel
The Film
There's no argument that there is a definite subculture of people who are fascinated with all things military and, in particular, the world of supersonic fighter planes. One need only turn on the television to The History Channel and catch a show such as
Dogfights
or watch a film such as
Top Gun
to experience the allure of military aviation to the general population.
Fighter Pilot: Operation Red Flag
is another entry in the canon of films dealing with this subject matter. Originally produced for exhibition in IMAX theaters, it follows one U.S. Air Force pilot, Captain John Stratton, as he goes through the intense combat training of international military forces know as Operation Red Flag over the Nevada desert.
The purpose of Red Flag is to put the forces through training as close as possible to true combat in an effort to give them the experience they will need on the battlefield and hopefully save as many lives as possible. In close cooperation with the U.S. military, director Stephen Lawson follows the troops and Captain Stratton as they simulate aerial dogfights, humanitarian supply drops, bombing runs and search and rescue missions. Lawson manages to capture some breathtaking aerial footage of the military aircraft and the Nevada landscape.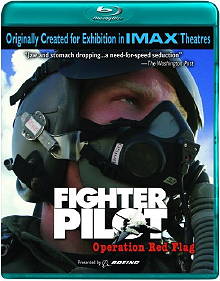 The most conspicuous part of
Fighter Pilot
, however, is its complete lack of patriotic jingoism (thankfully) and any in-depth mention of the true dangers facing soldiers at war. Those hot button issues are all avoided in place of concentrating strictly on the training of the soldiers -- no politics, no blood, no death. It all feels like some sanitized version of what real military life is about. These aircraft and the men who pilot them that this film is profiling are meant to do one thing -- kill or be killed, no questions asked. That is somehow glazed over in this film. In fact, there is little attention paid to the aircraft themselves, other than the shots of them being flown, so the purpose of this entire endeavor is somewhat perplexing.
With war raging in the Middle East, this film is devoid of any pressing issues currently facing the world and its military forces, absent of any in-depth information on the inner workings of these awesome flying machines and lacking any mention of the political issues so obviously connected with anything having to do with the military today. In fact, the filmmakers (and Boeing, who sponsored this release) are so concerned with offending anyone's sensibilities, that when the narrator runs down the list of all the nations involved in the operation he fails to mention the Israeli forces even though their planes were on the screen at that very moment!
In the end, I guess you really cannot ask much more of a 40-minute "documentary" that was created more to look good on a giant screen and entertain some small, family-oriented crowds in a museum or zoo somewhere than to educate the populace. In those areas,
Fighter Pilot
does what it was intended to do -- it offers an exhilarating view of fighter planes in flight as their pilots skillfully maneuver them in the clear blue skies over the Southwestern deserts, and it looks good.
The Picture
Fighter Pilot
comes in a 1.78:1 1080p VC-1 encoding at ~18Mbps that captures rather nicely the film's views of the Nevada dessert and the high speed aerial acrobatics of the fighter jets without even a hint of compression artifacts. The scenes in the sky show a stable and clear picture with little noise and very fine grain structure. Colors are natural, from the sandy desert to the azure sky and flesh tones are perfect. The few scenes in darker areas show good shadow details, if not completely deep blacks. Contrast is set well, even in the brightest areas, never displaying any blooming so that even the slightest crevices of the rocky ground are apparent. There is a slight softness to the image in some shots, but overall detail is quite good.
The Sound
This BD offers two English audio options, DTS-HD Master Audio 5.1 lossless and Dolby Digital 5.1. The DTS-HD MA mix offers a wide dynamic range and deep, extended low frequencies that faithfully capture the sonic boom of the jet engines. All five main channels are used with great directionality as fighter planes fly over your head and across the room. Dialogue is also clear and full, with some directional use of the front three channels to follow voices around on the screen. The surround channels are always active with ample amounts of ambient information and sound effects for a spacious and cohesive sound all around.
The Extras
Fighter Pilot
is relatively bare bones in its supplemental materials. There are only two extras directly related to the film in the form of a brief Making Of featurette and a trivia game. The remaining supplemental materials are all HD trailers for other IMAX films and a bio & film listing for director Stephen Lawson.
The extras available on this release are:
The Making of Fighter Pilot: Operation Red Flag (4:3/standard definition) -- A brief, 10-minute behind-the-scenes featurette wherein the filmmakers discuss the production and working in cooperation with the U.S. military to film the documentary.
Film Trivia Quiz (1.78:1/high definition) -- Answer multiple-choice questions about the film.
About the Director -- A bio & film listing for the director Stephen Lawson.
Trailers (1.78:1/high definition) -- Ten trailers for IMAX films:

Coral Reef Adventure
Journey Into Amazing Caves
The Magic of Flight
The Living Sea
Mystery of the Nile
Greece: Secrets of the Past
Hurricane on the Bayou
The Alps
Dolphins
Super Speedway
Final Thoughts
Fighter Pilot: Operation Red Flag
is really nothing more than a brief exhibition carefully made not to offend anyone and to show off some jet planes for people who are into that sort of thing. If you're looking for an in-depth exposé, then you'll need to look elsewhere. This film will mostly appeal to those who want a brief look at some really fast military aircraft and a bit of an inside look at the training routine of the world's military forces. The sound and picture on this Blu-ray release are quite good, so you won't be disappointed, but unless you are really into military aviation and just must have this in your collection, this title is nothing more than a curiosity and would probably be good enough as a rental.
Where to Buy
Product Details
Actors: John Stratton (III), Robert Novotny (II), Sam Morgan (II), Michel Perron, Charles Edwin Powell
Director: Stephen Low
Audio/Language: English DTS-HD Master Audio, English Dolby Digital 5.1
Aspect Ratio: 1.78:1
Number of discs: 1
Rating: Not Rated
Region: ABC (All Regions)
Studio: Image Entertainment
Blu-ray Disc Release Date: October 14, 2008
Run Time: 48 minutes
List Price: $24.98
Extras:

"Making Of" Short Documentary
Film Trivia Quiz & Learn More
What do you think?
| | |
| --- | --- |
| Overall | |
| Video | |
| Audio | |
| Movie | |
| Extras | |
Explore Big Picture Big Sound