Field of Dreams on Blu-ray Disc Review
By Chris Chiarella
The Movie
I'm always happy to meet another fellow who can admit, "I really don't like sports, either!" (That was my first major bonding moment with Big Picture Big Sound Editor Chris Boylan, in fact.) I tried when I was younger, but it never took. Movies and other pastimes were more my bag, baby, which in our society has of course meant decades of ridicule. No matter, I am smirking my way through Steroid-gate and every other pro ball scandal, while feeling no sympathy for anyone dumb enough to plunk down $250 for a bleacher seat.
So why the hell do I cry like a baby during Field of Dreams? One of the film's accomplishments is its ability to elevate the game of baseball beyond mere hits and strikes, suggesting a deeper dignity, a profundity to a sport that has kept the country going like a strong, steady heartbeat. The deification of the game is used like a tonic that magically restores lost innocence to wayward souls in this movie, the tale of an everyman who risks everything by building a regulation field in his backyard, and why? In the hopes that the ghost of Chicago "Black Sox" player Shoeless Joe Jackson will visit to knock the old apple around a bit.
Of course it's absurd, but that's the point. Insane impossibilities come to pass and the audience, squarely on the side of the ex-hippie farmer (Kevin Costner), has no trouble believing. (We did buy a ticket, or rent or buy the disc after all.) If the images of grown men playing their positions with unaffected boyish glee doesn't stir our love of the game, then surely we know someone vulnerable to the charms of old-time baseball. I'm deliberately skirting around the film's final scene, a surprise ending that I'm loathe to spoil for anyone who still hasn't seen it twenty years on, which while not making perfect sense rides a crashing wave of universal emotion.
The Picture
Cloud-decorated skies and some smoky backgrounds show varying amounts of twitch within the 1.85:1 frame. The leafy geometry of the cornfield is sharp enough, at least in the foreground, although far backgrounds begin to show some artifacts. The video quality is somewhat softer than I was expecting, as even well-focused close-ups are not as clear and steady as they could be. Blacks however are for the most part natural, and color is used exquisitely in this tribute to the Midwest, to America, to nostalgia itself. And frankly I'm not sure that I ever noticed the faint sparkle effect (added by Industrial Light & Magic most likely) as Shoeless Joe reenters the cornfield the first time, so there is definitely some detail here for the eagle-eyed to enjoy.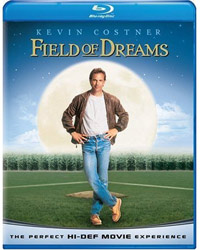 The Sound
There's a subtle surround involvement to the DTS-HD Master Audio 5.1 presentation, some interesting moments of rear channel use as during the PTA meeting, for the crowd as well as the faux feedback of the PA system, but overall this is a very tame mix. Flashes of lightning above the fruited plains for example are almost incidental, lacking power, and nothing hits quite as hard as I'd like. James Horner's emotive score is the real star of this soundtrack, well distributed, full of feathery winds and punctuated by occasionally crisp bass. Added pop/rock music has a distinct sparkle as well.
The Extras
The supplements are born of discs past, all ported over in standard definition. The lack of chapter stops is particularly frustrating on the collection of deleted scenes, accessible with introductions from director Phil Alden Robinson (17 minutes total) or without (11 minutes). Robinson is a welcome fixture in these bonuses, as his enthusiasm continues to drive the Field of Dreams experience. He shares a feature commentary with director of photography John Lindley and appears on camera in the broad making-of "From Father to Son: Passing Along the Pastime" (39 minutes), the repurposed TV episode "Bravo Special: From Page to Screen" focusing specifically on the adaptation of W.P. Kinsella's first novel, Shoeless Joe (46 minutes) and the earlier, somewhat less slick making-of, "Field of Dreams: A Scrapbook" (90 minutes), much the same information told in a different style. This last documentary was created by Van Ling and Banned from the Ranch Entertainment for the 1996 Signature Collection laserdisc.
The Roundtable with Kevin Costner, Bret Saberhagen, George Brett and Johnny Bench gathers a bunch of baseball legends at the star's house to watch the movie, then discuss (30 minutes). "A Diamond in the Husks" tells the story of the real-life "Field of Dreams movie site" left standing in Dyersville, IA where it was built for the production, and how it still attracts wide-eyed visitors to this day (18 minutes). "Galena, IL Pinch Hits for Chisholm, MN" reveals the trickery behind the quaint period locations needed for a key sequence (five-and-a-half minutes). The disc is also BD-Live-enabled, but on street date all it really offered was a list of online trailers.
Final Thoughts
While the disappointing audio and video are two strikes, and the warmed-over extras are a foul tip, the movie itself remains forever a home run. I'm such a sucker for Field of Dreams, I'm pretty sure that as long as Universal repackages it, I will buy.
Where to Buy:
Product Details
Actors: Kevin Costner, Amy Madigan, Gaby Hoffmann, Ray Liotta, Timothy Busfield, James Earl Jones, Burt Lancaster, Frank Whaley, Dwier Brown
Director: Phil Alden Robinson
Audio Format/Languages: DTS-HD Master Audio 5.1 (English)
Subtitles: English SDH, French, Spanish
Aspect Ratio: 1.85:1
Number of discs: 1
Rating: PG
Studio: Universal Studios
Release Date: May 26, 2009
Run Time: 106 minutes
List Price: $29.98
Extras:

Audio Commentary by Phil Alden Robinson and John Lindley
Deleted Scenes with optional introductions
"From Father to Son: Passing Along the Pastime"
Roundtable with Kevin Costner, Bret Saberhagen, George Brett and Johnny Bench
"A Diamond in the Husks"
"Galen, IL Pinch Hits for Chisholm, MN"
"Field of Dreams: A Scrapbook"
"Bravo Special: From Page to Screen"
BD-Live