Fast Times at Ridgemont High Blu-ray Review
By Rachel Cericola
The Film
"If I'm here and you're here, doesn't that make it our time? Certainly there's nothing wrong with a little feast on our time..."
Long before Sean Penn was known for his humanitarian work and his Oscars, he was best known as Spicoli from Fast Times at Ridgemont High. OK -- he is still Spicoli to many of us, because that character embodies a time when really all we needed were some tasty waves, a cool buzz, and we were fine.
Often imitated, never duplicated, this classic '80s comedy offers up its share of true-to-life moments. That's probably because it was based on writer (and sometimes director) Cameron Crowe's undercover research at Clairemont High School in San Diego. It's mostly over the top and hilarious, but like high school, has its sweet and shocking moments. After all, not many teen romps can successfully squeeze abortion and a whole lot of heartbreak in between laughs and an infamous red bikini.
Besides leaving us with an endless source of one-liners, Fast Times was also a springboard for an insane amount of talent. In addtion to Penn, Ridegemont's alumni includes Jennifer Jason Leigh, Forest Whitaker, Judge Reinhold, and Pheobe Cates, as well as extremely minor appearances by Nicolas Cage, Eric Stoltz and Anthony Edwards.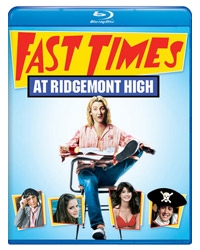 While some of the scenarios and certainly the fashions are now dated, Fast Times at Ridgemont High is still awesome. Totally awesome.
The Picture
"What are you people... on dope?"
Even Spicoli and his dad's awesome set of tools can't fix the flaws of this 1.85:1 transfer.  While the Blu-ray may be an improvement over what we've seen from past DVDs (as well as the standard-def clips seen in the extras), overall it's bit of a disappointment in its visuals. Nudity aside, Fast Times has never been a good looking movie. And this certainly has a major effect on what we're seeing here. There isn't a lot of detail for the most part, with the football game looking very weak in particular. The level of detail overall seems to go in and out, with the best parts being toward the middle of the movie. The color saturation, however, gets a major upgrade. There are some nice black levels here, but the biggest improvement can be found in the pop of the colors on clothes and around the mall. It's not a horrible transfer, to be sure, but a mixed bag at best.
The Sound
"Now this is the most important, Rat. When it comes down to making out, whenever possible, put on side one of Led Zeppelin IV."
Fast Times shines in its delivery of dialogue, as well as the soundtrack, which includes the aforementioned Zeppelin, as well as The Go-Go's, Oingo Boingo, Jackson Browne, The Cars, and others. Besides the dialogue and music, though, the DTS-HD Master Audio track is about as exciting as Mr. Hand's class. The surrounds offer up a taste of those '80s mall crowds and school crowds, and that's about it. However, that's enough -- and certainly more than most comedies usually deliver.
The Extras
"I shall serve no fries before their time."
Universal has included the commentary track off the previous HD DVD and DVD release of the film. It's not new, but it's probably the only time you'll get to hear director Amy Heckerling and writer Cameron Crowe sit down in the same room to discuss the movie. If you haven't caught this commentary track before, it's certainly worth a listen. Other extras include the film's theatrical trailer, as well as two U-Control features that display picture-in-picture production info and tidbits about the music from the film.
Another little gem is "Reliving Our Fast Times at Ridgemont High," a retrospective that includes Heckerling and Crowe, as well as many of the actors from the movie. It's pretty well rounded, but also dated. At about 12 years old, some of the actors don't even look much older than their Fast Times characters. It would have been nice to get another update or maybe something a little more gritty, like what the BIO channel put together for both Animal House and Caddyshack.
Final Thoughts
"It says one hundred percent guaranteed, you moron!"
Fast Times at Ridgemont High on Blu-ray has been a long time coming. It just would have been nice if Universal actually put in some effort into the release. Besides the movie itself, nothing here is really all that memorable. For fans, however, that's probably enough to justify the relatively low price that this title is currently fetching on Amazon.
Product Details
Actors: Sean Penn, Jennifer Jason Leigh, Judge Reinhold, Pheobe Cates, Brian Backer, Robert Romanus, Ray Walston
Director: Amy Heckerling
Audio/Languages: DTS-HD Master Audio 5.1 (English)
Subtitles: English SDH, French, Spanish
Aspect Ratio: 1.85:1
Region: A
Number of Discs: 1
Rating: R
Studio: Universal
Blu-ray Disc Release Date: August 9, 2011
Run Time: 90 minutes
List Price: $26.98
Extras:

Feature Commentary with Director Amy Heckerling and Screenwriter Cameron Crowe
Reliving Our Fast Times at Ridgemont High
Theatrical Trailer
Scene Companion
The Music of Fast Times at Ridgemont High
BD-Live