E.T.: The Extra Terrestrial Blu-ray Review
By Rachel Cericola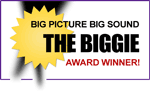 The Film
After years of terrorizing the Earth, E.T. was the film that showed us just how friendly alien life could be. Now our favorite Reese's Pieces-loving critter is turning 30.
To commemorate the birthday, Universal is releasing E.T.: The Extra Terrestrial on Blu-ray -- and it's an absolute delight.
This was the first Steven Spielberg film that really had a little something for the whole family. (Sorry, but there were just too many scary scenes in Raiders of the Lost Ark to qualify.) One of the things that makes the film so exceptional is how well the story is told from a kid's point of view, yet it still manages to appeal to so many different ages with so many different tastes in movies. The story, the camera angles and the portrayal of adults; everything is intentional, as Spielberg points out in the Blu-ray's extras.
I'm getting ahead of myself, but that kid factor is very important because it doesn't always work on film. Well, not all films are E.T.
Here, it's all about the kids, but mainly about the relationship between 10-year-old Elliot (Henry Thomas) and the title character. After discovering E.T. one night in the family's shed, Elliot forms an immediate bond with the visitor, both emotionally and physically. However, E.T. isn't an easy one to keep under wraps, especially with government agents snooping around.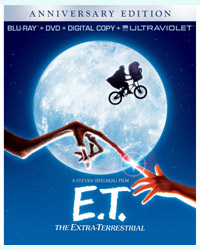 Like many of Spielberg's films, E.T. was a box-office smash. And like many of those same films, E.T. still holds up today. It's not just one of the greatest sci-fi films of all-time, but one of the greatest films, period. It has a little something for everyone, which is a rare feat in a film with kids and that sci-fi focus.
The Picture
After seeing how wonderful JAWS came out just a few months back, it shouldn't be too much of a surprise at how Universal has handled E.T. The 1.85:1 image was restored and remastered for this Blu-ray release, and it looks absolutely awesome. If we're going to get picky, there is a little softness on occasion and a little haze in some of the darker scenes, but that's the film -- and it won't distract you one bit from this fun viewing experience. Daylight scenes are certainly sharper, overall. However, in the darkness of the outdoors or in Elliot's room, the image is still pretty awesome, with strong black levels and spot-on colors. There's also an awesome amount of detail, espcially when it comes to looking at Elliot's freckles and E.T.'s face, body and slimy sheen.
The Sound
Again, you shouldn't be shocked that E.T. comes packing an equally engaging, completely immersive DTS-HD Master Audio 7.1 track. Dialogue is crisp and centered, John Williams' wonderful score is bold in the surrounds, and special effects are immersive. When that spaceship takes off in the opening scene and whooshes across the soundfield, you're going to get a little giddy. The same goes for that moment when Elliot first meets E.T. That kind of detail and directionality pretty much holds up for the film's entire 115-minute runtime, all the way though that final chase. It's a really fun track.
The Extras
This is E.T.'s big 30th anniversary. In other words, Universal wouldn't even think of cheaping out on the extras. Now, many of the special features are not new and/or not in HD. However, there's still plenty here, including deleted scenes, trailers and various featurettes about the production. The two new pieces are "The E.T. Journals" and "Steven Spielberg and E.T." The latter is a brief 13 minutes, but has Spielberg looking back at the script, the production, and the reception. "The E.T. Journals," on the other hand, is a little meatier, with almost an hour of behind-the-scenes tidbits, interviews and much more. And finally, even though it's not new, "The E.T. Reunion" is a fun little must-see. It's kind of neat to watch Spielberg and all of the principal cast sit around and reminisce about the filming.
Final Thoughts
We've seen a lot of Steven Spielberg's films get the high-def treatment this year and each one has been pretty stunning so far. E.T. is no different, qualifying it as one of the best Blu-ray releases of the year. Of course, it helps that it can still create that magic. I cried watching E.T. as a kid and I cried watching E.T. as an adult. E.T.: The Extra Terrestrial is a wonderful movie with a must-have Blu-ray to match.
Product Details
Actors: Dee Wallace, Peter Coyote, Drew Barrymore, Henry Thomas
Director: Steven Spielberg
Audio/Languages: DTS-HD Master Audio 7.1 (English), DTS Digital Surround 5.1 (French, Spanish), DTS Digital Surround 2.0 (English),
Subtitles: English SDH, French, Spanish
Aspect Ratio: 1.85:1
Number of Discs: 2
Rating: PG
Studio: Universal
Blu-ray Disc Release Date: October 9, 2012
Run Time: 115 minutes
List Price: $45.99
Extras: 

Deleted Scenes
Steven Spielberg & E.T.
The E.T. Journals
A Look Back
The Evolution and Creation of E.T.
The E.T. Reunion
The Music of E.T.: A Discussion with John Williams
The 20th Anniversary Premiere
Designs, Photographs and Marketing
Theatrical Trailer
Special Olympics TV Spot
D-BOX Motion Code
BD-Live
Standard-Def DVD
Digital Copy
UltraViolet Digital Copy