Dr. No on Blu-ray Disc Review
By Chris Chiarella
The Film
This is where the most enduring movie franchise of all time began, the stylish account of the globetrotting, peace-keeping, ass-kicking super spy James Richard Bond. A product of his times, most notably in response to Cold War paranoia, Bond's trappings and even his face might have changed over the course of soon-to-be-22 films, but ultimately he has always remained an able scoundrel. Sean Connery's embodiment of the hero dripped with old-fashioned toughness and irreverent wit, the standard by which all iterations would be judged.
This first outing from 1962 is surely the roughest around the edges, as the three screenwriters and director Terence Young had their hands full, adapting one of author Ian Fleming's novels of intrigue to a different medium, and probably unknowingly establishing the iconography that all future efforts would refer back to. The ever-increasing slickness would eventually reach critical mass with Die Another Day… but I'm getting way ahead of myself. When someone or something in the vicinity of Jamaica is wreaking havoc on the U.S, space program, and British agents abroad, a joint effort is undertaken to get to the bottom of the international threat. Will James Bond save the world? Did I mention that 21 more movies come after this?
The Picture
All of the Bonds received a monumental Lowry Digital Images restoration a few years ago, and Dr. No in particular was fortunate enough to be transferred at beyond-HD 4K resolution. Slim pillarboxing left and right on my 16:9 display maintains the correct 1.66:1, a popular European aspect ratio. I detected some twitch over shadowy shots like London at dusk, and some weird diamond-shaped and diagonal artifacting mostly in the sky in the day-for-night shots as Bond approaches Crab Key, but film grain--while evident--is drastically reduced. All of the scenes in the sun-washed tropics are so crisp and lovely, they almost play like a tourism ad. The level of detail in the actors' faces (skintones, wrinkles, sweat) and in the weave of every garment is insane, while the range of colors is eye-popping, as it goes so far beyond what we are used to associating with these movies. With this much life and so few flaws, Dr. No almost looks as if it could have been shot yesterday.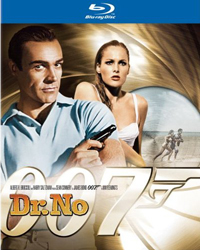 The Sound
At the time of these restorations, Lowry Digital Images was a division of DTS (Digital Theater Systems, the sound mavens), and so the audio is also reborn, bigger and better than ever. Right from the booming roar of Leo the MGM lion, followed in a few seconds by Agent 007's single resonant gunshot and the blast of music, we have no doubt that tremendous, loving care was invested to re-imagine these classics for the state-of-the-art home theater. (Purists take heart: The original mono track has been preserved here as well.)
The surround channels are smartly exploited in the DTS HD 5.1 Master Audio remix, with a variety of atmospheric touches, be it the beeping of some device behind us in an MI6 control center, voices or music from the background, cars coming and going, or a 3D family of crickets. The wind, the surf, or an approaching motor has ample presence, while the disembodied voice of an all-seeing Dr. No is unsettlingly reproduced. The many mechanical noises of his evil lair are spread discretely across the soundfield, blaring alarms and all, while the final explosion rocks the house.
The Extras
With no Blu-ray-exclusive content, this disc brings all of the previous special edition DVD features to the high-def realm, starting with a commentary from the late director Young, joined by members of the cast and crew. The disc organizes the bonus material under several Bond-esque headings, such as Top Level Access which contains "007: License to Restore - Lowry Digital Images Rejuvenates James Bond" (12 minutes, in standard definition), a must for anyone looking to further their appreciation of the outstanding audio and video quality. Declassified: MI6 Vault includes "The Guns of James Bond" (five minutes, SD) and "Premiere Bond: Opening Nights" covering the entire series (13 minutes, SD). The 007 Mission Control section allows us to access certain specific moments in the film directly, in the categories of 007, Women, Allies, Villains, Mission Combat Manual (action sequences), Q Branch (gadgets), and Exotic Locations. This is a sort of instant gratification that pulls up popular quotes and even nifty rare alternate bits like the famous opening "shot" without any onscreen text.
Mission Dossier is a series of featurettes, starting with the comprehensive "Inside Dr. No" (42 minutes, presented in AVC), "Terence Young: Bond Vivant" which finds key similarities between the director and his main character (18 minutes, AVC) and the vintage "Dr. No 1963" (eight-and-a-half minutes, SD). Ministry of Propaganda collects theatrical, TV and radio promotional spots, while Image Database is an extensive photo gallery.
Final Thoughts
Dr. No remains entertaining to watch at face value but also as a time capsule of action/adventure filmmaking, an unassuming popcorn flick that would have lasting impact on the cinematic landscape. The bonus features remain captivating, and the restored audio/video transition beautifully to high-definition.
The movie is available individually, or as part of a handy three-pack that spans nearly the entire Bond catalog, combining Dr. No with Roger Moore's first turn as Bond in Live and Let Die (3.5 stars), another stunning 4K restoration, and the thoroughly modern Die Another Day (3.5 stars), Pierce Brosnan's 007 swansong and the last mission before the series reboot that took place with Casino Royale in 2006.

All three in this set feature spectacular DTS HD 5.1 Master Audio and their own long lists of supplements. Amazon.com is also offering an exclusive six-pack of all titles in the first wave of Bond Blu-rays, the above three plus From Russia with Love, Thunderball and For Your Eyes Only.
Where to Buy:
Also available in the following sets:
Compatibility Issues:

Some people are reporting playback problems with certain Bond titles on Blu-ray. Specifically the Samsung BDP-1500 player and LG BH200 players have problems playing some of these new Bond Discs. Please check the Bond Blu-ray Player Compatibility thread in our forum for more details and to report your results.
Product Details:
Actors: Sean Connery, Ursula Andress, Joseph Wiseman, Jack Lord, Bernard Lee, Anthony Dawson, John Kitzmiller, Eunice Gayson, Lois Maxwell
Director: Terence Young
Audio Format/Languages: DTS HD 5.1 Master Audio (English), Dolby Digital 5.1 (French), Mono (English, Spanish)
Subtitles: English, Spanish
Aspect Ratio: 1.66:1
Number of discs: 1
Rating: PG
Studio: MGM/Fox
Release Date: October 21, 2008
Run Time: 110 minutes
List Price: $34.98
Extras:

Commentary by director Terence Young, cast and crew
"007: License to Restore - Lowry Digital Images Rejuvenates James Bond"
Declassified: MI6 Vault
The 007 Mission Control
Ministry of Propaganda
Image Database