Disney Reveals Details of Fantasia, Beauty and the Beast Blu-ray Discs
By Chris Chiarella
At a press gathering in New York City earlier this week, Disney unveiled plans for some key upcoming Blu-ray titles, including their first Blu-ray 3D Disc, A Christmas Carol.  But the news in 2D-land was just as exciting including with first ever high definition releases of two animated classics: Fantasia and Beauty and the Beast.
The Fantasia four-disc boxed set will contain a beautifully restored version of the 1940 classic--scanned at 4K and remixed for 7.1 channels--as well as Fantasia 2000, plus a platter of Blu-ray extras and a DVD copy of the film. Among the many special features will be an interactive edition of the fabled Shultheis Notebook, a priceless animators "bible" compiled over the career of one of Fantasia's key creators, and the first-ever home video release of Destino, Walt Disney's collaboration with Salvador Dali. Destino is backed by its own 70-minute documentary.
The folks at Disney have also thought up a novel way to preserve archival, standard-definition bonus features without cluttering up the disc: We will be able to download them via BD-Live! The Fantasia box will be released in December, at a price to be determined.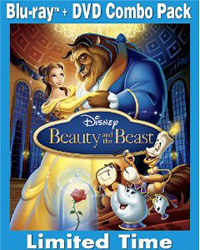 Disney's most-requested film,
Beauty and the Beast
will become the second inductee to their prestigious "Diamond Collection" when it is released in a Blu-ray/DVD combo pack on October 5th ($39.99). When we load the disc, a virtual Lumiere guides us through a computer-generated rendition of The Beast's castle, with BD-Live keeping his pithy comments accurate to the time of day.
The film itself has apparently been scrubbed to near-immaculation, endowed with a new 7.1-channel home theater mix as well. An interactive documentary allows us break away to those topic-specific pods which interest us, with expert comments spoken directly to the viewer, breaking the fourth wall. Younger viewers will surely enjoy the Jordin Sparks music video for the theme song, and the new "Disney Teleplay" technology which gives families the opportunity to play Blu-ray games without all fighting for the remote. Instead, we can call a special phone number, choose a character icon and play together in real time, telephone in hand.
Disney continues its tradition of including a standard def DVD version of the film in the package to satisfy the need for portable and non-critical viewing.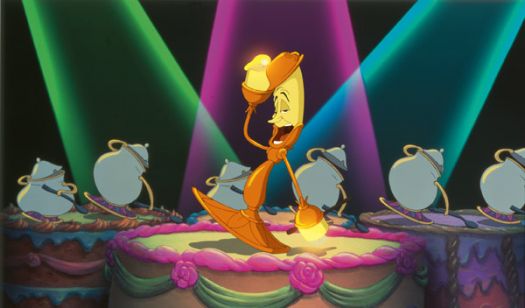 Where to Buy:
Related Article: