Die Another Day on Blu-ray Review
By Chris Chiarella
The Film
At some point in the career of fictitious intelligence agent James Bond, "tough as nails" gave way to "slicker than snot," gadgets took the place of fists, and nothing seemed impossible. Before we knew it, the sense of risk was gone and his adventures didn't feel plausible, either. Nineteen films in, the global audience continually expected more, which wasn't necessarily better. And so somewhere between Die Another Day's surfboard loaded with gadgets and the remote-controlled invisible car, we could almost hear the last shred of credibility being swept away.
In an effort to buy themselves some respectability, the producers hired new Bond girl Halle Berry, fresh off her Oscar win for Monster's Ball, and received only a by-the-numbers performance--and some memorable bikini shots, true--for their investment. She plays an American agent on the same trail as James, following conflict diamonds to North Korea, Cuba, England, Iceland and back again. I'd mention the privately-funded satellite that harnesses the power of the sun to menace the Earth like a gigantic sword of fire, but you probably wouldn't believe me.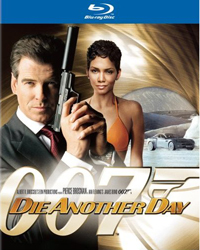 The Picture
As this was the most recent of the pre-Casino Royale Bonds, Lowry Digital Images performed a high-definition transfer and the necessary restoration was done at 1080p, versus the more elaborate 4K resolution lavished upon the older, needier films. There are no major flaws really, although it does seem to lack the panache of the more elaborate masters. We open on some extreme surfing and the waves are reproduced in stunning clarity with zero artifacts, but subsequent shadowy shots show an unnatural, digital taint. More often than not, film grain is noticeable, but it is never problematic. Artifacting does rear its unpleasant head on difficult shots such as a bad guy emerging from a billowy fog bank, but later a barely perceptible snowfall registers beautifully in the background. The excessive brightness of the enormous laser weapon is well-handled without a telltale, overblown "video" look.
The Sound
As Bond's signature opening gunshot whizzed out of the TV, my first thought was, Damn, a rear-center channel would be great right now. My second thought: This is fancy, with all of that resonance and power. The rest of the movie plays like one long audio demo, with only the occasional stretch of dialogue to move the story along. The thundering surf that heralds the arrival of the British Secret Service is soon followed by an extremely loud helicopter which delivers us to the pre-title action sequence where pretty much everything in sight blows up over a couple of minutes, notable not just for the volume but for the unabashed exploitation of the surrounds, a hallmark for this entire DTS HD Master Audio 5.1 track. Gunfights are wonderfully directional, we feel a real sense of danger as we're trapped inside the melting, self-destructing ice hotel, and when all hell breaks loose in the final attack, we might actually believe that the folly of one man could bring about World War III.
Bond's sonic agitator ring is a funky effect all three times it is utilized, and the spacious clanging and whooshing of the Bond versus Graves swordfight is great fun. Madonna's well-produced title track mixes well into all channels, while David Arnold's musical score is placed exactly where it's needed for the desired emphasis at any given moment. With a huge budget, high expectations and the latest technology, Die Another Day might have the "biggest" soundtrack of any Bond film, as crafted by its original designers, and it seems right at home in a high-def home theater.
The Extras
The MI6 Commentary choices are varied, from the more playful track by Pierce Brosnan and co-star Rosamund Pike to another from director Lee Tamahori and producer Michael G. Wilson. We can also choose the MI6 Datastream, an onscreen text track. Declassified: MI6 Vault shares "From Script to Screen" (52 minutes, in standard definition), an overview of all the challenges of making the latest adventure, with emphasis on the screenplay. "Shaken and Stirred on Ice" (23-and-a-half minutes, SD) tells tales of working in Iceland and "Just Another Day" (22-and-a-half minutes, SD) explores the logistics of a single day of production, shooting outside Buckingham Palace. In "The British Touch: Bond Arrives in London" (three-and-a-half minutes, SD) we learn what it was like to work with British Airways and "On Location with Peter Lamont" (14 minutes, SD) plays like the production designer's narrated home movies. There's no Ministry of Propaganda (publicity materials) section for Die Another Day, but the same direct Mission Control access is provided to the best instances of 007, Women, Allies, Villains, Mission Combat Manual, Q Branch and Exotic Locations during the movie.
Final Thoughts
Die Another Day, while a hit, failed to crack the Top Ten box office ranking for 2002, falling more than $50M behind even the silly Austin Powers in Goldmember which spoofed James Bond and his ilk. With the release of The Bourne Identity that same year, the tide was clearly turning toward grittier, more realistic spy thrillers, and so 007 would go on a 004-year hiatus. But for fans who like their James Bond turned up to 0011, this final installment from the original 20 is hard to beat, especially on Blu-ray.
The movie is available individually, or as part of a handy three-pack that spans nearly the entire Bond catalog, combining Die Another Day with Sean Connery's debut turn in the in the initial outing, Dr. No (3.5 stars), and Roger Moore's first turn as Bond in Live and Let Die (3.5 stars), both gorgeous 4K restorations. All three in this set feature spectacular DTS HD 5.1 Master Audio and their own long lists of supplements. Amazon.com is also offering an exclusive six-pack of all titles in the first wave of Bond Blu-rays, the above three plus From Russia with Love, Thunderball and For Your Eyes Only.
Where to Buy:
Also available in the following sets:
Product Details:
Actors: Pierce Brosnan, Halle Berry, Toby Stephens, Rosamund Pike, Rick Yune, Judi Dench, John Cleese, Michael Madsen, Will Yun Lee, Kenneth Tsang, Samantha Bond
Director: Lee Tamahori
Audio Format/Languages: DTS HD 5.1 Master Audio (English), Dolby Digital 5.1 (French), Stereo (Spanish)
Subtitles: English, Spanish
Aspect Ratio: 2.35:1
Number of discs: 1
Rating: PG
Studio: MGM/Fox
Release Date: October 21, 2008
Run Time: 133 minutes
List Price: $34.98
Extras:

MI6 Commentary
Declassified: MI6 Vault
007 Mission Control
Image Database