Denon Unveils Wide (Range of) Receivers for Home Theater
By Chris Chiarella
Denon Electronics introduced their 2009 product line at a press luncheon today in New York City, also webcast live across the country. Chief among the announcements was an array of new audio/video receivers, a product category which has traditionally been strong for Denon, one of the most widely recognized brands for consumers, and the single most popular brand among custom installers.
Denon's retail home theater series line includes the AVR-990 (suggested list price $1,499, expected July), the AVR-890 ($799), AVR-790 ($499) and AVR-590 ($349, these three all due next month). Additional models announced are the AVR-1910 ($549) and AVR-1610 ($379), AVR-4310CI ($1,999, these three landing this month), the AVR-3310CI ($1,499) and the AVR-2310CI ($849, both this month). The "CI" designation refers to Custom Integration, those three models incorporating features and capabilities geared specifically toward professional custom integrators, such as the ability to quickly, precisely configure the hardware for the most complicated setups, even remotely.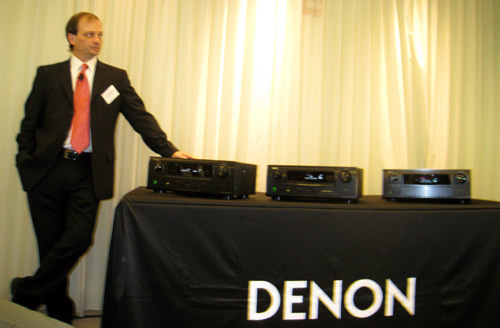 Specific features vary from model to model of course, such as the world's first receiver with Audyssey DSX front height/expanded width channels (the AVR-4310CI), as well as Dolby Pro-Logic IIz decoding in all models, which adds perceived height to the horizontal 5.1 or 7.1 surround soundfields. The whole line also provides multiple HDMI 1.3a repeater inputs with Deep Color, xv-Color and Consumer Electronics Control (CEC) support, and analog-to-HDMI conversion (not necessarily scaling on the lower-end models) for one-cable connection between the receiver and the display device regardless of our source components, right as S-video connectivity is beginning to disappear from Denon gear.
All of the higher end models have now switched to high-performance Anchor Bay video processor chips, while next-generation high-definition audio decoding is also common to the entire new product line, namely Dolby TrueHD and DTS-HD Master Audio. The graphic user interface ("GUI") has also been overhauled with simpler, clearer menus and operation that only becomes deeper and more elaborate as we move up the ranks of the new receivers.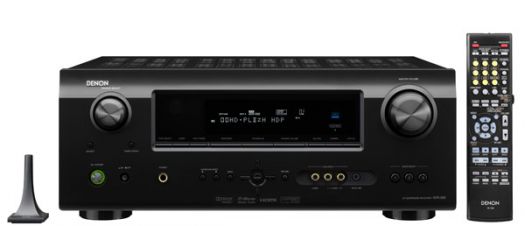 To further expand the functionality, Denon will be releasing a pair of sophisticated iPod docks this August. It's almost a shame to call them "docks" since their features go so far beyond the simple audio connectivity offered by most products in this category. These are more like "network-enabled audio/video servers" which can send their music throughout the house, even to multiple connected users. A special "party mode" for use with the new receivers enables simultaneous music in up to five Denon devices on the home network. The DRM of premium iTunes audio content is a non-issue with those Denon receivers which support Direct Connect via USB, since the iPod will be putting out its full-quality digital PCM signal via its standard cable, while maintaining Apple's full command and control functionality. The wireless model ASD-51W ($299.99) offers automatic Wi-Fi setup, and both it and the wired ASD-51N ($249.99) can stream internet radio plus support Rhapsody and Napster services.
For more information:
Related Articles:
Where to Buy (Denon-Authorized Online Retailers):