Denon's RCD-N7 CD Receiver and SC-N7 Speakers To Feature Apple AirPlay
By Rachel Cericola
If you love your music, set it free. Denon wants to help with that, with the newly announced N7 System.
Designed with the iPod/iPhone user in mind, the N7 system perfectly matches the "mod" white appearance of that portable, while satisfying your appetite for digital music almost anywhere. The N7 system includes Denon's own RCD-N7 CD Receiver (MSRP: $599) and the SC-N7 Stereo Loudspeakers ($199 per pair), which allows listeners to crank music, from multiple content sources, anywhere in the house -- all through this 2.1-channel system.
While both components are sold separately, they are designed to complement each other. Aside from the iPod/iPhone dock, the RCD-N7 also allows users to stream Rhapsody, Napster, Pandora and Last.fm music, as well as content from any networked PC. An upcoming firmware upgrade will also allow the system to wirelessly tap into iTunes, via Apple AirPlay.
Other digital music players and audio components are also welcome, via the system's USB connector.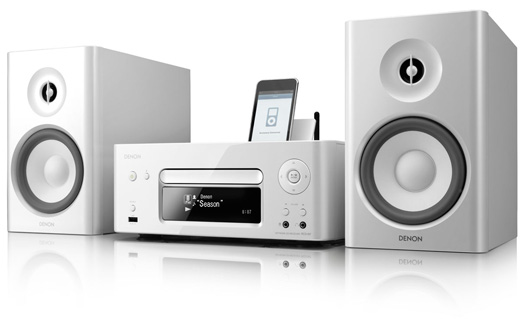 Another system feature is Party Mode Plus, a multizone network streaming management system, which allows for access and control on up to five Denon devices on the network. Speaking of control, you can tap into everything on the N7 system with Denon's new Remote App. This allows iPod/iPhone users secure access to everything on the system, all from that familiar portable.
The new Remote App is now available for demo purposes at Apple's App Store. However, Denon won't unleash the N7 system until October 2010. The AirPlay upgrade is expected to be available sometime that month as well.
For More Information: