CSI: Crime Scene Investigation The First Season on Blu-ray Disc Review
By Chris Chiarella
The Show
I like to take hope for the future of America wherever I can find it. One such example: the fact that a show as consistently intelligent as CSI:, which demands so much of the viewer, consistently remains the highest-rated scripted series on television. That of course excludes any show with a boardroom, an exile island, or a special number where we can text message our vote. (Fun fact: They call it CSI: Las Vegas overseas, where its success comes as no surprise.) There are cop dramas by the score, but the crime scene investigators of the title seem to enjoy pointing out that they are not police, rather scientists who gather evidence to help the police solve each mystery. There's apparently no shortage of foul play in the casinos and surrounding desert, but does any ne'er-do-well stand a chance of fooling Grissom (William L. Petersen), whose forensic arsenal includes an encyclopedic knowledge of insect interaction with corpses?
The Picture
The show introduced a bold visual style, at the time fairly revolutionary for TV, but despite its initial broadcast in widescreen HD, the DVD of the first season was released in a full-frame format. CBS/Paramount has finally rectified that rectangle with this 1.78:1 Blu-ray release, albeit at 1080i resolution. Colors are routinely, deliberately pushed past "normal" to great effect, but blacks can be a bit severe and unnatural. There is a fair amount of video noise, more than I've seen in quite a while, and overly compressed backgrounds, plus instances of too-high edge enhancement. Upon the necessary digital encoding, light smoke can take on a particularly ugly twitch, and some close-ups impress while others, well, don't. Then again, CSI: does look better than most nine-year-old TV shows you could name, or could pull from your shelf and pop into your player.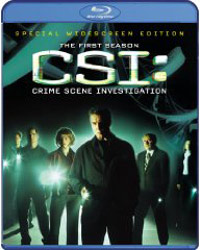 The Sound
The 23 episodes of Season One are brimming with crime scenes busy with voices, sirens, even helicopters flying overhead, as good as anything in a Hollywood movie. Flashbacks to the crimes feature exaggerated gunshots, shouts, music, and the ambitious multichannel usage is well-served by the new DTS-HD Master Audio 7.1 channel sound. There are hard surrounds such as doors opening behind us, plenty of clinking forks in restaurant scenes, and in one sequence we are buried alive with just enough stray gravel plinking to drive us crazy. The strong visuals are reinforced with in-your-face audio, so expect generous bass. My one quibble might just be my opinion, but The Who's classic "Who Are You?" just doesn't sound right in its 7.1 remix for the show opener.
The Extras
Frequent director Danny Cannon's original cut of the pilot episode is finally revealed, with his commentary plus a pair of deleted scenes in near-full-quality, with their own optional narration. There's also a smattering of deleted scenes across the set, a not-exactly knee-slapping gag reel (four minutes) and the 2003 featurette, "CSI: - People Lie... But the Evidence Never Does" (19 minutes). New for this release is the 28-minute modern retrospective, "CSI: Season One - Rediscovering the Evidence," in HD. The dynamicHD-enabled BD-Live portal is among the more elaborate I've visited, and at press time a three-part CSI: handbook was up there waiting for me, with more content allegedly on the way.
Final Thoughts
CSI: is a guilty pleasure without the guilt; a smart, arguably educational drama for us grownups; and this Blu-ray represents a major upgrade to its DVD counterpart. Grab a pair of latex gloves and dive in.
Where to Buy:
Product Details
Actors: William Petersen, Marg Helgenberger, Gary Dourdan, George Eads Jorja Fox, Paul Guilfoyle, Eric Szmanda, Robert David Hall, Glenn Morshower, Judith Scott, David Berman, Chandra West
Directors: Danny Cannon, Michael Watkins, Richard J. Lewis, Lou Antonio, Kenneth Fink, Michael Shapiro, Thomas J. Wright, Oz Scott, Roy H. Wagner, Peter Markle
Audio Format/Languages: DTS-HD Master Audio 7.1 (English), DTS 2.0 (Spanish)
Subtitles: English SDH, Spanish
Aspect Ratio: 1.78:1
Number of discs: 5
Rating: NR
Studio: CBS/Paramount
Release Date: May 12, 2009
Run Time: 1,026 minutes
List Price: $89.99
Extras:

Director's Cut Pilot episode with commentary and deleted scenes
Episodic Promos
Deleted Scenes/Outtakes
Gag Reel
"CSI: - People Lie... But the Evidence Never Does"
"CSI: Season One - Rediscovering the Evidence"
BD-Live with dynamicHD