CES: Samsung's BD-P4600 Blu-ray Player Breaks Out of the Box with Unique Styling
By Chris Boylan
At CES in Las Vegas this week, Samsung Electronics unveiled the world's first wall-mountable Blu-ray player, the BD-P4600, which combines a high performance, robust feature set with unique styling to set it apart from the competition. For audio/video enthusiasts interested in a more traditional-looking (but still elegant) "black box," the BD-P3600 offers the same advanced video features as the BD-P4600, as well as on-board lossless audio decoding of next generation surround codecs to PCM.  Where the 3600 differs from the 4600 is that the 3600 includes multi-channel analog outputs for compatibility with older home theater receivers and preamp/processors.
Both players also offer advanced networking features such as Netflix online video streaming, and Pandora internet radio.  Unlike earlier players, the BD-P3600 and 4600 will offer wireless networking via an included WiFi dongle that supports 802.11b, 802.11g and 802.11n networking protocols when plugged into one of the players' two USB ports. A standard Ethernet port is also included for those who prefer a traditional wired network connection.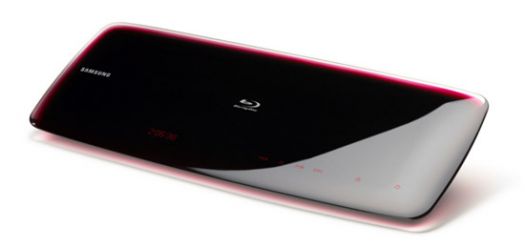 Both players include BD Live (Profile 2.0) and Bonus View (Profile 1.1) support right out of the box with 1 GB of internal storage. You can expand this via a flash memory drive plugged into either USB port. Full HD 1080p Blu-ray playback with DVD upscaling, and total HD soundtrack support are available on both players. CD playback, and support for JPEG photos and DivX videos are also standard on both models.
The wall-mountable BD-P4600 is 1.5 inches thick with a piano black design infused with ruby highlights, and finished with clear, prism-like edging. For customers who choose not to mount the player on a wall, an integrated stand lets the BD-P4600 be placed on a table at a 25 degree angle for a stunning visual statement.  The BD-P3600's more traditional set-top box form is just over two inches tall, and comes encased in deep black with charcoal gray highlights curving along the outer edges.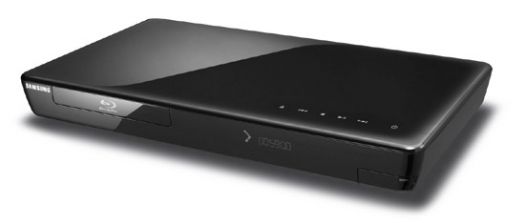 Samsung promises that the players will offer greatly improved disc-loading times including the ability to eject a disc in a single second. The players' touch sensitive controls help give them that ultra-cool "we're from the future" feel. Both players can internally decode the latest high-resolution digital multichannel audio soundtracks, including Dolby Digital Plus, Dolby TrueHD, DTS-HD High Resolution Audio and DTS-HD Master Audio soundtracks to PCM format over HDMI. The BD-P3600 goes one better by including a multi-channel (7.1) analog output for use with older non-HDMI receivers and preamp/processors.
Availability of both players is slated for this Spring. Pricing has yet to be announced but we're told to expect both players to be under $500 MSRP.
Where to Buy: