CES: DBox Lowers the Price of Admission for Motion-Enhanced Movies and Gaming
By Chris Chiarella
D-BOX Technologies Inc. creates specialized motion technology hardware and software: precision-engineered interactive furniture and the necessary codes to make it all work. If you've ever experience a D-Box-enhanced home theater system or demo, you know how effective it can be in drawing you into the movie (or game) with motion enhancements that exactly complement the action. But until now the unavoidably high pricing has put their gear out of the reach of the fair-to-middlin' home theater entusiast. That's all about to change with the arrival of the GPH-120 Hybrid Motion System.
This complete, modifiable home theater/gaming motion system is an extremely comfortable seat built upon two robust robotic motion actuators that can recreate up to two G's of acceleration in real-time. The system syncs with our favorite blockbuster movies, or as we play a videogame. It comes complete with D-BOX's KAI-1P USB Motion interface for use with PC-based games, and the bundle carries a suggested retail price of $2,999.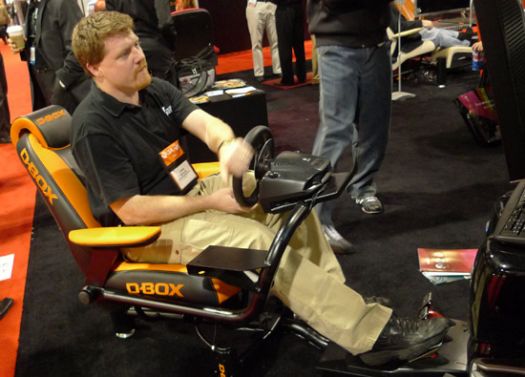 If you intend to use the motion kit for PC gaming, you need no additional investment in a motion controller as the magic happens via the USB Motion Interface. For movies, however, you do still need a motion decoder, which you can get in the form of hardware for an additional $3000, or you can opt for the software version which works with your own PC for only $800. The GPH-120 System is expected to be available in the first half of 2009.
Like all D-BOX products, the GPH-120 motion chair is constructed solidly for rigorous use, with optional accessory brackets and mounts to customize it for any specific needs. A home theater-styled footrest can also be added for movie watching. This footrest is essential to fully isolating the viewer for a more convincing motion ride.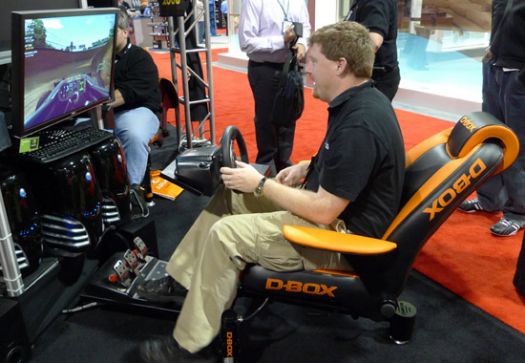 The KAI-1P USB-connected D-BOX Motion Code interface works with a list of over 850 supported Blu-rays and DVDs from the major studios, with unique, carefully plotted data specific to each movie, so we can feel the Death Star blowing up or finally know what it's like to fly along with Superman and much more. It also reacts instantly to videogame user feedback, adding convincing pitch, roll and intelligent vibration as we play.