CES: Panasonic's SC-ZT2 Home Theater Does Wireless Surround for 3D
By Enid Burns
Panasonic has an audio solution designed to complement the latest trend in HDTV: Full HD 3D.  The Japanese consumer electronics manufacturer was among many competitors showing 3D HDTV sets at the Consumer Electronics Show this year. But Panasonic also addressed the audio needs for such sets via a new 3D-capable home theater system with virtual surround technology.  When paired with the company's upcoming DMP-BDT350 Blu-ray 3D player, the system can provide the surround sound audio portion of a 3D home theater system without wires. 
The SC-ZT2 wireless home theater audio system is designed to provide home theater quality sound without any wires. The key differentiator that sets it apart from other home theater systems is its robust wireless capabilities, which eliminates the need for speaker cables while still creating a wide and expansive surround soundstage.
The wireless 7.1 sound sound is accomplished with only two speakers with multiple drivers that simulate a surround sound experience without any rear speakers. Each speaker houses four one-inch tweeters, which are vertically aligned to emit sounds parallel to the floor. That enables viewers to sit anywhere in the room and get the same simulate surround experience.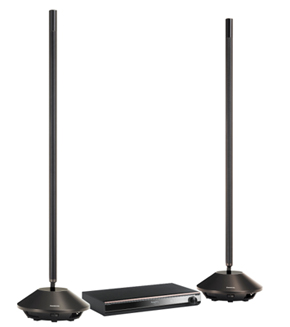 The speakers also include an integrated long-stroke woofer to generate sounds in the low-frequency range and deep bass. Your floor actually plays a part in the sound reproduction of the SC-ZT2 speakers -- woofers integrated into the base of each speaker use a down-firing design, using the floor as an acoustical reflector.  This helps to accentuate the lower bass and disperse the sound all over the listening room.
The system minimizes space with two ultra-slim pole speakers and a wireless receiver. It's expected to be available in June of this year.
Where to buy:
More CES 2010 Coverage Live from Las Vegas: