CES: Michael Jackson's This Is It on Blu-ray 1/26: BD-Live and REALLY LIVE!
By Chris Chiarella
Michael Jackson's This Is It, the concert film capturing The King of Pop's preparations for a huge-scale stage comeback in London, before his tragic death last year, will be arriving on Blu-ray Disc in a special edition from Sony Pictures Home Entertainment on January 26. The movie, assembled from hours of rehearsal and backstage footage shot on HD video, was hugely popular in its theatrical run and presents what is being called the "last ray of light" from "one of greatest performers of all time."
The Blu-ray disc edition will include new and never-before-seen extras, comprised of interviews, "making of" segments, and featurettes on the costumes and the dancers, in addition to some BD-exclusives. Two short films created to be shown during the concert, for the live performances of "Thriller" and "Smooth Criminal," are presented here in their entirety, and Sony's BD-Live movieIQ feature will receive two enhancements for this release. Interactive playlists will allow users to create and bookmark a compendium of their favorite songs, while movieIQ Sync puts the bonus data for the movie onto a separate device such as a PC or iPhone.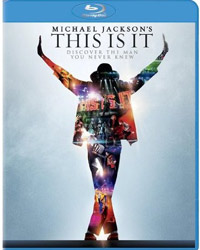 To help introduce the upcoming disc, the movie's associate producer and Michael Jackson's choreographer, Travis Payne--who began working with Jackson in 1992--was on-hand at CES last week along with two of the principal dancers to show off some sweet dance moves. Together they performed the numbers "Bad" and "Jam." We also received a first look at the "Smooth Criminal" short film. An edited version of today's event will be made available tomorrow on BD-Live, accessible via any Sony Blu-ray disc which supports BD-Live.
Where to Buy:
More information:
More CES 2010 Coverage Live from Las Vegas: