CES: LG Offers CF3D - Their First 3D-Ready 1080p Projector
By Greg Robinson
After their introduction of the BD590 - the industry's first Blu-ray Disc player to incorporate an internal hard disk drive - LG unveiled another first during Press Day at the Consumer Electronics Show (CES). Say hello to the CF3D, the first single lens, full HD 3D front projector.
3D is all the rage at this year's show, so it's not a huge surprise to witness the arrival of 3D-capable front projectors to supplement the 3D-capable flat panel displays we're now starting to see. What is surprising is the fact this new product category is being pioneered by LG, a company not traditionally thought of as a projector manufacturer.
Although complete product details are still a bit sketchy, the CF3D will be an SXRD-based projector delivering full 1920 x 1080 pixel resolution, brightness measuring up to 2500 ANSI-lumens and a contrast ratio of 7,000:1.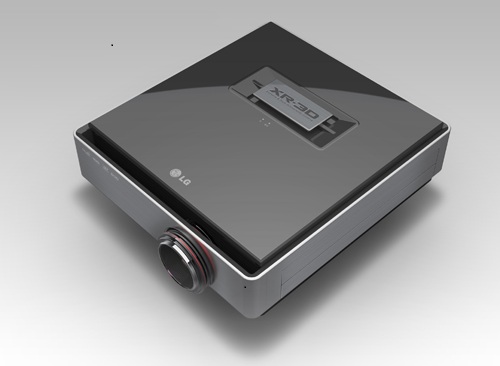 3D-specific technologies include something LG is calling "Dual Engine" and "3D Auto Picture Calibration." And on the subject of calibration, it should be noted that the BD590 also features the always-welcome ISFccc mode, which simplifies video calibration for professionals and delivers more advanced settings for fine tuning your picture and saving these settings under different pre-sets optimized for day and night viewing.
The CF3D also features LG's 120Hz "TruMotion" technology for smoothing out fast-moving images. Up until now, we've only seen TruMotion on LG's flat panels, so it's interesting to see this technology now making its way into front projection. (And since we're on the subject, it should also be noted that LG announced today the arrival of new 480Hz TruMotion processing on select 2010 flat panels.)
The CF3D is reported to feature dual HDMI 1.3 inputs, though this would appear to contradict what we've heard elsewhere at the show, that HDMI 1.4 is required for connection to the upcoming crop of 3D-powered Blu-ray Disc players. If we hear anything new on the HDMI front, we'll be sure to post an update.
Pricing and availability on the CF3D has not yet been announced.