CES: Earthquake Sound Couch Potato CP-8 Shakes Your Booty
By Peter Suciu
We all know that subwoofers provide that low-end, and in many cases the added benefit of a tactile experience, yet time and time again the darn things are shoved off to the side or stashed in the corner. Earthquake Sound Corp. has introduced a solution that will allow users to get the full-on low-end experience with a sleek woofer that can be stashed under a sofa, behind it or even under the bed.
The CP-8, which is winner of a 2010 CES Innovation Award, is a self-powered 8-inch subwoofer that is equipped with an RCA input, high level input with crossed high level output. It is designed to match typical satellite or bookshelf speakers. It features a durable pressed paper cone, and the CP-8 has a power output of 300 Watts, 20Hz-180Hz, crossover frequency from 40Hz -130Hz and crossover slope of 12db per octave.
For those with a bit more room, and don't mind showing off their subs, Earthquake rocks out the room with the front firing, front-ported FF12 Subwoofer, which features a 400-watt built-in amplifier. This unit features the company's TCT (Turbine Cooled Transducer) Technology to increase efficiency and eliminate distortion. It offers a 12-inch deep bumped woofer, with a frequency response of 20Hz-125Hz.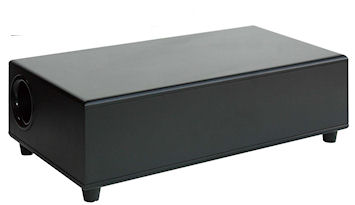 On the high-end of the spectrum Earthquake offers an answer to the often asked question, how low can you go? This is the Supernova MKVI addition to its Supernova Series line, which is now available in three models including the MKIV, MKV and the aforementioned MKVI. The newest addition features a 1200 watt dynamic and 600 watt RMS Class D switching amplifier. It is available in either real black ash wood veneer or a black lacquer piano finish. Either way, it is the type of sub that you won't want to hide in the corner.
Pricing:
Couch Potato CP-8 MSRP: $399.00
FF12 MSRP: $699.00
12" Black Ash MKVI MSRP: $2,399.00
12" Piano Black MKVI MSRP: $2,899.00
15" Black Ash MKVI MSRP: $2,899.00
15" Piano Black MKVI MSRP: $3,399.00
More CES 2010 Coverage Live from Las Vegas: