CES: B&W Demos Exceptional New P5 Mobile Hi-Fi Headphones
By Dennis Burger
It stands to reason that if the loudspeaker deities at Bowers & Wilkins decide to release a pair of headphones, they intend to do it right. Score one more for reason: B&W is demoing their new P5 Mobile Hi-Fi Headphone on the show floor at this year's CES, and even amidst the chaos and cacophony, the difference between this and your average headphone is crystal clear. Everything about the P5 is a cut above, from the New Zealand sheep's leather headband and earpads (the latter of which attach magnetically) to the interchangeable audio cables: one standard, and one officially approved for voice and device control of an iPhone or iPod Touch.
All of that would sort of be moot if the 'phones didn't sound fantastic, though. And they do. The earpads form a wonderful bond with the ear, providing pleasant, natural noise isolation. Even in less-than-ideal listening conditions, the smooth, balanced response of the P5 is evident. Bass is rich without being artificially boosted. High frequencies are forward and present without biting. The sound is what you'd expect from much larger cans, not a sleek, on-ear solution like this. If I had to pick a "Best Headphone in Show" this would be it so far.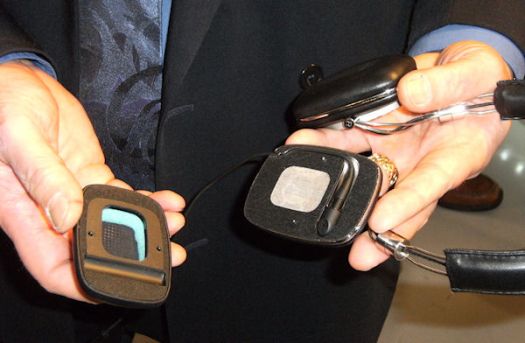 Look for the P5 to start shipping sometime toward the end of January/beginning of February. The price isn't in stone yet, but should be in the neighborhood of $300.
For More Information:
Where to Buy:
More CES 2010 Coverage Live from Las Vegas: