Boston Acoustics A 2310 HTS Surround Sound Speaker Package Review
By Rachel Cericola
Edited by Chris Boylan
Good Things Come in 5.1 Packages
Since the late '70s, Boston Acoustics has been a pillar in the audio industry, and extremely well known their ability to rock. Despite being acquired by D&M Holdings in 2008, that quality has remained -- although the product line has been tweaked. It has nothing to do with D&M, really, but is more of a sign of the times. So at least for the past few years, Boston Acoustics has spent a good portion of its calendar year unleashing products that were designed to deliver big sounds from much smaller packages.
The form factor may have changed, but Boston Acoustics is still rocking as hard as ever. Those tabletop radios, soundbars, and even the insanely compact SoundWare XS speaker line still manages to belt out some quality audio. However, late last year, someone at Boston Acoustics must have been feeling nostalgic because the company started cranking out larger speaker models again. It started with the Reflection Series. Now, the company is bringing its A game, in the form of the A Series loudspeaker series.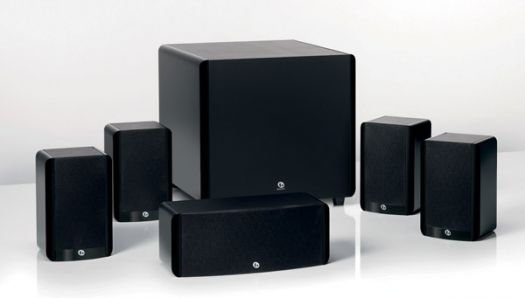 This new offering mixes the old school with the new, and pretty much everything else under the audio side of the sun. The A Series does offer those big floorstanding speakers, as well as bookshelf units, center-channel speakers, satellites and subwoofers. Whatever fish you wish, they've got it: a veritable boatload of speaker choices. However, not everyone wants to mix and match, spending the mental effort and the cash that frequently comes with creating an a la carte system. For those, Boston Acoustics has assembled a few of the A series items into the A 2310 HTS Surround Speaker System.
Unboxing This Boxed Set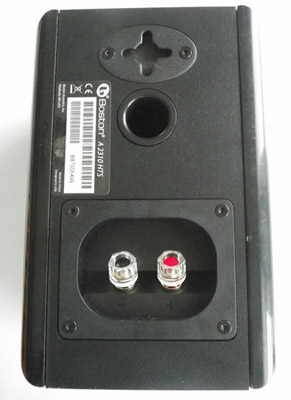 The A 2310 HTS highlights just two of the A Series models plus a powered subwoofer, to make up a nicely matched 5.1-channel surround sound speaker package. None of the big boys are inside this box. That kind of playtime would cost you more and may not be necessary, depending on the size and layout of your room. Instead of power towers, this set comprises four of the
A 23 satellite speakers
, which are interchangeable as the front and surround speakers, as well as the
A 223C center channel
and the
ASW 250 subwoofer
.
Each of the pieces has a faux leathery top, with glossy, scratch-resistant panels. Overall, it's a decent looking set, but aside from the girth of the subwoofer, it's not exactly a conversation starter. It does get the job done from a sonic perspective though -- and gets it done with very little effort on your part. There's no mounting hardware provided, even though the speakers do provide that option, but Boston Acoustics is kind enough to include all of the speaker wire you'll need to get this package up and rocking. Even better, each of the five of the speakers features solid, high quality 5-way gold-plated binding posts, making the setup insanely simple.
Let's get something straight; at 8.1 by 5.25 by 5 inches, the satellites really aren't as small as some of the super-compact systems out there, but nor are they floor hogs, either. To keep the pig theme going, these shouldn't break anyone's piggy bank if you want to bulk the set up to 7.1, 9.1 or beyond by adding some extra speakers. The MSRP on the A 23s is $139.99 each.
Despite the smallish size, each of the speakers is pretty hearty. The A 23 packs in a 3.5-inch ceramic/glass fiber polymer woofer and one 1-inch Kortec soft dome tweeter, wrapped in a tuned resonant port design.  The cabinet is internally braced to reduce resonance. Each of those A 23s boasts a rated frequency response of 80Hz - 25kHz +/- 3 dB, and a sensitivity rating of 89dB. Nominal impedance is rated at 8 ohms, with the crossover at 2.2kHz.
The A 223C center channel is similar to the A 23, but bumps up the size to 4.75 by 12.38 by 5.25 inches, with one extra 3.5-inch driver and a crossover of 2.52kHz. It's not exactly blending into the atmosphere, but managed to disappear (in a good way) into the bottom of our 50-inch plasma HDTV. That center channel is something truly special -- literally. It is actually an exclusive for the A 2310 HTS package and is the only piece that is not sold separately.
Putting the boom into the room, as well as a place to rest your drinks, is the ASW 250 subwoofer. Compared to the rest of the A 2310 HTS, this sub draws a bit more attention to itself, measuring 14.06 by 4.69 by 16.38 inches. At 32 pounds, this is the bulk of this package (as well as the pressure on your back). That girth packs in a 10-inch Deep Channel woofer and an internal amp that pounds out 100 watts RMS (250 watts peak) of power.
With a rated frequency response all the way from 28 to 150 Hz +/- 3 dB, the ASW 250 really rocked our small listening room. The back has a few tweaking options, such as volume, crossover and polarity controls, as well as stereo line level and LFE inputs.  Interestingly, a speaker level input/output is not provided so connecting this to your receiver's speaker level outputs and letting it send just the high frequencies to your main speakers is not an option here.
There's something to be said for not having choices. Although this is not a mix-and-match setup, it is an affordable one. The entire 5.1 package can be had for a mere $899.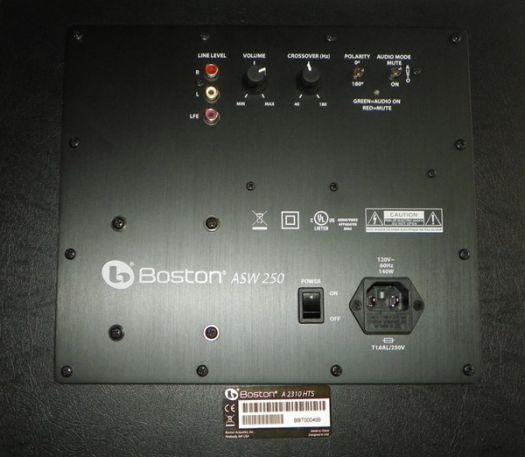 Rock the Moderately-Sized Casbah
We paired this set with an Onkyo TX-SR308 receiver and found that the volume needed to be cranked slightly higher than what we were used to with our reference Klipsch speaker set. Overall, there was plenty of sound to fill the room, and possibly the room of our nearby, elderly neighbor. However, we have a small living room and not too much space between our house and the house next door. Larger rooms probably won't be satisfied with the power this set can deliver, but we were pleased with how loud the system could go and still maintain clear, enjoyable sound.
We got a ton of bass (and rump shaking) when rocking out Eminem and Jay-Z's The Black Album. The Beatles' Abbey Road displayed a wealth of detail and discrete musical sounds from the different speakers, especially on tracks such as "Oh! Darling" and "Golden Slumbers." However, once we cranked the speakers a little louder, we did notice a little rumble coming from those little satellites. We had similar results with Rush's "Tom Sawyer" and other songs albums that featured more complex and layered intrumental arrays. Basically, the speakers can go loud, but not insanely loud. Yes, sometimes insanely loud is good, but it's probably not necessary for most prospective owners.
We switched to a few tracks with less of a "big band" sound to see how things held up. We had much better results with Nirvana's Unplugged album, as well as Johnny Cash's American III: Solitary Man. Neither selection has a full band rocking out to full capacity. The A 2310 HTS did an especially impressive job delivering Cash's breathy, bass-filled vocals, as well as echoing some of that album's strings.
From there, we wanted to see how the unit would serve up our movie soundtracks so we ran the system through the THX Optimizer demo, including the various THX trailers. The speakers were able to handle the trademark Deep Note, at volumes that made our dog leave the room. From there, we ran the Dolby 5.1 demo on VUDU. The system was able to isolate some impressive sounds from the Drumline sequence. However, the best test was a high-octane chase scene from The Expendables. This is where we opened up the speakers, cranked the sound, and sat back to hear the result. The speakers delivered surprising dynamics, and were able to handle those complex movie soundtracks at extremely high volumes, without any of the rumble or rattle we sometimes heard on complex music tracks (except maybe the dishes).
Turn Ons:
Full 5.1 sound for $899 (MSRP)
Excellent bass extension
Smallish speakers make for easy placement
Super-easy installation
Includes speaker wire

Nice performance at a nice price
Turn Offs:
Better suited for smaller rooms
Subwoofer is a big boy (but low bass requires the bigger box)

No speaker level inputs on the sub
Some congestion/harshness at very high volumes

Final Thoughts
We love a good bargain. If you want to buy all the components of the A 2310 HTS system as individual pieces, you'll be spending almost $1000 without the center channel.  You'd be hard-pressed to find a system for less that goes as low and is as musical as this one, so we do think the A 2310 HTS provides excellent value for your money.  But it can't be all things to all people.  Without a doubt, the A 2310 seems better suited toward small to medium-sized rooms. And if you're looking for something to fill a larger space, well Boston Acoustics has you covered there too, albeit for a slightly larger price tag.
Manufacturer Specifications:
A 23 Surround Speaker:
2-way bookshelf speaker
3.5-inch DCD Woofer
1-inch Kortec Soft Dome Tweeter
Frequency Response: 80Hz - 25kHz, +/- 3 dB

Sensitivity: 86dB
Impedance: 8 ohms nominal
Crossover: 2.2kHz
Power Handling: 10-150 watts
Connectors: Gold-Plated 5-Way Binding Posts
Dimensions: 8.12 x 5.25 x 5 inches
Weight: 4.2 pounds
Individual MSRP: $139.99 each
A 223C Center Channel:
(2) 3.5-inch DCD Woofers
1-inch Kortec Soft Dome Tweeter
Frequency Response: 80Hz - 25kHz, +/- 3 dB
Sensitivity: 86dB
Impedance: 8 ohms nominal
Crossover: 2.5kHz
Power Handling: 10-150 watts
Connectors: Gold-Plated 5-Way Binding Posts
Dimensions: 4.75 x 12.38 x 5.25 inches
Weight: 6.6 pounds
Not sold separately
ASW 250 Subwoofer:
10-inch DCD Ceramic/Glass Fiber Polymer Woofer
Frequency Response: 28Hz - 150 Hz
Amplifier Power: 100 Watts RMS (250 watts peak)
Connectors: LFE RCA, Stereo RCA
Dimensions: 14.06 x 14.69 x 16.38 inches
Weight: 32 pounds
Individual MSRP: $349.99
Manufacturer Contact Information:
Boston Acoustics
300 Jubilee Drive
Peabody, MA 01960-4030
Ph: 978-538-5000
On the Web: www.bostonacoustics.com