The Site for Home Theater and Movie Reviews
Born on the Fourth of July Blu-ray Review
By Rachel Cericola
The Film
Tom Cruise is one of the most famous actors in the world. However, his high-profile marriages (and divorces), couch hopping, religious beliefs, and statements to the press have sort of turned him into the man that movie fans love to hate. Say what you will, people do love his movies. That's because he can actually act.
With all of his blockbuster action flicks, that's something we seem to forget -- a lot. However, Born on the Fourth of July is a constant reminder, throughout its 145-minute runtime. His realistic portrayal of real-life Vietnam vet Ron Kovic is riveting and heartbreaking all at once.
Born on the 4th in July of 1946, Kovic seemed like he was bred to be a Marine. After high school, he and a few buddies signed up to serve our country at the height of the Vietnam War. Born is the second film in director Oliver Stone's Vietnam trilogy. As we learned from his first installment, Platoon, war is hell -- but it almost pales to the hell that awaits Kovic when he returns home, paralyzed from the mid-chest down.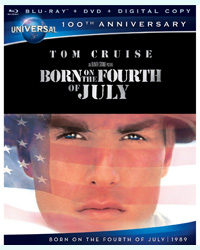 Stone is best known for his controversy, and B
orn on the Fourth of July
is not free of that. His depiction of the war, the way vets were treated after the fact, and the time period are stunning, in more ways than one. His Best Director Oscar was one that was well deserved.
The Picture
Even during its darkest moments, Oliver Stone's Oscar winner is pretty gorgeous. Don't let the grainy opening fool you. Once Kovic heads off to Vietnam, the imagery gets pretty wonderful, even when it's haunting. The 2.35:1 transfer has great colors throughout and detail is pretty impressive, especially in those sweaty, expressive close-ups.
The Sound
Universal has given this powerful film an equally powerful DTS-HD Master Audio track. Each portion of Kovic's life that's displayed in the movie almost has its own soundtrack. While growing up, the audio focuses heavily on the dialogue, John Williams' score, and music to depict the time period. Once Kovic gets shipped out, the sounds and screams of war surround the viewer to the point where you're going to feel all of the confusion, the terror, and the fear. Once the vet returns home, the action and the soundtrack combine to keep the viewer immersed. It's a wonderful track.
The Extras
Despite being part of Universal's 100th Anniversary Collection, this set doesn't have any new extras. The lone featurette is the "NBC News Archives - Backstory: Born on the Fourth of July," which was ported over from the DVD release. It's good, but it would have been nice to get a little update on Kovic and how he feels about the film after all these years. That said, the gem of this set is the Oliver Stone commentary -- for obvious reasons. Stone knows how to talk, and has packed this track with tons of interesting tidbits.
Other than that, Universal has included two anniversary shorts: "100 Years of Universal: Academy Award Winners" and "100 Years of Universal: The '80s."
Final Thoughts
Sometimes Born on the Fourth of July is a little hard to stomach. However, it's an incredibly moving film and one of Oliver Stone's best. It's also something you're going to want to keep around, just for the performance by Tom Cruise. With all of the cash this guy has banked over the years, this is a crown jewel in his resume. It's a wonderful film and a wonderful Blu-ray, making it a must-have.
Product Details
Actors: Tom Cruis, Kyra Sedgwick, Raymond J. Barry, Jerry Levine, Frank Whaley, Caroline Kava, Willem Dafoe
Director: Oliver Stone
Audio/Languages: DTS-HD Master Audio 5.1 (English), DST 5.1 (Spanish, French)
Subtitles: English SDH, French, Spanish
Aspect Ratio: 2.35:1
Number of Discs: 2
Rating: R
Studio: Universal
Blu-ray Disc Release Date: July 3, 2012
Run Time: 145 minutes
List Price: $19.98
Extras:

Feature Commentary with Director Oliver Stone
From the NBC News Archives - Backstory: Born on the Fourth of July
100 Years of Universal: Academy Award Winners
100 Years of Universal: the '80s
BD-Live
D-BOX Motion Code
Standard-Def DVD
Digital Copy
What do you think?
| | |
| --- | --- |
| Overall | |
| Video | |
| Audio | |
| Movie | |
| Extras | |
Explore Big Picture Big Sound