Body of Lies on Blu-ray Disc Review
By Chris Chiarella
The Film
Is it just me, or does director Ridley Scott show a serious fascination with the inner workings of the United States? For a Brit, he sure has visited topics like our military and justice system quite a lot (American Gangster, G.I. Jane, Black Hawk Down), and now he returns with Body of Lies, based upon the novel by David Ignatius, a foreign correspondent stationed 30 years in the Middle East.
The tale puts us on the frontlines of the war on terrorism, at eye-level with the dirty, dishonorable little tricks of the business, fraught with deception, betrayal and violence. While the characters may be fiction--Leonardo DiCaprio as a tough-but-compassionate field agent, Russell Crowe as his aloof, largely stateside boss, working together to flush out a major Al-Qaeda threat--the underlying facts are pretty compelling, even educational, although this is not the sort of subject that moviegoers would tend to seek out in droves on date night, even with two huge stars on the marquee.
Also check out Joe Lozito's take on Body of Lies.


The Picture
This doesn't happen often, but literally from the very first shot I knew that this disc might be a disappointment. We're shown a backlit man in a smoky room, and the image immediately degrades to a horrible pixelization, particularly on the left, darker side of the 2.4:1 frame. This anomaly repeats throughout the movie, with its frequent scenes set in dark chambers and/or full of atmospheric smoke. Backgrounds tend to be noisy, significantly textured cloth can show an unfortunate twitch at times, while blacks too rarely surrender any realistic nuance. When there is detail in the close-up of a face, or in a wide vista, it's fine but never spectacular.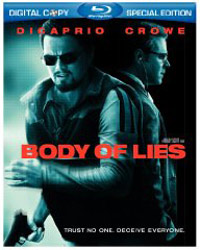 The Sound
This is yet another Warner Blu-ray which defaults to Dolby Digital, so be sure to actively select the Dolby TrueHD 5.1 track for the best quality. Even so, the mix displays a curious restraint, as if trying to withhold any glamorous Hollywood edge from these stark proceedings. The action sequences are believable enough, but the rockets, grenades and bombs don't take real advantage of the subwoofer. Even the attack helicopters--attack helicopters!--seem rather tame. There are limited hard surround and directional effects; cars circling around behind us, a motorbike whizzing by; as well as fill for crowds in the multiple busy street locales, or a rainy scene. Gunshots pack a convincing jolt.
The Extras
The audio commentary by director Ridley Scott, screenwriter William Monahan and author David Ignatius does a fine job illuminating the background of the story, albeit with some overlap of the other extras. "Actionable Intelligence: Deconstructing Body of Lies" is a series of nine different "Focus Points" totaling over an hour (in high-definition) of pertinent behind-the-scenes footage, the longest exploring the stunts and special effects. They are not presented as picture-in-picture but by branching out of the movie when we see and click on a disc icon.
"Interactive Debriefing" allows us to choose exactly which interview clips we'd like to watch from Scott, DiCaprio or Crowe, selectable on the topics of Story, Collaboration and Intelligence, also in high-def. The four deleted scenes plus alternate ending include a pretty interesting, somewhat different introduction by Ridley Scott, about 15 minutes total, in HD. The disc also enables access to Warner's BD-Live online portal, although at the time of this review a trailer was the only Body of Lies-specific content. The second disc, a DVD, contains a Digital Copy of the movie for PC, portable Windows Media devices, and iTunes/iPod.
Final Thoughts
Body of Lies is at times a harsh movie to watch, certainly revealing some of the bleaker aspects of covert international intelligence. The Blu-ray extras take advantage of current entertainment technology, even if the audio and video don't.
Where to Buy:
Product Details
Actors: Kevin Leonardo DiCaprio, Russell Crowe, Mark Strong, Golshifteh Farahani, Oscar Isaac, Ali Suliman, Alon Aboutboul, Vince Colosimo, Simon McBurney, Mehdi Nebbou, Michael Gaston
Director: Ridley Scott
Audio Format/Languages: Dolby TrueHD 5.1 (English), Dolby Digital 5.1 (English, French, Spanish, Portuguese)
Subtitles: English SDH, French, Spanish, Portuguese
Aspect Ratio: 2.40:1
Number of discs: 2
Rating: R
Studio: Warner
Release Date: February 17, 2009
Run Time: 128 minutes
List Price: $35.99
Extras:

Audio commentary by Ridley Scott, William Monahan and David Ignatius
Deleted scenes with optional commentary
"Actionable Intelligence: Deconstructing Body of Lies" Focus Points
"Interactive Debriefing" interviews
BD-Live
Digital Copy