Blow Out Blu-ray Review
By Chris Chiarella
The Movie
When Jack Terry (John Travolta), a sound designer for decidedly low-budget films, unexpectedly records a car crash that claims the life of a presidential hopeful, he becomes an "earwitness" to a crime that no one wants to investigate. His only ally, the not-so-innocent girl (Nancy Allen) he rescues from the wreck, wants to put it all behind her, but they must work together in order to unravel the deadly conspiracy.
And so The Zapruder Film meets Antonioni's Blow Up (no coincidence, that title) by way of Coppola's The Conversation in Blow Out, the smart, passionate thriller.  The film was written and directed by Brian DePalma and includes his distinctive flourishes that audiences have come to expect. Confounding the not-quite-lovers in their quest for the truth is a very bad dude (John Lithgow) self-motivated to kill them both, even if it means murdering a few extra folks just to help hide his tracks. As a bonus, Blow Out provides a detailed how-to of professional analog movie sound, although it is largely obsolete today in the digital era.
The Picture
The care is evident in the brand-new 2K master supervised and approved by director Brian DePalma from the original 35mm camera negative. The subtleties of focus are well-preserved within the 2.4:1 frame, which makes excellent use of DePalma's trademark diopter shots (two people or objects at different distances from the camera yet both impossibly sharp-focused) as well as split-screen moments.
There might be an occasional scratch here or there, but film grain and video noise are only slight and detail is more than adequate. Blacks, which can be somewhat murky in '80s films remastered for HD, are generally inky and organic with few exceptions.
The Sound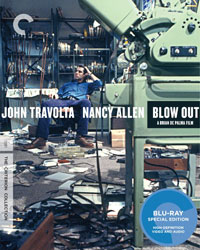 All right. I understand the desire not to reinvent the wheel, too much tinkering might have incited accusations of blasphemy, but this is a movie about a seasoned movie sound man and could have really benefited from the bump up to 5.1, which of course was not available in 1981. But in one scene, Jack is pointing his mike systematically in different directions, recording all around his fixed position, and later he reassembles those audio cues in his memory, for crying out loud.
He continues to recreate the sounds of the car crash in different ways, leading up to an exceptional bit of filmmaking wherein the camera fluidly pans around his studio uninterrupted over and over while he frantically searches for a lost tape. This bit continues to be a dramatic standout in its faithful DTS-HD Master Audio 2.0 Surround, but it could have been legendary in a discrete multichannel remix.
There is some effective phasing and credibly busy sequences as in a hospital or on a Philadelphia street, and everything is clear and pleasant, but not much more.
The Extras
The disc offers a terrific complement of new bonus features, plus an obscure, generous bit of history. Contemporary filmmaker Noah Baumbach interviews Brian DePalma one-on-one for almost an entire hour, with the sort of depth usually reserved for audio commentaries, which DePalma eschews. Still-lovely star Nancy Allen waxes nostalgic for about 25 minutes, and Steadicam inventor Garrett Brown gives a product demonstration and talks about his work on the film, specifically the Co-ed Frenzy movie-within-the-movie (15 minutes). All of these interviews are in HD.
We can also use the remote to flip through the work of the late on-set photographer Louis Goldman, before settling down with Murder a la Mod, DePalma's complete 80-minute experimental film from 1967. Presented in 4:3, black-and-white HD and Dolby Digital mono, it is another thriller set in the world of exploitation moviemaking, scenes from which are glimpsed on a TV screen in the background of Blow Out.
Final Thoughts
A post-Carrie, pre-Untouchables gem, Blow Out remains one of DePalma's most engaging and effective works. His hands-on approach to the video and the extras is much-appreciated, I just wish we could hear that car crash in 5.1....
Product Details
Actors: John Travolta, Nancy Allen, John Lithgow, Dennis Franz
Director: Brian DePalma
Audio Format/Languages: DTS-HD Master Audio 2.0 Surround, (English)
Subtitles: English
Aspect Ratio: 2.40:1
Number of discs: 1
Rating: R
Studio: The Criterion Collection
Release Date: April 26, 2011
Run Times: 108 minutes
List Price: $39.95
Extras:

"Noah Baumbach Interviews Brian DePalma"
Nancy Allen Interview
Garrett Brown Interview
Louis Goldman Photographs
Companion DePalma Film: Murder a la Mod (1967)