Back to the Future: 25th Anniversary Trilogy Coming to Blu-ray
By Rachel Cericola
Wow, we feel old. Marty McFly is about to celebrate his 25th birthday!

To commemorate the occasion, Universal has just announced a box set for the anniversary of the Back to the Future franchise. The Back to the Future: 25th Anniversary Trilogy will be available on Blu-ray starting October 26, 2010.

This is the first time that the franchise has been put on Blu-ray. The studio has restored all three movies, and the set will feature more than two hours of never-seen bonus material.

UPDATE (10/14/10): Our full review of the Back to the Future Trilogy on Blu-ray is now live:
In case you can't remember the entire series, director Robert Zemeckis and trilogy mainstays Michael J. Fox and Christopher Lloyd were joined at one point or another by Lea Thompson, Crispin Glover, Thomas F. Wilson, Elisabeth Shue, Billy Zane, Elijah Wood and Mary Steenburgen. While they are all still present, there are a few new items included in this box set. Aside from BD-Live. pocket BLU and My Scenes features, the set will include a Trivia Track, storyboards and other production tidbits.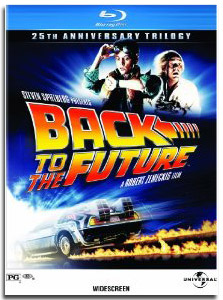 One of the new features is "Tales from the Future," a brand new six-part retrospective, which includes interviews with Fox, Lloyd, Thompson, and Zemeckis. There is also some insight from producers Bob Gale and Neil Canton, as well as executive producer Steven Spielberg.
Other features include:
The Physics of Back To The Future: A talk with celebrity best-selling author and physicist Dr. Michio Kaku about the movie and science of Back to the Future.
Nuclear Test Site Ending Storyboard Sequence
16 Deleted Scenes
Michael J. Fox Q&A
Q&A Commentaries with Director Robert Zemeckis and Producer Bob Gale
Feature Commentaries with Producers Bob Gale and Neil Canton
Archival Featurettes

Making the Trilogy: The 2002 DVD documentary
The Making Of Back to the Future Part I, II & III
The Secrets of the Back to the Future Trilogy: Hosted by Kirk Cameron!
Outtakes
Original Makeup Tests
Production Design
Storyboarding
Designing the DeLorean
Designing Time Travel
Hoverboard Test
Designing Hill Valley
Designing the Campaign
Back to the Future:  The Ride
Huey Lewis and the News "Power of Love" Music Video
ZZ Top "DoubleBack" Music Video
Photo Galleries, Including Production Art, Additional Storyboards, Photographs, Marketing Materials and Character Portraits
Theatrical Trailers
Get ready to go back in time when the Back to the Future: 25th Anniversary Trilogy Blu-ray box is released on October 26, 2010. Universal has not yet announced an MSRP for the 3-disc set, but Amazon now lists the MSRP as $79.98.  Amazon is currently offer pre-orders for 30% below list with their pre-order price guarantee in effect (if the price goes down before ship date, you automatically get the lower price)
Where to Buy: