BATMAN: The Motion Picture Anthology 1989-1997 on Blu-ray Disc Review
By Chris Chiarella
The Movies
Yes, we are indeed just a few months shy of the 20th anniversary of Warner's big-screen Batman movie. I remember all too well the "Batmania" that gripped the world in the summer of 1989, the ubiquitous t-shirts, sold-out toys, and insane box office tallies. But now that all of the accolades for finally tapping into the dark, serious tone of the character have faded, I see how dated Batman has become: It's way too talky, the production design is overblown, the special effects are atrocious, the many Prince songs are forced in, and Kim Basinger--a late replacement for the injured Sean Young--is just plain annoying. Kudos to all involved however for making a movie that was "of its time," a pop culture event on a grand scale.
So how did the makers of Batman Returns choose to follow up the first truly serious dramatization of The Batman in history? From this first sequel onward, the producers chose to make it silly again, recalling the Adam West TV series they had so successfully overcome. There would be too many "jokes," and not even good ones, combined with the unfortunate trend of too many villains, a lesson clearly lost upon Sam Raimi et. al. when it came time for Spider-Man 3. And logic? Fuhgeddaboutit: When Selina Kyle (Michelle Pfeiffer, a late replacement for the pregnant Annette Bening) falls from the top floor of an office building and lands flat on the pavement, instead of severing her spine she is suddenly a champion gymnast and martial artist, no training required!
And I naively believed that the rubber nipples, fingernails-on-a-blackboard dialogue and generally nonsensical storytelling of Batman Forever qualified it as the worst movie I had ever seen in a theater, until I somehow managed to survive the sharp stick in the eye that was Batman & Robin two years later, and that dubious distinction has never been usurped. (Kingdom of the Crystal Skull might give it a run for its money.) Much like the last two Superman movies of the 1980s, this pair was so universally reviled (ticket sales notwithstanding) that they essentially killed a once-lucrative franchise for the studio, one that had to be laid to rest, forgotten, and completely rebooted. Unlike Superman, the recent Batman reboot would be a drastic departure, an intelligent return to the character's roots while making him brand-new for modern audiences. One of several kernels of truth to take away from this four-movie set, and its place in history: There's a definite longevity, possibly limitless, to The Dark Knight.
The Picture
All four movies are presented at the original 1.85:1 aspect ratio. As a consequence of its seniority, Batman looks a tad soft, an impression not aided by the frequent presence of smoke in the foreground. The abundant steam also leads to some mild ringing. There's just enough grain help maintain the warm cinematic tone that director Tim Burton achieved. Blacks are strong here, thank goodness, as you will likely remember almost every scene taking place at night, or in shadow. The difference in the palette is drastic as we move to Batman Returns, with its major infusion of candy colors, although there's a slightly distracting blue tint to much of it. It's soft again, lacking any profound detail, although better-looking overall than its predecessor, perhaps owing to three years and greater brightness levels.
The hues were cranked up further for Batman Forever, but despite the occasional impressive shot, the grain and disappointing softness prevail. And the color and overall quality of Batman & Robin are fine, but this title more than the others--it's the newest, had an obscene budget, and is excessive in every way except dramatic quality, of course--should at least have been a technical stunner on Blu-ray. I'll address sound next, but none of the video in this set is everything it should be.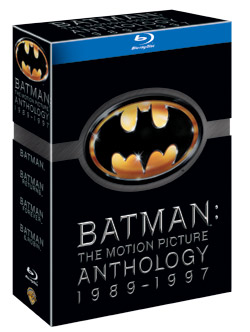 The Sound
Having just reviewed Warner's Wonder Woman, my mental Post-It was still in place and I made the effort to switch over from the Dolby Digital default track on each disc to the Dolby TrueHD 5.1 option. Danny Elfman's iconic Batman score never sounded better, although there is surprisingly little rear-channel action. Bigger sequences like the aerial attack on the parade have their moments, but where is the BOOM! when The Joker drops the gigantic church bell 97 stories?
Batman Returns is famous as the first feature film ever with a Dolby Digital 5.1 soundtrack, and the improvement is evident in ways big and small, be it the subtle echo of a P.A. system, the whoosh and crack of Catwoman's whip, the sudden crash of a shattered window, an army of meowing cats, scenes in and around the Batmobile during its hijacking by The Penguin, and plenty of nifty back-to-front phasing. To remove all doubt, I counted four separate 360-degree swarms of bats, perfectly simulated.
From the first moments, Batman Forever is an assault not only on our sensibilities but on the senses, with bold effects like the Batmobile driving over us, furious machine gun fire and the pinging of bullet casings. Whenever appropriate, it flaunts aggressive, discrete rears and thunderous bass. And to be fair, Batman & Robin displays stunning detail, bass, directionality; everything we could ask for in a major studio action flick.
The Extras
The many generous supplements from the DVD Anthology have all been ported over to this new set, with video re-authored to what might pass for HD. Each movie includes an audio commentary by its respective director, either Tim Burton or Joel Schumacher, with or without subtitles. There's a lot to know about these films, and no one person to better explain in two-hour installments then these guys. Next up is the six-part "Shadows of the Bat: The Cinematic Saga of the Dark Knight" documentary. Batman was the first of the quartet and so has the most backstory, and it receives three chapters all on its own, with three more spread out across the sequels. These are remarkably deep, totaling about three solid hours, with new interviews from most--not all--of the stars and key participants.
From here it is a cavalcade of additional documentaries, vintage TV specials, and a gallery of modern featurettes that explore the nuts and bolts of each film. There are also music videos, character profiles, some unexpectedly meaty deleted Forever scenes and a throwaway one from & Robin. (For a full list of bonus materials, please check out the Product Details section below.) Batman alone packs a second disc, a DVD which carries a Digital Copy of the 1989 original for iTunes/Windows Media Player and compatible devices.
Final Thoughts
The popularity of the Batman films created a ripple effect that would influence TV and film for years to come, opening the floodgates of well-bankrolled comic book adaptations even more so than 1978's Superman did. Although a lone Digital Copy is the only new content in this set, the Blu-ray technical quality is a definite step above the DVDs.
Where to Buy:
Product Details
Actors: Michael Keaton, Val Kilmer, George Clooney, Jack Nicholson, Danny DeVito, Michelle Pfeiffer, Chris O'Donnell, Tommy Lee Jones, Jim Carrey, Arnold Schwarzenegger, Kim Basinger, Nicole Kidman, Uma Thurman, Alicia Silverstone, Michael Gough, Pat Hingle, Robert Wuhl, Christopher Walken
Directors: Tim Burton, Joel Schumacher
Audio Format/Languages -- All Films: Dolby TrueHD 5.1 (English), Dolby Digital 5.1 (English), also:
Batman: Dolby Digital 2.0 (French, Castilian Spanish, German, Italian), Dolby Digital 1.0 (Latin Spanish, Portuguese)
Batman Returns: Dolby Digital 5.1 (French, Castilian Spanish, German, Italian), Dolby Digital 2.0 (Latin Spanish), Dolby Digital 1.0 (Portuguese)
Batman Forever and Batman & Robin: Dolby Digital 5.1 (French, Castilian Spanish, German, Italian), Dolby Digital 2.0 (Latin Spanish, Portuguese)
Subtitles: English, French, Spanish, Chinese, Danish, Dutch, Finnish, German, Italian Korean, Norwegian, Portuguese and Swedish
Aspect Ratio: 1.85:1
Number of discs: 5
Rating: PG-13
Studio: Warner
Release Date: March 10, 2009
Run Time: 126/126/122/125 minutes
List Price: $129.95
Extras:
Batman:

Commentary by director Tim Burton
"Shadows of the Bat: The Cinematic Saga of the Dark Knight Parts 1-3: The Road to Gotham, The Gathering Storm, The Legend Reborn"
"Legends of The Dark Knight: The History of Batman"
"On the Set with Bob Kane"
"Visualizing Gotham: The Production Design of Batman"
"Building the Batmobile"
"Those Wonderful Toys: The Props and Gadgets of Batman"
"Designing the Bat-Suit"
"From Jack to The Joker"
"Nocturnal Overtures: The Music of Batman"
Music Videos by Prince:

"Batdance"
"Partyman"
"Scandalous"

Batman: The Heroes

Batman
Vicki Vale
Alexander Knox
Commissioner Gordon
Harvey Dent

Batman: The Villains
The Complete Robin Storyboard Sequence
Digital Copy

Batman Returns:

Commentary by Tim Burton
"Shadows of the Bat Part 4: Dark Side of the Knight"
"The Bat, The Cat And The Penguin"
Batman: The Heroes
Batman: The Villains

The Penguin
Catwoman
Max Shreck

"Gotham City Revisited: The Production Design of Batman Returns"
"Sleek, Sexy and Sinister: The Costumes of Batman Returns"
"Making-up The Penguin"
"Assembling the Arctic Army"
"Bats, Mattes and Dark Nights: The Visual Effects of Batman Returns"
"Inside the Elfman Studio: The Music of Batman Returns"
"Face to Face" Music Video by Souixsie and the Banshees

Batman Forever:

Commentary by Joel Schumacher
"Shadows of the Bat: The Cinematic Saga of the Dark Knight Part 5: Reinventing a Hero"
"Riddle Me This: Why Is Batman Forever?"
"Out of the Shadows: The Production Design of Batman Forever"
"The Many Faces of Gotham City
"Knight Moves: The Stunts of Batman Forever"
"Imaging Forever: The Visual Effects of Batman Forever"
"Scoring Forever: The Music of Batman Forever"
Deleted Scenes
"Kiss from a Rose" Music Video by Seal
Batman: The Heroes

Batman
Robin
Dr. Chase Meridian

Batman: The Villains

Batman & Robin:

Commentary by Joel Schumacher
"Shadows of the Bat: The Cinematic Saga of the Dark Knight Part 6: Batman
Unbound"
"Bigger, Bolder, Brighter: The Production Design of Batman & Robin"
"Maximum Overdrive: The Vehicles of Batman & Robin"
"Dressed to Thrill: The Costumes of Batman & Robin"
"Frozen Freaks and Femme Fatales: The Makeup of Batman & Robin"
"Freeze Frame: The Visual Effects of Batman & Robin"
Deleted Scene
Music Videos:

"The End is the Beginning is the End" by the Smashing Pumpkins
"Look into My Eyes" by Bone Thugs-N-Harmony
"Gotham City" by R. Kelly
"Foolish Games" by Jewel