The Site for Home Theater and Movie Reviews
Atlona HDAir Connects PC to HDTV in HD Without Wires
By Peter Suciu
The promise of a wireless world is much like the promise of a paperless office. The more devices that are introduced the further we come from reality. However, Atlona Technologies has been a company that is swimming against the current to make wireless connectivity of devices actually wireless. The company has long had numerous products in its HDAiR line that allow for users to get USB-to-HDMI, and now it looks to bring things up a notch. The device can be used to stream media from Internet sources such as HULU or YouTube, or other computer-based video sources, and can be used with monitors, projectors and HDTVs.
When the first Atlona HDAiR first blew in back in 2009 it was a video-only solution, and Atlona not only asked its customers what they wanted, but it listened. The vocal audience responded with the suggest to add audio support, and now Atlona has proven that they've heard this loud and clear.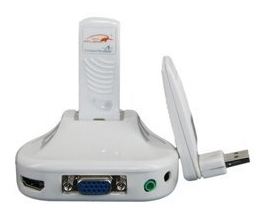 The new HDAiR features the ability to output audio in both 3.5mm analog or as embedded audio via the HDMI output. The updated model also allows users to connect up to four receivers to a single transmitter. It uses an Ultra wide band (UWB) frequencies to transmit the audio and video signals.
The new version further offers full Mac support, along with compatibility with Windows XP, Vista and Windows 7. The AT-HDAiR can transmit up to 30 feet with HDTV resolutions up to 720p or PC and VESA resolutions at 1440x1050. Notably both the HDMI and VGA output connections are active at the same time, so the HDAiR receiver could actually provide identical content to two different displays at the same time. The AT-HDAiR with Audio is available now (MSRP $169.00)
Where to buy: 
Amazon.com: Atlona AT-HDAiR PC to Computer Monitor Adapter
For more information:
What do you think?
Explore Big Picture Big Sound