Afro Samurai Season 1 Director's Cut on Blu-ray Disc Review
By Brandon A. DuHamel
"This moment will always haunt you; you will hate me…."

The Film

The Japanese market is so small that it is difficult to turn a profit on big budget live action films or television series on a regular basis. As a consequence, animé has become one of the primary forms of entertainment in Japan. The rate at which animated productions are churned out in Japan has created a glut of content, some great, some awful and all of the rest in between. Here in the U.S. there is a large market for animé, but most of what reaches our shores falls into very limited categories of genres. It seems the U.S. is very much focused on science fiction based television series that deal with various robots and "baddies" battling each other. There aren't very many cinematic animé productions that even make it into the theatre here, or if they do they have very limited runs.

There have been exceptions to the science fiction-heavy television series that break through in the U.S., such as the output of Studio Ghibli -- most noted for their 2002 Academy Award© winning film Spirited Away -- and their more fanciful productions. Still, with the quantity-over-quality approach that has, rather unfortunately, afflicted the animé market, it takes something very unique in its approach to stand out from the plethora of available material seemingly coming out at an hourly rate.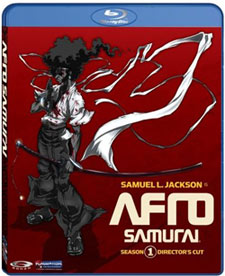 Afro Samurai
just so happens to be one of those uniquely inspired animé productions that distinguishes itself from the multitude and demands to be noticed. Bringing a highly stylized visual design that utilizes a narrow palette of greys, browns, blacks, and indigo with occasional bursts of yellow or vermillion that shock through juxtaposition,
Afro Samurai
follows a black samurai, Afro Samurai (Samuel L. Jackson) on his journey seeking vengeance. As a young boy, Afro witnessed Justice (Ron Perlman), the "number two" samurai slay his father, Rokutaro (Greg Eagles), the "number one" samurai -- a samurai who has attained mythical, god-like status and can only be challenged by the number two.
Afro -- orphaned and raised by a man called Sword Master (Terrence "T.C." Carson) who trains him in the ways of the samurai -- spends his youth consumed with hatred and with one goal in mind, to find and kill the new number two, so that he can challenge and kill Justice. Only when Afro is finally made a samurai is the truth revealed to him that Sword Master is the number two. Afro challenges and ultimately kills Sword Master, thus beginning the long violent path of endless challengers trying to take his number two headband as he seeks out Justice to dish out the ultimate revenge he has desired since his youth.
Borrowing from many genres at once
Afro Samurai
is a relentless wave of violence, vengeance, and redemption that mixes feudal-era Japan with modern science fiction of killer robots, RPGs and computer chips that steal memories and adds in 1970's blacksploitation and hip-hop elements for a seamless melding of Eastern and Western culture.
Afro Samurai
is sort of an animated equivalent to a Quentin Tarrantino film in the way it blends different eras and pop culture references into one amalgamation and breathes in its own world. You're never quite sure what era you're in, but it all makes sense somehow.
This particular series is not the first to attempt such a blending of Japanese feudalism and modern black hip-hop culture -- Samurai Champloo had ventured down that road before -- but Afro Samurai takes it to a completely different level. Aided by superb voice work from Ron Perlman, whose creepy serpentine take on Justice adds just the right level of evil and Samuel L. Jackson's voicing of Afro and his traveling companion, the much needed comic-relief of Ninja-Ninja, Afro Samurai is riveting entertainment from start to finish. Perhaps the only minor flaw in this five episode endeavor is its abrupt ending which leaves questions unanswered and feels too much like a forced setup for another series.

The Picture

With a 1080p/24 1.78:1 AVC/MPEG-4 transfer that averages around 15Mbps, sometimes peaking as high as ~38Mbps, Afro Samurai looks better than it ever has before on this BD release. Funimation's transfer captures every nuance of Samurai's subtle shadings and intricate character designs. With the expectedly pristine source, the colors are solid and consistent with no hint of video noise or mosquito effects that can sometimes crop up in the dark areas of animated pictures.
Edge enhancement is nonexistent and the transfer displays no macroblocking, crush, or blooming. Afro Samurai is perhaps not quite as sharp as it could be, displaying just a hint of overall softness, but it is not enough to detract from the overall detail and balance of contrast and black levels that are set perfectly. The closest comparisons I have seen to this release for hand drawn animation on Blu-ray Disc, as far as picture quality is concerned, are the Japanese release of the animé film Ghost in the Shell: Innocence (soon to be released in the U.S. on BD by Bandai Entertainment), which is still the reference, in my opinion, and Paprika. This BD falls just short of either of those two, but it's a very close third.

The Sound

Afro Samurai comes with an English Dolby TrueHD 5.1 lossless soundtrack and an English Dolby 2.0 option as well. The lossless 5.1 soundtrack is magnificent to listen to. More involving than usual for a television show, the mix is fully engrossing with everything from the sound of footsteps panning from front to back or the raging, thunderous sounds of explosions filling all the channels. Dialogue is kept in the center channel, but various forms of reverberant effects and EQ are used throughout to color its sound. The hip-hop score from RZA is given ample low frequency treatment through the LFE and is mixed discretely into all five main channels so that musical effects variously spring from different locations to create an intense atmosphere.

The sound effects of Afro Samurai are well designed and realistic. The constant clanking of metal swords sounds natural; never too sharp or fatiguing on the ears. Explosions rumble and the little gunfire effects that are used are panned directionally through the room so that bullets seem to fly by your head and sound as real as can be. Gonzo Studios and Funimation have done a brilliant job bringing the sound world of Afro Samurai to Blu-ray Disc.

The Extras

Afro Samurai comes with a decent amount of extras related to the series itself and a heavy dose of trailers for upcoming and soon-to-be-released animé titles from Funimation. Sadly, for a release with such a high level of picture and sound quality, all of the extras, save one, are in standard definition. The sole extra in high definition is not even listed as an extra, but is actually a trailer for the forthcoming Blu-ray release of the animé title, Vexille that runs before the disc's menu loads. Whatever the faults, the bonus materials do offer interesting insight into the creation, production, and original inspirations behind Afro Samurai so they are worthy of a viewing.

The extras available on this release are:
In the Booth: The Voice Talent of Afro Samurai (1.78:1/2.35:1/standard definition) -- This inaccurately name behind-the-scenes featurette doesn't really as much on the voice talent, per se, as it does show the creators and actors discussing the motivation behind the creation of the Afro Samurai series and discussing its cultural significance as a melding of Eastern and Western influences.
RZA Music Production Tour (1.78:1/standard definition) -- The hip-hop artist discusses his vision of what he felt the score for Afro Samurai should be and his work scoring the series.
Character Profiles with Commentary by Co-Producer Eric Calderon (1.78:1/standard definition) -- The Co-Producer talks about the character development of the main characters in the series and shares his thoughts on what drives them emotionally. An interesting piece of trivia he reveals is that the character Ninja-Ninja was originally inspired by the Cheshire cat from Alice in Wonderland.
Trailers:

Vexille (1.78:1/high definition)
Desert Punk
Burst Angel
Samurai 7
Speed Grapher
Claymore
Basilik
Trinity Blood
Hana
Origin
Final Thoughts
Afro Samurai
is a standout animé production melding East and West with a feudalistic yet modern Japan and a blacksploitation hip-hop edge. With so much animé product being developed, it takes something as truly unique as this to come along every so often to help reinvigorate the field. This Blu-ray Disc release offers an excellent video transfer with amazing lossless TrueHD sound that makes it worth every penny for any serious fan of animation.
Where to Buy
Product Details
Actors: Samuel L. Jackson, Ron Perlman, Kelly Hu
Director: Fuminori Kizaki
Format: Animated, Color, Dolby, Subtitled, Widescreen
Audio/Language: English Dolby TrueHD 5.1, English Dolby 2.0
Region: Region A
Aspect Ratio: 1.78:1
Number of discs: 1
Rating: Unrated
Studio: FUNimation Entertainment
Blu-ray Disc Release Date: August 26, 2008
Run Time: 125 minutes
List Price: $29.98
Extras:

Unedited Dialogue and Picture as it was Meant to be Seen
15 Minutes of Never Before Seen Footage Including Extended Ending
In the Booth: The Voice Talent of Afro Samurai
RZA Music Production
Character Profiles with Commentary by Afro Samurai Co-Producer Eric Calderon