The Site for Home Theater and Movie Reviews
3:10 to Yuma on Blu-ray Disc Review
By Brandon A. DuHamel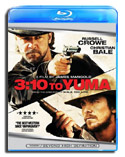 The Film

"I'm tired of watching my boys go hungry…I'm tired of the way that they look at me. I'm tired of the way that you don't."

With those words to his wife, the struggling rancher Dale Evans (Christian Bale) makes up his mind to sign on to a group up of men accompanying notorious outlaw Ben Wade (Russell Crowe) to the town of Contention and place him on the 3:10 train to Yuma prison, where Wade will face trial and execution. And from there director James Mangold's remake of the 1957 Western - itself based on an early short story by famed author Elmore Leonard - takes off on a never ending pace of classic shoot-from-the-hip action sequences.
The core the film explores themes of the bonding between men of different classes and generations, such as the bonding between Dale and his son William (Logan Leman) who comes to see his father as courageous and honorable, whereas before he considered his father a coward for not standing up on his family's behalf. Evans and Grayson Butterfield (Dallas Roberts), the well-to-do railroad man, bond in a different manner as the tycoon gains respect for Evans and his plight. Though the most convoluted bond by far is that of Evans and Ben Wade, the cruel and heartless outlaw who sees a connection between himself and Evans; the two form an unlikely, if uneasy and furtive friendship of sorts.
"3:10 to Yuma" also contains underlying themes of redemption. Can Evans redeem himself in the eyes of his wife and his children? Can a murderous outlaw like Ben Wade be redeemed of his "sins?" It may all seem quite onerous to fans of the "classic" Western just looking for the thrill of some action, but not to worry - Mangold only touches on these themes ever so lightly. It is almost as if they are there simply to assure the audience that one is not just sitting through two hours of watching boys playing "cowboy" in the backyard. Not that this ever feels condescending; it all works in the grand scheme of the film.

If you prefer your Western flicks without the pontification, nor deconstructionist themes - and would rather play witness to a plethora of action with a cursory plot, then this film is yours - right down to the somewhat unsatisfactory ending. It doesn't take long for the Ben Wade prison brigade to find trouble, and when they do, it's one fast paced shoot-'em-up spectacle after the next. One of the best choreographed actions sequences of the film occurs when Evans and his group take off with Wade on their horses through a railroad tunnel, guns blazing, and set off a bundle of dynamite in midair behind them. "Yuma," in short, will be pure ecstasy for lovers of the genre.
The Picture

The video for this release is presented in 1080p/24 in its original theatrical aspect ratio of 2.40:1. There were no visible compression artifacts. Contrast and black levels were well balanced with only the slightest loss of shadow detail. Overall, the transfer was very film like in its look with grain being preserved, but never overwhelming. Colors were slightly oversaturated which - though allowing for certain colors such as the azure sky and the verdant patches of grass to really stand out - caused flesh tones to look somewhat unnatural with a bit of red push. This could have, and should have, been compensated for in the digital realm. There was also a slight softness to the overall look of the transfer; it certainly could have been just a hair sharper.

The Sound

Available audio options for this Blu-ray Disc release are English uncompressed PCM 7.1 and English Dolby Digital EX Surround. Spanish and English subtitles are provided as well. The 7.1 PCM soundtrack offered a superior listening experience. Throughout the film, clarity was excellently maintained, dialogue was always intelligible and - with the exception of the gunfire which was tad too high-ended - the special effects were well balanced and natural. The extra two channels in the back certainly helped to maintain a feeling of continuity and they were used to good effect, especially in the many outdoor scenes; at night, for example, where crickets were chirping all around the soundstage.
Composer Marco Beltrami's score, which owed much to the great Western movie scores of yesteryear, successfully held the tension in the film; it was well recorded and sounded fantastic on this disc.

The Extras

As is typical with Lionsgate Blu-ray Discs, this release has an abundance of extras. All the video extras included are in high definition. The special features include audio commentary with director James Mangold; "A Conversation with Elmore Leonard" where the author speaks briefly about writing westerns, and how he came to write the short story "Three-Ten to Yuma;" "Destination: Yuma," a behind the scenes look at the filming of "3:10 to Yuma;" "Outlaws, Gangs, and Posses," a featurette in which they examine the facts and myths about outlaws of the western United States after the country's Civil War; "An Epic Explored," which examines the place of westerns in U.S. popular culture; "3:10 to Score," a behind the scenes look at composer Marco Beltrami; "The Guns of Yuma" takes a look at the authentic weapons used in the film; "From Sea to Shining Sea" documents the building of the transcontinental railroad, and "Historical Timeline of the West," a BD-J based interactive timeline that stretches from the 1860's through the 1890's that allows the user to select certain dates and read facts about historical figures and places from the western United States which occurred during that time.
Also included are 7 deleted scenes, all in high definition, and a special, BD-J interactive feature entitled "Inside Yuma," which can be turned on to play during the movie. This will bring up picture-in-picture behind the scenes commentaries, storyboard sketches and looks at the script.

Final Thoughts

A classic-styled Western, not too long on dealing with human issues, but instead focused on the action and mythos of the west, "3:10 to Yuma" is sure to please fans of this seemingly impossible to kill genre. It has all of the elements one looks for in a Western, right down to the bad guy in the black hat. On this high definition Blu-ray Disc release, the video transfer looks very film-like and the 7.1 uncompressed PCM audio must be heard to be believed. With an abundance of high definition video extras and BD-J interactive extras, this Blu-ray Disc is certainly recommended as a purchase for anyone who is a fan of the Western genre.
Where to Buy:
Product Details:
Actors: Christian Bale, Russell Crowe, Ben Foster, Peter Fonda
Format: Anamorphic, Closed-captioned, Color, Dolby
Language: English
Region: Region 1 (U.S. and Canada only)
Aspect Ratio: 2.35:1
Number of discs: 1
Rating: R
Studio: Lionsgate
Blu-ray Disc Release Date: January 8, 2008
Run Time: 122 minutes
List Price: $39.99
Extras:

Audio Commentary with Director James Mangold
"3:10 to Score" -- Featurette
"Sea to Shining Sea" -- Documentary
"A Conversation with Elmore Leonard" -- Featurette
"The Guns of Yuma" -- Featurette
Historical Timeline of the West
Inside Yuma: An Exclusive Blu-ray Disc Interactive Experience
"Destination Yuma" -- Making-of Documentary
"An Epic Explored" -- Featurette
"Outlaws, Gangs, and Posses" -- Documentary
Deleted Scenes
English and Spanish Subtitles
Special Features Presented in High Definition
What do you think?
| | |
| --- | --- |
| Overall | |
| Video | |
| Audio | |
| Movie | |
| Extras | |
Explore Big Picture Big Sound