12 Monkeys on Blu-ray Disc Review
By Peter Suciu
The Film
Director Terry Gilliam typically produces films that people either love or loathe, and rarely is there middle ground. 12 Monkeys, which tells of a future dystopia, where humanity has nearly been destroyed by a man made virus is certainly no exception. The central story is interesting enough, with more than enough plot twists to keep the viewer guessing, but it is such a downer throughout that the story drags at times. Bruce Willis and Brad Pitt deliver solid performances, but Madelene Stowe is badly miscast, and there never seems to be the spark that would bring her character and Willis' together. But the biggest problem is that if you think too hard about this one, it doesn't really add up - a society that lives underground and struggles to survive can create time travel in merely 30 years. Like any time travel, even if you try to avoid it, you're bound to hit a paradox.
The Picture
Gilliam certainly has a unique view on what the future will look like, and 12 Monkeys seems to have raided the costume department for his own Brazil, as well as taking cues from the Road Warrior and other post-apocalyptic tales. The visuals are thus a far cry from the sterile views of futuristic underground cities, and thus help set the tone of just how bad things have gotten. This all comes through reasonably well on the Blu-ray's 1080p 1.85:1 transfer. It is a bit of a step up from the DVD version, but appears essentially the same as the HD DVD version that was released a couple of years ago. Over all, the colors are a bit sharper and the blacks a bit deeper than the DVD, but hardly enough to make it worth the full on upgrade.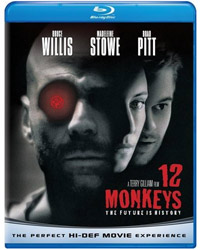 The Sound
The DTS-HD Master Audio 5.1 sound is where the Blu-ray outperforms even the HD DVD version. The sounds are a little clearer, while the "voices" that Willis hears really have that noticeable discrete channel separation. The film isn't overly filled with action, but there is enough ambient sound to make this one worth a listen, and compared to the DVD version this is where it might just be worth upgrading to the Blu-ray.
The Extras
The standard definition bonus material is like a trip back in time - and I don't mean that in a good way. If you've seen the past versions, notably the HD DVD, you've already discovered everything about 12 Monkeys. These include a feature commentary, a nearly 90-minute making-of and a gallery of still images. The disc also includes a standard definition theatrical trailer, as well as the My Scenes feature to bookmark those favorite moments of watching humanity's fate get sealed. This is also a BD-Live enabled title, bringing you to various online promotional content from Universal, but nothing specific to 12 Monkeys at this point.
Final Thoughts
12 Monkeys isn't a bad film, but in the end it is hard to look past the fact that it is really more style than substance. The story is nothing special, and the plot drags at points, but it is nice to look at. It just too bad this Blu-ray didn't make those visuals look a little better, and some new extras would have made this Blu pill a little easier to swallow.
Where to Buy
Product Details
Actors: Bruce Willis, Madelene Stowe, Brad Pitt
Director: Terry Gilliam
Audio Languages: English DTS-HD Master Audio 5.1; French Canadian, Castilian Spanish, L.A. Spanish, Italian DTS.41
Subtitles: English SDH, French Canadian, Italian, Castilian Spanish, L.A Spanish, Korean, Swedish, Danish, Finnish, Dutch, Norwegian, Portuguese, Greek, Traditional Mandarin
Aspect Ratio: 1.85.1
Number of Discs: 1
Rating: R
Studio: Universal Pictures
Release Date: July 28, 2009
Run Time: 130 minutes
List Price: $29.98
Extras:

Feature commentary with director Terry Gilliam and producer Charles Roven
The Hamster Factor & Other Tales of 12 Monkeys Making-of featurette
12 Monkeys archive
Theatrical trailer
BD-Live enabled