12 Angry Men Blu-ray Review
By Chris Chiarella
The Movie
There are courtroom dramas by the score, but when we move down the hall to the jury room, there's 1957's 12 Angry Men and then there's just generations of imitators. Originally written by Reginald Rose for the TV series Westinghouse Presents Studio One as a live teleplay, and later produced for the stage, it builds an archetypal drama from a dozen disparate pieces.
The characters might not have names, just numbers (until a brief moment in the epilogue), but through scripting and deft acting we get to know them all quickly, each with his own concerns and not all of them angry, really. On a hot New York City afternoon with no air conditioning, the men are tasked with agreeing upon a verdict in a murder case that carries the death penalty. Eleven are quick to convict, but Juror #8 (Henry Fonda) isn't quite convinced.
He's not a bleeding-heart liberal so much as a thoughtful, rational man troubled by details of the case that his colleagues have overlooked. And so they go over it and over it, not just the facts but the personalities and motivations of the lawyers, the witnesses, the accused and even the victim. There are twists and turns and mini-dramas of manners along the way as the guilty majority voting block slowly erodes.
Almost the entire movie takes place in this one small space, and director Sidney Lumet compensates with an aggressive style: bold camera work, long takes and a brisk editing. Despite being expanded from its source material, 12 Angry Men grabs us and doesn't let go until the verdict is reached.
The Picture
The 5:3 35mm black-and-white film image is grainy but not unreasonably so, with significant video noise that seems most common on the men's sweaty foreheads, but also on the buzzy, illegible text of the newspapers. This new high-definition digital restoration has been expertly cleaned, and so dirt and damage are minimal. The enhanced clarity isn't half-bad either, as we can actually see the second hand on Juror #2's watch when he is timing Juror #8's reenactment, and it's not where he (John Fielder) says it is.
The Sound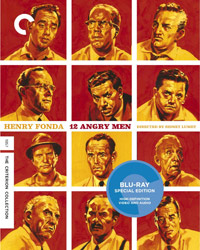 The restored, uncompressed linear PCM mono soundtrack is pleasingly pure, a more-than-adequate vessel for the dialogue which drives all of the proceedings. Catching these wonderful actors--many of them becoming more popular in the '60s and '70s--so early in their careers reveals a different tone in many of their voices. They don't only look younger, thinner, but they sound a lot more youthful too, with a delicacy present here before age and possibly smoking added rasp and gravel.
Because the track is monophonic, the small amount of music is laid over the dialogue, along with the rain, instead of it falling behind us. It's good old-fashioned audio.
The Extras
In a generous, welcome addition, Criterion has supplied a kinescope of The Television Version, Twelve Angry Men, directed by Franklin J. Schaffner (Planet of the Apes) which first aired on September 25, 1954. Ron Simon, curator at The Paley Center for Media, provides an in-depth, 14-minute introduction. Also included is a kinescope of Tragedy in a Temporary Town, written by Rose and directed by Lumet, from The Alcoa Hour, February 19, 1956.
In 12 Angry Men: From TV to the Big Screen, film scholar Vance Kepley explores the history of this enduring work (25-and-a-half minutes). We have the chance to learn more about the late, great Lumet both through a collection of archival interviews (23 minutes total) and from new musings by a friend and collaborator, writer Walter Bernstein (Fail-Safe).
Simon returns to discuss the writings of Reginald Rose, while cinematographer John Bailey offers a 38-minute appreciation of director of photography Boris Kaufman. All of these extras are presented in some form of HD, although audio quality on the vintage materials varies quite a bit. Inside the package we will find another lovely companion booklet with a fine essay by law professor Thane Rosenbaum.
Final Thoughts
Criterion has done it again, giving us a best-yet edition of another American classic with exceptional, in some cases unexpected extras. Definitely recommended for aficionados of legal drama, director Lumet or any of these gifted actors.
Product Details
Actors: Henry Fonda, Lee J. Cobb, E.G. Marshall, Martin Balsam, Jack Warden, Jack Klugman, John Fiedler, Edward Binns, Joseph Sweeney, Ed Begley, George Voskovec, Robert Webber
Director: Sidney Lumet
Audio Format/Languages: Linear PCM 1.0 (English)
Subtitles: English
Aspect Ratio: 1.66:1
Number of discs: `
Rating: PG-13
Studio: The Criterion Collection
Release Date: November 22, 2011
Run Time: 96 minutes
List Price: $39.95
Extras:

The Television Version with new introduction
12 Angry Men: From TV to the Big Screen
Vintage Sidney Lumet Interviews
"Reflections on Sydney"
"Reginald Rose"
"Boris Kaufman"
Tragedy in a Temporary Town live TV production