Toshiba HD-A35 HD DVD Player Review
By Chris Boylan
HD-DVD: The Final Generation?
As a technology matures, it usually gets better and cheaper. A dichotomy? No, not really. R&D costs are absorbed by the early adopters, chip and circuitry designs evolve to include specialized processing in smaller form factors, economies of scale kick in and glitches in the user interface and in general operation get refined. At least that's the theory. And that's why I was looking forward to reviewing Toshiba's third generation of HD-DVD players, specifically their current top of the line model, the HD-A35 HD-DVD player.
I admit I was a bit disappointed to learn that the Silicon Optix video processor included in the second generation HD-XA2 would not be included in the third generation models. Toshiba opted for a video processor from ABT (Anchor Bay Technologies) instead. Presumably this was done to save some money while still going with a known and respected vendor in the video processing space. Toshiba also assured me that the HD-A35 was not a replacement for the HD-XA2, but a supplement to it - the 2nd generation XA2 was still to be the flagship model for the foreseeable future (but it turns out the XA2 is already out of production).
Go High Def, or Go Home
The most important feature of the HD-A35, of course, is its ability to play HD-DVDs in all their 1080p glory with support for advanced networking, interactive features and next generation multi-channel lossless surround sound formats from Dolby and DTS. The player also up-converts standard definition DVDs to 720p, 1080i or 1080p resolution, allowing you to bypass the (possibly inferior) video processing circuitry built into your HD-capable display device.

Ergonomically Challenged
Although I was a fan of both the first generation HD-XA1 and the second generation HD-XA2 HD-DVD players from Toshiba, they did have operational quirks: awkward remote controls and slow - even clunky - response times when starting up and when loading discs. Unfortunately the third generation players carry on these traditions.
The new remote control is sleeker and better laid out than its predecessors, but gone is the useful backlighting feature which made it easy to identify the buttons in the dim environment of the home theater. But more disappointing are the start up and disc loading times which have not improved over the prior generation players.
As part of the testing, we measured the time it takes to accomplish several common tasks, including initial boot-up/turn-on and playback time for both HD-DVDs and standard DVDs. All timing tests were done using the current firmware (version 1.3) with the player plugged directly into a Toshiba 46LX177 LCD TV. The following table includes the results for the first, second and third generation players. As you can see, there are no improvements in load time vs. the second generation player. In fact, start-up and disc load times have actually gotten a bit worse in the third generation.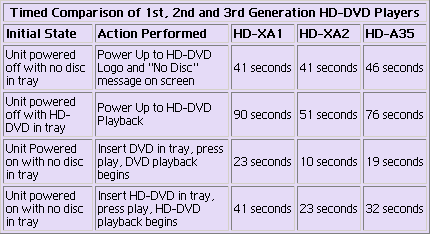 Operation of the various menus and disc functions once a title is loaded are quick and responsive (unlike some early Blu-ray Disc players playing discs with BD-Java menus), and this is far more important to me. But I would have liked to see some improvements in start-up and loading times considering this is a third generation player.

Viewing/Listening Impressions
For viewing sessions, we hooked the player up to the afore-mentioned Toshiba 1080p LCD TV with 120hz processing, a Panasonic 50-inch plasma, a Sanyo PLV-Z2000 1080p front projector and a Panasonic PT-AE2000U 1080p projector. Results of the testing and viewing were consistent across display devices. For audio, we primarily connected the player via HDMI to an Integra DTR-7.8 receiver and an Onkyo TX-SR605 receiver, with the player passing the bitstream audio and the receivers doing the decoding.
Before settling in to watch movies, we hit the player with some of our commonly used torture tests, courtesy of the Silicon Optix standard definition and high definition test discs. These discs include test patterns and real-world video and film-based content that will put any video processor through its paces. For comparison, we had on hand Panasonic's DMP-BD30 Blu-ray Disc player as well as Toshiba's own HD-XA2 HD-DVD player.
The first thing I noticed when testing using the 1080i HD-DVD test disc, is that the Toshiba player does not properly decode a 1080i signal when it is set to 1080p/24 resolution. The motion is very unnatural. The same occurs when watching some standard DVDs with the player in 1080p/24 mode. I had to switch the player over to 1080p/60 in order to complete the HD de-interlacing and detail tests. To put this in perspective, the Silicon Optix test disc plus a couple of nature footage discs are the only 1080i HD-DVD discs in our collection so this limitation is not likely to effect too many people in day to day use with HD-DVD discs. But it is likely to affect those who watch standard DVDs on the player. So get to know your set-up menu - you're going to need it.
The 1080i "jaggies" tests looked pretty good on this player with only mild stair-stepping distortion visible on shallow moving horizontal lines and the adaptive noise test of a moving sailboat exhibited almost no image smear. But the 1080i de-interlacing tests didn't fare as well with major strobing of 1080i test patterns sourced from both video and film. This means the player is having a hard time de-interlacing a 1080i signal, detecting the embedded 3:2 cadence and reconstructing the original 1080p image. These tests produced much better results on the Panasonic player, the Toshiba LCD TV and the earlier model Toshiba HD-DVD player.
In terms of actual film-based footage -- a pan across a football stadium -- details looked clear and natural, with minimal distortion or detail loss. In all, the results of the 1080i testing were really a mixed bag, but the player's video performance on 1080i material did not meet that of the best video products currently on the market.
Moving on to standard definition testing (with the standard Silicon Optix HQV Benchmark DVD), the player showed similar limitations in performance. In the first "jaggies" test (a spinning white line), the player failed with visible stair-stepping distortion evident at 25 degrees. The second jaggies test (3 moving diagonal lines) also failed with all 3 lines exhibiting jaggies. On actual video material, the waving flag also exhibited visible jaggies though details in the background bricks were pretty good as were details in the "detail test" on the disc (footage of cars on a highway, with a bridge and statue in the background).
The HD-A35 did quickly detect and lock to a 3:2 film cadence in the "film detail" test (excerpt from "Super Speedway") with rock solid presentation of the rows of seats in the grandstands, but there were some mild jaggies in the cadence testing segments on the disc. The player easily passed the "mixed content" test (film content with scrolling video titles), with perfect representation of both horizontal and vertical scrolling titles - something the Panasonic DMP-BD30 Blu-ray Disc player was not able to accomplish.
On real-world testing of 1080p HD-DVDs, the player performed extremely well, producing detailed and colorful 1080p images on all of the displays with which we tested it. Although I didn't see a big difference on most material in 1080p/24 mode (vs. standard 1080p/60), motion was represented a bit better in 1080p/24 mode, without noticeable judder and certainly without the odd motion artifacts we noticed on 1080i source material or on some standard DVDs.
Also, the video processing limitations which were clear in the test patterns and stress tests of the Silicon Optix tests discs were not as evident when watching standard DVDs. In "Gladiator" the diagonal lines of the Rome flyover sequence were represented properly, without major stair-stepping distortion. And upconverted details in standard DVDs such as the Superbit "Fifth Element" were sharp without being overly grainy. Colors were muted when compared to true HD content, but this is the case with virtually all upconverting players. You can't really expect any player to restore all of the details lost in a standard definition DVD, but the HD-A35 does a better job than some inexpensive upconverting DVD players do at this task.
Surround Sound - the Next Generation
As exciting as the developments in high definition picture quality have been lately, the audio field hasn't been standing still either with both of the major surround sound players (Dolby and DTS) introducing enhanced versions of their surround sound codecs which take advantage of the increased bandwidth and storage available on the next generation disc formats. Dolby has Dolby Digital Plus with much higher bandwidth than traditional Dolby Digital and Dolby TrueHD which offers a fully lossless reproduction of the original studio master recording with up to 7.1 channels. Similarly DTS offers DTS-HD High Resolution (an improvement over traditional DTS surround) and DTS-HD Master Audio (a lossless multi-channel surround codec).
The Toshiba player includes on-board decoding of Dolby TrueHD and Dolby Digital Plus as well as on-board decoding of the "core" DTS component of a DTS-HD soundtrack, but it also has the option to stream these advanced soundtracks out to a compatible receiver for decoding. To enable this, you simply have to set the HDMI's audio output to "Auto" and set "Digital Direct Audio Mode" to "On" in the player's set-up menu.
Once you do this, you'll be able to enjoy some pretty stunning sound quality from compatible HD-DVD titles such as "The Matrix," "Poseidon" and "300" each of which feature Dolby TrueHD soundtracks. Excellent dynamic range and separation, with crystal clear dialog and deep low bass - these are just some of the observations I made when listening to Dolby TrueHD and DTS-HD soundtracks on the HD-A35. Of course, this is not without its cost - enabling these audio formats to be streamed disables any secondary audio tracks (such as commentary tracks) but this is no different than Blu-ray Disc players which offer a similar approach to advanced codec support.
HDMI and Component - They Just Don't Mix
One unexpected glitch I observed when testing audio on the HD-A35 is that, if you use component video for the video hook-up to your TV (which you would need to do if you have an older analog-only HDTV), but you use HDMI for the sound (connected to a receiver), you may not get the soundtrack you think you should get, depending on what you have the video resolution set to in the HD-A35's set-up menu.

Here's what I observed when using component video for the TV connection but HDMI for audio to the Onkyo TX-SR605 receiver. The HD-DVD disc I used for test purposes was "300" and audio on that disc was set to Dolby TrueHD in the HD-DVD menu. The HDMI audio settings on the Toshiba player were "Auto" with "Direct Digital Audio" set to "ON" and all I was changing was the video resolution setting in the Toshiba's set-up menu:
Video resolution set to 1080p/24 – Dolby TrueHD came through on receiver, but there was no video output via component video
Video resolution set to 1080i – multi-channel PCM on receiver (not TrueHD as expected), 1080i picture via component video
Video resolution set to 480p – Dolby TrueHD on receiver, 480p picture via component video (the only setting that produced expected results)
Video resolution set to 480i – 2-channel PCM on receiver, 480i picture via component video
When I went back to our reference HD-XA2 player, it did not exhibit this problem. Even when video resolution is set to 1080p, the Toshiba HD-XA2 sends 1080i over component (as designed) and sends Dolby TrueHD to the receiver when "Direct Digital Audio" is set to "ON." In other words, it works as expected.
I would hope that this is something that Toshiba can correct in a future revision of the firmware, but it led to much frustration and gnashing of teeth while I was trying to figure out what was going on. Who would expect a video setting would impact the audio output? But this is exactly what was happening.
Final Thoughts
Although I went into this review hoping for the best, I was a bit disappointed that the third generation of Toshiba HD-DVD players seems to be a step backward from the second generation top of the line player. I would have expected the third generation players to be faster to load discs and more ergonomically advanced, such as including the ability to resume playback (something that's been available on DVD and Blu-ray disc since the beginning). But the facts are the third HD-DVD generation players are slower to load and really haven't addressed the other ergonomic shortcoming of the format except perhaps with a slightly better remote control. Yes, the new player does support DTS-HD and Dolby TrueHD streaming, but so does the second generation HD-XA2 player with a firmware upgrade, and that player is superior in its standard definition upconversion as well.
At this point, the best things going for the third generation HD-DVD players are the newly lowered prices (this player was recently dropped from $499 to $299 list, with a street price below $250), network connectivity (something the Blu-ray camp still does not support) and HD-DVD's support for some exclusive 1080p titles. Right now, HD-DVD is really the only way to get "The Matrix" trilogy, "Transformers," "Shrek the Third" and any of the Universal titles ("Bourne" trilogy, etc.) in high definition disc format. For under $250, you can get a beautiful-looking and sounding high definition 1080p picture from over 300 titles currently available on HD-DVD. When you throw in the two free HD-DVD discs in the box ("300" and "Bourne Identity") plus the current rebate for 5 free HD-DVDs, you're looking at a really minimal investment in a pretty advanced high definition disc player.
But with Warner now squarely in the Blu-ray camp, and only hold-outs Universal and Paramount left holding the HD-DVD movie bag, the software tide is turning more and more toward Blu-ray. And with the less-than-perfect standard definition performance, operational quirks and ergonomic short-comings of this, their current "best" player, Toshiba isn't giving us much to get excited about in HD-DVD for 2008.
Where to Buy:
HD-A35 Manufacturer's Specifications:
VIDEO
HD Output: 720p/1080i/1080p
SD Upconversion with HDMI® 480p/720p/1080i/1080p
AUDIO
Internal decoding of Dolby®Digital 5.1 ch, Dolby® Digital Plus 5.1 ch, Dolby® Digital TrueHD 5.1 ch.
Internal decoding of: DTS® 5.1 ch, DTS® HD (core only)
Bitstream output of: PCM, Dolby Digital, Dolby Digital Plus, Dolby TrueHD, DTS, DTS-HD High Resolution Audio, DTS-HD Master Audio 5.1
CONVENIENCE
Remote Control - Universal type
OSD Language English/French/Spanish/Others
Energy Star® Compliant
Network port for firmware updates and internet connectivity
OUTPUT TERMINALS
PHYSICAL SPECIFICATIONS
Color Black
Unit Dimensions (WHD): 16.9 x 2.34 x 12.9 inches
Carton Dimension (WHD): 19.7 x 5.6 x 16.1 inches
Unit Weight lbs 7.26
Carton Weight lbs 10.6
Company Information:

Toshiba America, Inc.
1251 Avenue of the Americas
Suite 4110
New York, NY 10020

Websites: